As I write this in mid-March, we are waiting. Waiting for the final denouement. What will COVID-19 do to our families, friends, towns, America, and the world? Things look bleak, barring a miraculous breakthrough or an unexpected diminishment of the power and fury of this virus. These are the times that try the character of the nation and individuals.
And what about the financial destruction that has happened in such a short period of time? Previous downturns in the stock market or financial instruments have been fairly predictable and with a floor that was solid after a few weeks, whereas this one has no floor in sight.
Many dermatologists epitomize the small business person, with a staff that depends on her/him for food, insuranc,e and a lifeline, even if the owner is sick, hospitalized, or unable to work because of a near-shutdown of society and tumultuous financial markets. And while our patients' conditions are rarely life-threatening, they are often physically and emotionally debilitating, and our patients, too, will need our help in this stressful time.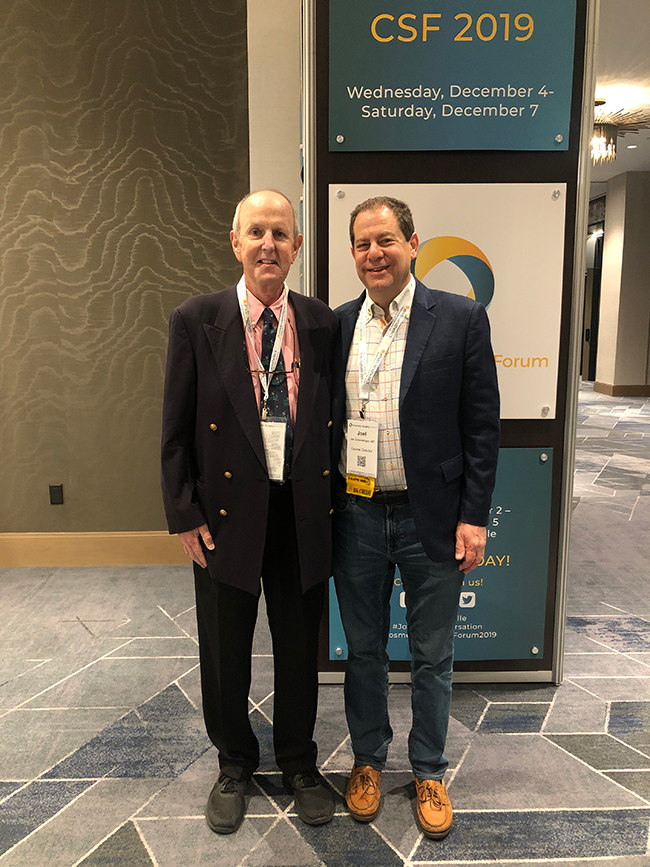 Dr. Ely with Dr. Schlessinger at CSF 2019.
My heart goes out to dermatologists who are self-employed and wondering what to do with their payroll or staff while the evolving crisis results in closed practices or multiple sick employees, including yourself. I don't know what the end will be, but I hope that eventually the bloodletting will stop and life will return to "normal"—whatever and whenever that is.
On the positive side, however, the opportunities to work from home with just a computer and iPad, practicing our "art" via telemedicine, are advanced enough to allow for modest income. It can even allow for the ability to use nurses for charting and/or dispensing prescriptions via eRx. Telemedicine is something that would have been nearly unimaginable 10 years ago and, without the massive changes in HIPAA and laws regarding billing codes for telemedicine, wouldn't have been possible even now. For these recent changes, I am deeply grateful for the action by states, the American Academy of Dermatology, and the federal government that could provide a major lifeline for thousands of dermatologists and their staff.
If you are contemplating starting to practice telemedicine, the first question must be whether you have an EMR system that is compatible with one or another vendor. The system we use, NexTech (no financial interest), is compatible with several. We are using a module with it called NextPatient, and so far it is working quite well. I saw four patients on my first day and it is quite different, but somewhat less intense and almost refreshing and joyful in a way to be able to still practice the profession I love. Yes, there are challenges with camera resolution and quite a few other aspects, but my patients are very appreciative, and it is good to "connect." NextPatient also works with Athena Health, drchrono, Nextech, Allscripts, CareCloud, CureMD, AdvancedMD, and Modernizing Medicine.
Other systems, such as EMA, are rolling out telemedicine modules soon (which may be available by the time of publication). There are other standalone systems that can be used with minimal disruption to your practice. Balancing between closing the office for weeks to months or making some modest form of income via telemedicine, I would strongly urge considering telemedicine. It may even prove to be worth continuing once normalcy returns, but only time will tell.
Outside of telemedicine, alternative options are far and few between. Some dermatologists are near retirement age and may take this as a cue to exit stage right. Others are starting out and can bide their time, especially if employed by a group with deep pockets. Still others may welcome the time off, if it remains short.
For those of our fellow dermatologists who fall ill or have family members and loved ones who suffer serious or grievous illnesses, my heart goes out to you, as does that of the management and ownership of Practical Dermatology® magazine and Bryn MAwr Communications III, LLC. We understand that lives will forever be changed or harmed in this surreal moment and hope that the crisis soon resolves. Lastly, as country singer Gary Allan sings (and my 87-year-old mother reminded me), "Every storm runs outta rain." This truly resonates with me at this moment as I look to the day when this is a memory of the time we stood together as a world to overcome a cruel twist of fate. God bless every one of you.
One other note: This past month we lost a giant in dermatology, Haines Ely, MD. I am fortunate to have known Haines, as did so many dermatologists who he befriended, taught, and mentored over his life. While I could provide volumes on how brilliant, incisive, and Renaissance-like Haines was, it would be impossible to recreate the magic that he provided and the person he was to anyone who never had the pleasure of meeting him. Suffice it to say: he broke the mold and no one will recreate the person he was in totality. Many of us who knew him are lucky enough to be able to aspire to his greatness, but it is doubtful we will come close. Until nearly his last breath, he was trying to help dermatologists with advice ranging from life-hacks to the wisdom of N-acetylcysteine, zinc, and hydroxychloroquine for COVID-19 (I might add, well before this was "common knowledge").
My thoughts go out to his wife, Jenny and loving family. Additionally, I particularly am aware of the role he played in RxDerm/Dermchat, having been involved from the beginning. His family of 1,400 dermatologists involved in this endeavor that he loved from the mid-1990s to his unfortunate passing will always be in his debt.