As dermatologists and their patients face persisting obstacles to getting the prescription medications they need at a price patients can afford, and a national remedy for out-of-control drug prices remains stuck in limbo on Capitol Hill, dermatologists are looking outside the box for solutions. Innovators and entrepreneurs, and even major drug manufacturers, are creating and promoting alternative approaches.
In the past year, we've seen mega-scale compounding of commonly used skin therapies—some companies targeting dermatologists specifically—as well as new "cash-pay" models from leading manufacturers, such as Ortho Dermatologics. What these solutions have in common is that they bypass, intentionally, the middle-man industry players, including commercial insurers and, of late, the pharmacy benefits managers (PBMs) whose purported raison d'etre of creating a buffer and a pricing-control mechanism between insurers and the pharmaceutical companies has failed to deliver.
There are a lot of economic forces at play that are wreaking havoc for dermatologists who are simply trying to do the thing they intended when they left residency: get their patients access to effective therapies without spending an inordinate amount of time navigating "the system." Generic medications that cost patients $20 out of pocket a decade ago now run into the hundreds, and branded drugs rarely land in even a relatively "affordable" formulary tier. Dermatologists report that clobetasol, sulfacetamides, desonide, and topical antibiotics, among other commonly prescribed drugs, can cost patients hundreds of dollars.
Adding insult to injury, dermatologists have found that generics that do make their way to patients are sometimes of poor quality, depending on where they're manufactured—yet another factor (and frustration) clearly out of dermatologists' control.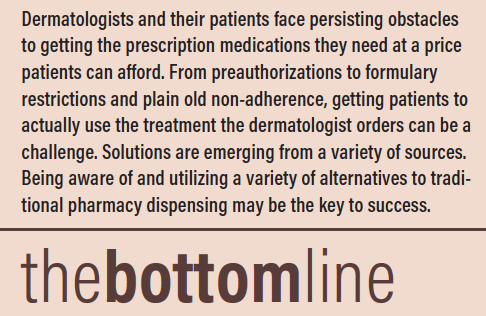 In addition, insurers are shrinking their formularies so much and making prior authorization so onerous, that dispensing pharmacies are sometimes pressed to substitute inappropriate, and in some cases, downright risky alternatives—ezcema drugs for acne, for example. Branded products, especially topicals, are either prohibitively expensive, not available on formularies, or subject to exhaustive prior authorizations and possibly specialty pharmacy referral. And that's if the prescription ever finally gets approved. The upshot of that conundrum, dermatologists report, is that they or their staff spend countless hours in a given week just handling callbacks and patients' phone calls.
Stefan Weiss, MD, a Florida dermatologist who treats a lot of psoriasis and formerly worked at the National Institutes of Health developing psoriasis drugs, says that it's become extremely challenging to get proven, appropriate therapies to his patients under the current convoluted system. "Some insurance plans require my patients to go on drugs that I know won't work—a lupus drug that's not indicated for psoriasis, for instance," he says. "And these are not drugs without side effects. I suppose they think that if they put up enough hurdles, you'll just quit. I think the whole system is stuck in reverse."
To address such obstacles and high prices for the medications he wants patients to take, Dr. Weiss helps his patients navigate the available coupon options that drug manufacturers operate. "Most of the biologics manufacturers do a good job helping my patients get access to the drugs," he says.
Stephen Ho, MD, a Greenwood Village, CO, general dermatologist with AboutSkin Dermatology and DermSurgery, PC, echoes Dr. Weiss' frustration. He sees many patients with severe acne and feels helpless at the hands of a system that prevents him from treating his patients appropriately. "The insurance formularies are so restrictive now that only the most basic, older medications are covered. So when patients come to a specialist, after they've been seen by their primary physician and aren't getting better, they expect that we'll be able to help," he says. "And then the patients can't get affordable access to the new medications—and sometimes that's what they need."
This sets up a time-consuming circus of prior authorization (often more than one "round") and pharmacy "price shopping" and, finally, manufacturer coupon programs to try to get the patient his prescription. All of which, Dr. Ho says, "takes up a lot of my desk time and my staff's time. That's why we've started exploring alternatives."
Solutions emerging to address 'broken system'
None of this is breaking news. But what is new is that dermatologists, frustrated and wearied, have started to take matters into their own hands. Many are turning to compounding pharmacies or outsourcing companies that have emerged as effective alternatives to "the system." Firms such as Skin Medicinals, out of New York, which offers compounded therapies, and Florida-based Prescriber's Choice, the consulting arm of Sincerus Pharmaceuticals, Inc., an FDA-registered 503B outsourcing facility, offer a broad range of compounded alternatives for medications that treat acne, eczema, rosacea, psoriasis, and a host of other conditions. And these firms are prospering as their products gain traction in the market.
In many cases, dermatologists report, the treatments from these sources end up costing patients less out of pocket than the copays they'd have incurred using the traditional system of using their insurance plans' formularies and getting prescriptions from retail pharmacies.
Mark Seraly, MD, of Seraly Dermatology in McMurray, PA, began working with Prescriber's Choice to address the numerous hindrances. "Based on the current state of affairs, I needed another solution," he says. "I wanted to be sure that the medications I am recommending were available, available affordably, and most importantly, in the vehicle desired for the patient's condition. Offering the prescription compounded medications, at the point of care, gives our practice an opportunity to expand patient choice and offer unimpeded access to the type of medications that we recommend."
The program has been a big success, Dr. Seraly reports. Patient satisfaction has improved markedly in the year since he began offering the alternative, and he suspects that adherence to treatment has increased. "I don't have a way to objectively measure adherence prior to offering prescription compounded medications. But based on the volume of prescriptions generated and refills, we realize that adherence is happening at a greater level," he says. "We now know when patients leave with their prescriptions. Prior to this, we never knew if a patient actually went to the pharmacy and filled their prescriptions." Dr. Seraly estimates that approximately 55 percent of patients who've learned about the in-office option are now using those Sincerus products rather than going through insurance.
Dr. Ho has likewise begun "converting" his patients, especially those with acne, eczema, and rosacea, to compounded, in-office direct-dispensed products by using the Prescriber's Choice program. "These medications are cheaper or on par with what patients would have paid going through 'the system'—and they're customized to our needs, so it's really helping," he says. "Often, when I ask patients what they would have paid for the medication using insurance, this [option] is lower cost. It's been a win-win for the patients and for us."
On the "price-mystery" front, Dr. Ho is also seeing small-scale solutions to price shopping emerging locally, for patients who choose to use insurance. A handful of local independent pharmacies, he reports, are making their prices for medications he frequently prescribes transparent. "I can make a call from my office and tell the patient exactly what the prescription will cost—which we haven't been able to do readily before," he says.
Sincerus Pharmaceuticals, the facility that creates the custom medications dermatologists access via Prescriber's Choice, is seeing impressive uptake of its offerings in recent years, reports Spencer Malkin, DC, Sincerus' CEO. Since 2016, the company has seen double-digit growth, month-over-month and year-over-year—it now works with several thousand dermatologists in 42 states, and more than one million of its 179 regularly used formulations have been dispensed.
"It's been explosive," Dr. Malkin says. Besides the pricing advantages that many patients experience, dermatologists have appreciated the ability to obtain tailored products that remove ingredients or potential known irritants or allergens that they don't want in the formulations. Based on Sincerus' data on requests from dermatologists who use the products, 92 percent choose to alter potency and about 50 percent change the administration vehicle—from or to creams, gels, ointments, lotions, foams, or washes.
Dr. Malkin says that there have been no reported incidents of serious adverse events with the products, and he noted that the company indemnifies prescribers in any event. Prescribers have reported increased medication adherence as well, he added, in part because they're able to track activity and usage using the firm's technology platform.
For Susan Bard, MD, a New York City dermatologist and Mohs surgeon who also does cosmetic surgery, the Skin Medicinals compounded offerings, in addition to cash-pay programs, have helped her bridge the access gap that the traditional system has created while ensuring patients get the medications she wants them to use. "I've been using the cash-pay programs such as GoodRx. I've also been relying heavily on compounded products by Skin Medicinals to provide my patients with the basic medications they need at a reasonable price compared to the grossly over-inflated prices they encounter at their local pharmacies," Dr. Bard says.
She reports that about 20 percent of her patients are now getting their medications via "nontraditional" means because insurance won't cover what she wants them to take or the copays are unaffordable. "Patients are thrilled. And using [these alternatives] has cut down significantly on the time we spend on denials, prior authorizations and peer-to-peer reviews," Dr. Bard says. "It's allowing us to spend more time on direct patient care. I encourage all my colleagues to embrace these nontraditional routes to secure the appropriate medications for their patients."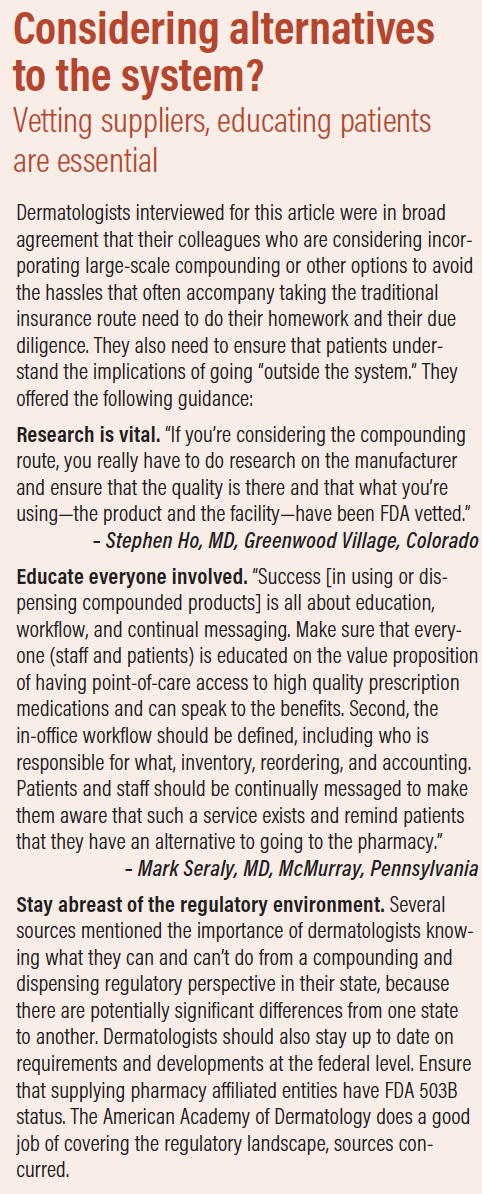 Dermatologist innovator creates remedy for his beleaguered specialty
Dhaval Bhanusali, MD, the New York City dermatologist who founded Skin Medicinals just over year ago, is humble about the program's astounding success: it's now being used in more than 2,600 dermatology practices by 56,000 patients. "The story isn't really about me. It's about our field coming together to do something for our patients when they come back to us after sticker shock or a denial and say, 'What do I do now?'" One driving issue that prompted Dr. Bhanusali to create the business is a concern that all dermatologists interviewed for this article cite: even if they can access patients' fomularies via computer in the exam room, they can't tell patients how much the prescription will end up costing them at the pharmacy. "This is a huge source of frustration for dermatologists and patients under the traditional system," he says.
Skin Medicinals works with an FDA-registered 503B pharmacy to prepare medications that treat common skin conditions, and most therapies are priced in the $20 to $50 range. The medications ship directly to patients. That's one of the primary benefits of the program for Kerry Lavigne, MD, a Camden, ME, dermatologist who treats patients in a wide catchment area that includes some of the state's small islands in the Atlantic. "I prescribe Skin Medicinals topicals and chemotherapy therapies about 70 percent of the time now," says Dr. Lavigne, who treats a high volume of skin cancer patients. The key benefit, she says, is that her patients know exactly how much they'll pay—and she knows exactly what they'll get.
Once Dr. Lavigne explains the system to patients and helps them perform comparisons of out-of-pocket costs using traditional routes, most are receptive to the concept. She adds that the Skin Medicinals portal also helps her track patients' use of prescribed medications. Even if patients with high-deductible plans initially balk at not being able to apply their costs against the deductible, many find that they save money in the long run and, more importantly, get the formulations she wants them to use.
Manufacturers offer cash-pay alternative
Even pharmaceutical companies are developing solutions to get around price and access issues that patients experience by offering more affordable, transparent alternatives to the insurance route. Ortho Dermatologics last March introduced its cash-pay program via Dermatology.com that includes nearly a dozen of its products, ranging from Altreno, Aldara, and Atopiclair, to Benzamycin, Biafine, Efudex, Locoid, Tetrix, and Retin-A formulations. The flat rate for the medications ranges from $50 to $115, and through a recent agreement, the products are now available at more than 9,500 Walgreens retail locations.
Late last year the company introduced a 20g size of its Altreno (tretinoin 0.05%) lotion exclusively available to dermatologists for dispensing from their offices. Just as patients can often purchase cosmeceuticals from their dermatologist, they can now leave their appointment with a prescription topical acne drug in-hand and ready for use.
Doris Day, MD, a New York City dermatologist who does a considerable amount of aesthetic treatment as well as providing general dermatology services, is a relatively new convert to Ortho's program. "This new service has removed a lot of obstacles, and my staff no longer have to spend an hour on the phone trying to get a patient a basic retinoid," she says. "If I can help patients get a product at a reasonable price by going outside the prior authorization system, I'm pleased. It's been like night and day for us!" she says, in terms of reducing staff and patient frustrations.
Another New York City dermatologist, Joshua Zeichner, MD, has been encouraging patients who've had difficulty getting the medications through the traditional system to use the Ortho cash-pay program—with good success for all involved. "The cash-pay models allow patients to understand from the get-go how much a medication will cost, and the cost of these medications are often set at reasonable prices so that they can be affordable to patients," says Dr. Zeichner, who is on faculty at Mount Sinai Hospital.
"By taking the insurance out of the equation, it's also easier on our office staff, as they're not spending time doing paperwork for insurance companies that still might ultimately reject covering the medicine," Dr. Zeichner says.
To deal with other vexing prescribing situations, such as inappropriate substitution, Dr. Zeichner sends prescriptions for brand-name medications to specialty pharmacies who assist in completing prior authorizations and work with his staff to get the medications approved. "I find it's necessary today to have a relationship with a specialty pharmacy to ensure that the medication I prescribe is not unjustifiably switched to a generic," he says.
Since the cash-pay program's inception, more than 20,000 dermatologists, physician assistants, and nurse practitioners have used Dermatology.com, according to the most recent data available. "Ever since we launched. Dermatology.com, we have received tremendous positive feedback and support from dermatologists, and incredible interest and acceptance by patients," says Bill Humphries, president of Ortho Dermatologics. "This program has helped remove the pressure physicians previously faced from insurance companies to select treatments based on coverage rather than preference. As a result, physicians are now able to focus on their patients' skin health and individual needs."
Multifaceted Approaches
For Seemal Desai, MD, a Plano, TX, dermatologist who specializes in pigment conditions, dealing with the challenges of what he describes as a broken system takes a multifaceted approach. He has long been helping patients access cost-saving programs such as GoodRx, coupons, and cash rebate options, and he uses a lot of compounded formulations because "almost everything is off-label for pigment conditions, and I want avoid subjecting patients to improper substitution, which has become a big issue," he says.
Lately, he has started using the new Ortho Dermatologics cash-pay offering, which is making practice life a bit easier. "I think we all have to pursue alternatives now, because it's become an us-versus-them situation," he says, referring to insurance constraints and price maneuvers. "Much of the time, we're doing whatever we can to avoid going through insurance. Even with that, I've got one FTE who does nothing but handle insurance problems—and I probably need another one."