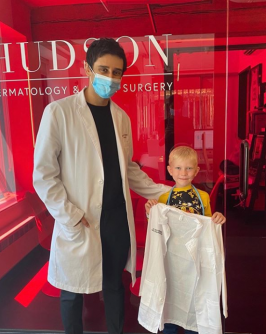 Dhaval Bhanusali, MD, FAAD, and Cory Maughan, DO, FAAD, are American Academy of Dermatology (AAD) Patient Care Heroes for providing life-changing scar treatment to a young dog bite victim.
Six-year-old Bridger Walker acted quickly and courageously when a dog tried to attack his younger sister earlier this year. During his effort to protect her, he suffered severe bites to his face that were treated and stitched up shortly after the incident at the nearby hospital in Cheyenne, Wyo.
Physicians initially advised the Walker family against seeking any type of treatment for Bridger's scars until one year passed. After hearing the heroic story, New York City-based Dr. Bhanusali reached out to the family to offer his expertise and explain how new technology could allow immediate treatment with better results.
"Dr. Bhanusali gave us hope that everything would be alright and that we could make real progress in a few months rather than a few years," says Robert Walker, Bridger's father, in a news release. "After going above and beyond to provide support, encouragement, and expert care, he reinforced our appreciation for the life-altering care that dermatologists provide."
Bridger and his family traveled to New York City, where he received the first in a series of scar treatments that will help him regain his smile.
"While the world and I celebrated Bridger's incredible heroism and bravery, I also thought about how the scars from this attack could affect him physically, mentally, and emotionally," says Dr. Bhanusali. "Working with Bridger and his family has been so rewarding, and I'm grateful to collaborate with Dr. Maughan so that Bridger can continue his care closer to home."
Coordinating Bridger's treatments to ease his recovery process was a top priority for Dr. Bhanusali and Utah-based dermatologist Dr. Maughan.
"Despite being across the country, Dr. Bhanusali and I are working together closely to ensure Bridger gets the best treatment possible and that he and his family are comfortable with his care," says Dr. Maughan. "After everything Bridger and his family have been through, we want to give him every opportunity for his scars to look their best."
The AAD created the Patient Care Heroes program to recognize physicians who transform patients' lives by utilizing their expertise and collaborating with other physicians to treat serious skin disease.
"The Academy applauds Drs. Bhanusali and Maughan for going above and beyond in their collaborative care of Bridger," says Bruce H. Thiers, MD, FAAD, president of the AAD. "Their work to help him and his family regain a sense of normalcy is a shining example of the life-changing care dermatologists provide."
To learn more about the work of Drs. Bhanusali and Maughan, visit www.aad.org/skinserious/stories-robert-walker.