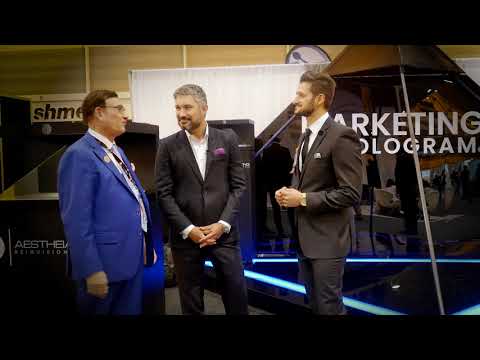 Aestheia Imaging is rolling out XTHEIA, an interactive hologram display with a virtual consult assistant for medical office waiting rooms.
The Dallas-based hologram content management and advertising subscription company will offer holographic before and afters in true 3D. The technology debuted at the annual meeting of the American Society for Aesthetic Plastic Surgery in New Orleans.
"We are dedicated to providing novel and groundbreaking product innovation for the entire aesthetic community," says President Mike McDonald in a news release. "The company today offers a fully automated and comprehensive holographic playlist for physician waiting rooms tethered to a cloud-based solution developed by the management team."
"We are changing the way medical companies and physicians communicate with their customers and patients. The Alexa of aesthetics is now in the room," adds CEO Austin JM Podowski. "The team has also designed a customer facing iPad Pro application that allows a physician to remote control the device offering an in-app camera for patient photos."
Aestheia Imaging is finalizing a third-round capital raise and will begin placement of their technology throughout plastic surgery offices in North America in July 2019. The technology will also be on display in direct-to-consumer retail kiosks throughout the United States later this year.
PHOTO CAPTION: New Jersey plastic surgeon Barry DiBernardo, MD speaks on the future of in-practice marketing.