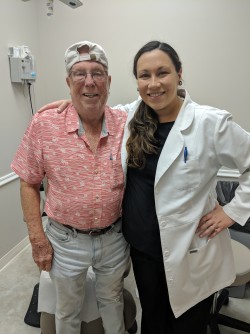 Brittany Smirnov, DO is an American Academy of Dermatology Patient Care Hero for her role in diagnosing and treating a patient with stage IV metastatic lung cancer.
When South Florida resident Richard Danzer developed a cyst on his back that grew larger and more painful over time, he saw his general practitioner who referred him to Dr. Smirnov for her dermatology expertise. After examining Danzer and hearing his medical history, Dr. Smirnov suspected the cyst was a sign of a more serious condition. She ordered a chest CT scan, which confirmed a lung cancer diagnosis.
After multiple radiation treatments and chemotherapy, Danzer is now cancer free and sees Dr. Smirnov for routine skin checks every three months.
"I wasn't expecting such a dire discovery from a dermatology appointment. It's a scary diagnosis with intense treatment, but Dr. Smirnov has been a bright spot during this trying time. Had it not been for her, I would not be here today," says Danzer in a news release.
Many people with lung cancer do not experience symptoms such as chest pain and wheezing until later stages of the disease, which often delays diagnosis and treatment. Danzer's cyst was the clue that led to a timely diagnosis and helped him receive the life-saving care he needed.
"I want to change peoples' lives for the better, which sometimes starts with the diagnosis of a serious disease, as was the case with Richard," says Dr. Smirnov. "I'm proud of the cross-disciplinary team that sprang into action to find a life-saving treatment that worked."
Up to 12 percent of lung cancers are accompanied by skin abnormalities, according to research published in Case Reports in Oncology. Dermatologists are uniquely trained to examine the skin as a window to underlying conditions such as cancers that can cause bumps, dryness, itchiness, scaling, and redness.
"Skin conditions can be a symptom of a more serious medical problem, so it's crucial for dermatologists to ascertain their underlying cause," says Bruce H. Thiers, MD, FAAD, president of the AAD. "Dr. Smirnov's work in identifying a patient's lung cancer exemplifies the significant role dermatologists play delivering life-saving care as members of a comprehensive health care team."
The AAD created the Patient Care Heroes program to recognize physicians who transform patients' lives by utilizing their expertise and collaborating with other physicians to treat serious skin disease.
PHOTO CAPTION: Board-certified dermatologist Brittany Smirnov, DO, FAAD, with her patient, South Florida resident Richard Danzer.