Your 8 am patient is a "no-show." So is the 8:15 am patient. While you aimlessly surf the Internet, your staff is double booking your 9 am and 9:30 am slots, just to be on the safe side. The 8:30 am patient is 10 minutes late, and as the staff finishes rooming the patient and inputting his past medical history, you realize 45 minutes of your morning has been wasted. By 10 am, you are 45 minutes behind, instead, due to the double-booked patients who, of course, all showed. You may or may not get to eat lunch today. You are not happy, and because you are now running late, neither are your patients.
One of the biggest frustrations in medical practice is poor patient flow. Sitting around idly is a bad use of physician time, but dashing from room to room, trying to get back on track is a sure-fire way to burn out. It takes a lot of staff time and energy to make sure a doctor's schedule flows smoothly. And even when there is a dedicated person on the phone for several hours a day, trying to make it work, it often doesn't.
"This is just how it is," doctors lament. "The scheduling staff can't get it right."
"Patients are going to forget about appointments, and we just have to deal with it."
"Some patients have a lot of past medical history and meds and take longer. There's no way to know in advance who that might be."
While those statements have been true for a long time, they don't have to be in 2019 and 2020. Today, we can do much better.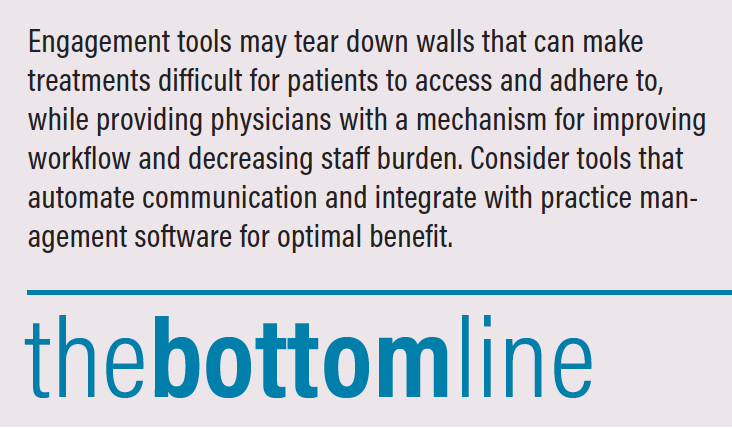 Decrease No-show Rates
RS is a 22-year-old woman coming in for an initial visit for cystic acne. She receives an automated text reminder four days before her scheduled appointment asking her to confirm or rebook if she's no longer able to make it. RS had almost scheduled a lunch date at the same time as her appointment, since she had booked the appointment many weeks prior and had forgotten to enter it into her calendar. Thankfully, the text from her dermatologist's office reminded her of the appointment, and she confirmed that she would be there. A potential "no-show" was easily avoided, and both patient and staff time were saved. RS also could have received a call and voicemail instead of a text, per her preference. The system can continue to try to contact the patient until an answer is received.
Now imagine that RS had forgotten about her dermatology appointment and had already scheduled an important work meeting at the same time. In response to the message she got, she instead replies that she has to rebook. Your staff then receives a prompt from the practice management (PM) system, enabling them to see a list of patients from the waitlist who match the appointment criteria. From there, they can contact patients to fill the new opening in the schedule days before they might have been able to before.
Elements of the staff part of the reminder process can also become automated. The practice's PM system can automatically recognize that a patient did not keep an appointment and without your staff having to pick up the phone can contact the patient 48 hours post the missed appointment time to reschedule.
Improve Workflow in Your Office
RS arrives for her appointment a few minutes early and is handed a tablet during check in. She signs a consent for communication and is also able to input her past medical history, including any allergies, medications, family history, and social history while she waits. With a tech-savvy patient, filling out a patient history ahead of the exam can help save your staff time on data entry, while still leaving them, and you, the ability to edit things later should discrepancies arise.
Just as RS is finishing inputting her past history, your medical assistant (MA) calls her back to the exam room. RS mentions that she was impressed that she was able to directly input her past history into her record and your MA reminds her that in the future, as an established patient, should anything in her history change, she would be able to update her chart through the patient portal at home.
Running on time, you enter the room. As you complete your exam, you begin to discuss the option of going on isotretinoin. You explain to RS that she will also have to use two forms of birth control to prevent pregnancy and she is willing to do this.
Help Patients with Medication Adherence
However, RS points out that she has a high-deductible insurance plan, and she is concerned about the cost of both the isotretinoin and an oral contraceptive. Using your EMR, you do a quick price comparison of what RS can expect to pay based on her insurance. She notes that she should be able to complete the five-month course of treatment and is relieved.
Many patients who leave a physician's office with a prescription for a medication never fill it, and much of that has to do with either anticipated cost of the medication or sticker shock upon being told the price by the pharmacist. Knowing what the cost of the medication is prior to leaving the office can help with patient adherence.
While isotretinoin was the right option for RS, other patients may do nearly as well on an oral antibiotic. But only if they are taking it regularly and as prescribed. Being adherent to a daily or twice-daily medication can present its own challenges for many patients. We all forget. And patients may be reluctant to tell their doctors they missed several doses of a prescribed medication. During a patient visit, an EMR system can let the physician know that refills have not been picked up, allowing for a conversation on how the patient might be able to improve treatment efficacy with improved adherence.
Increase Patient Satisfaction
Software applications are becoming increasingly user-friendly, and patients are becoming used to requesting appointments and information with only a few clicks or taps. And they expect that medical applications and interfaces with their physicians' offices will work just as easily as requesting a ride or booking a dinner reservation. After she gets home, RS can log onto the patient portal for more information on cystic acne or for a summary of her visit. Sometimes patients have to process a lot of information at once and being able to access it later can be incredibly helpful.
A web-based patient portal can prove advantageous for two-way communication, as well. A patient can request a prescription refill and a physician or an office staff member can follow up with a patient post-procedure. Patients can be reminded to book follow-up appointments with an automated appointment reminder that interfaces with the PM system, even several months out.
Having a companion app to your practice's web-based patient portal also helps to deliver a positive experience while simultaneously improving engagement and communication. Through an app, patients today can request prescription refills, submit e-visits, and connect directly with members of staff if they have a question—just as they can on the web portal.
Additionally, practices can generate their own patient surveys with which to engage patients. Instead of waiting for reviews to appear online, patients can send reports of both positive and negative experiences directly to the physician's office (but only if he or she wants this feature).
The ability to send automated requests for patients to rate their visit and provide feedback can further engage the patient and provide an early warning sign to physicians about potential pitfalls in their office flow. The patient is also given a mechanism by which he or she can be heard and feel as though their opinion is valued.
Robust Engagement Tools
Offering robust engagement tools to improve the patient experience can help increase satisfaction while also improving outcomes, encouraging treatment adherence and timely follow-up appointments. Engagement tools offer the possibility of tearing down the walls that can make treatments difficult for patients to access and adhere to, while providing physicians with a mechanism for improving workflow and decreasing staff burden.