Aqualia Thermal UV Defense Moisturizer, Vichy
Vichy has introduced Aqualia Thermal UV Defense Mositurizer SPF 30, a light-weight moisturizer the company says provides 48-hour hydration, fortification, and protection. The formulation is ideal for daily use, especially as an everyday SPF during the winter months. It works by strengthening the skin's moisture barrier to help prevent water loss, leaving skin radiant and plumped with moisture. Aqualia Thermal UV Defense Moisturizer SPF 30 is formulated with broad-spectrum SPF to protect skin from damage caused by UVA and UVB, plus a precise dosage of rehydrating active ingredients including Vichy Mineralizing Water, Natural Origin Mannose, and Niacinamide + Ceramide 3 to soothe and plump. vichyUSA.com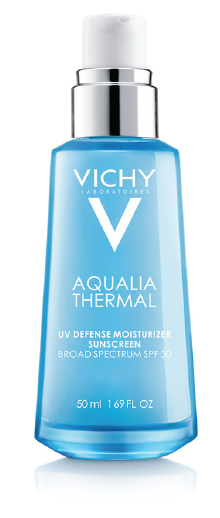 GlycoAla, DermaConcepts
DermaConcepts, the sole USA and Caribbean Distributor of Environ® Skincare, has launched GlycoAla, a unique cosmetic light-activated gel designed to help reduce and prevent the visible signs of aging. The company says the treatment provides results that are longer lasting than a chemical peel but non-invasive. GlycoAla is the only photodynamic gel containing hyaluronic acid that utilizes a state-of-the-art nanoparticle delivery system, known as a glycosphere, to provide enhanced stability, delivery, and speed of absorption. As demonstrated in an independent study of light-activated GlycoAla Cosmetic Gel that was recently presented at the ASDS Annual Meeting in Chicago, most patients achieved visible improvements in their skin after a course of three treatments spaced four weeks apart. dermaconcepts.com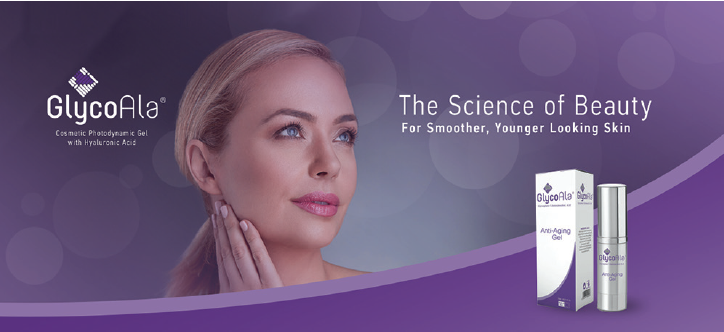 Delight Beauty, Universal Beauty Products, Inc.
Universal Beauty Products, Inc. recently launched Delight Beauty, an everyday skincare brand on a mission to make caring for skin a truly enjoyable experience. Recognizing that "me time" is a fleeting luxury for many busy consumers, Delight Beauty skincare offers pleasurable textures, scents, and formats create delightful moments of self-care, pampering and practical indulgence. Each product is developed with its own special twist—an innovative applicator, a unique texture, an inviting scent, a subtle sparkle—that enhances both the experience and the results. Soothing formulas, luxurious textures, and nourishing botanicals and minerals all come together to support a complexion that's both healthy and radiant. Each formula has been dermatologist-tested to assure it is safe and non-irritating. The collection is launching with four hero products: Roll With It Gel Detox Mask, a velvety gel formula with an innovative rolling applicator that cools and stimulates while natural fruit enzymes and hyaluronic help revitalize dull skin; Fresh Sweep Calming Gel Toner, a smooth gel formula paired with a soft antibacterial brush applicator that soothes and pampers skin; Smooth Hydration Nourishing Moisturizer, a silky, lightweight formula with nourishing apricot, vitamin C, vitamin E and antioxidants to support skin defense, renewal, firmness and hydration; and Sparkling Clean Zinc Face Wash, featuring a shimmering gel formula infused with zinc, papaya enzymes and hyaluronic acid that work together to cleanse and rejuvenate skin. delightbeauty.com

---
New in My Practice: Device
Candela's Vbeam Prima

With Anne Chapas, MD
In each issue, Practical Dermatology® magazine spotlights a new device or an over-the-counter (OTC) or prescription treatment that dermatologists are recommending to their patients. This month, Anne Chapas, MD, a Manhattan-based dermatologist and the founder and medical director of Union Square Laser Dermatology, shares her experience with Candela's new and improved Vbeam Prima, which has become a workhorse for her practice.
What is Vbeam Prima, and how are you using it in practice?
Anne Chapas, MD: Vbeam is a type of pulsed-dye laser that treats skin issues related to increased blood vessels in the skin. It has been FDA approved for more than 20 years. Now, there's a new and improved Vbeam laser on the market called the Vbeam Prima. I commonly use the Vbeam Prima on rosacea, sun damage, spider veins, port-wine stains, and bruising after surgical or minimally invasive procedures. It's also helpful in treating redness associated with acne as well as red stretch marks and scars.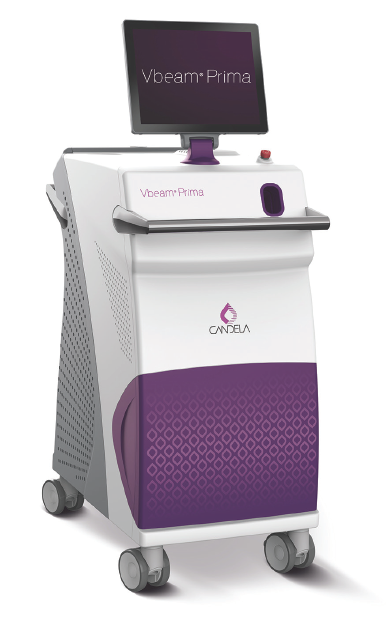 How is it new and improved?
Dr. Chapas: The new Vbeam Prima has an additional laser wavelength (1064nm) to treat larger and deeper blood vessels. So it's now two lasers in one. In addition, the original 595nm laser technology has been improved, making it more effective in delivering greater energy to the tissue. The spot size of the laser is also larger, which increases the speed of treatment and delivers the energy more evenly to the skin. The laser also has a Dynamic Cooling Device spray to protect the skin during treatment and a contact cooling handpiece to protect the skin by keeping it cool as the laser energy is delivered to the target.
How does Vbeam Prima compare to other vascular lasers?
Dr. Chapas: The Vbeam Prima laser can use different attachments and settings enabling it to treat blood vessels of different sizes and depths. It's my preferred vascular laser for unwanted redness and rosacea. It is a great laser for targeting large blood vessels (1mm and above) and individual spots. If you have very small blood vessels and brown discoloration from sun damage diffusely in an area like your face, chest, arms, or back, then you may want to consider photorejuvenation (IPL) instead.
Please share any pearls.
Dr. Chapas: The Vbeam Prima is a highly tunable laser to deliver the 595/1064nm energies for various applications. The increased spot size has allowed for faster, more efficient, non-purpuric treatments for patients with inflammatory conditions such as acne and rosacea. Patients with port wine stains benefit from the greater energy clearance at purpuric settings I've seen these patients have better resolution of the port wine with fewer Vbeam Prima treatments than with previous devices.
How has patient satisfaction been with treatments?
Dr. Chapas: Patient satisfaction rates are extremely high with the Vbeam Prima across the board. Patients appreciate that they are seeing results faster with fewer treatments. We see a huge improvement in the quality of life in our patients with severe rosacea, scarring and port wine stains thanks to the results we can achieve with the Vbeam Prima.