The introduction of social media networks has provided an additional platform for communication between individuals and their family members and friends. In addition to providing communication between loved ones, the utility of social media has broadened to include professional networking, fundraising, blogging, media sharing, virtual gaming, and more. According to the Pew Research Center, "around seven in 10 Americans use social media to connect with one another, engage with news content, share information, and entertain themselves."1 In addition, roughly three-quarters (73 percent) of the public use more than one social media platform. The potential benefit of social media use for health care providers is the same as for all users of social media: the sharing of information. This may be in the form of communicating with other health care professionals, public outreach, referrals, organization promotion, health data tracking (e.g., Fitbit), and education.
Potential Benefits
The Merriam Webster dictionary defines crowdsourcing as: "the practice of obtaining needed services, ideas, or content by soliciting contributions from a large group of people and especially from the online community rather than from traditional employees or suppliers." An example of this use in the medical field is illustrated in the new Netflix series "Diagnosis." Throughout the series, patients present with symptoms, often bizarre, with no discernable medical diagnosis. These patients typically have seen numerous medical providers over many years without a satisfying explanation of their symptoms. The physician in the series, Dr. Lisa Sanders, consults with the patients and their family members. She then writes an article in the New York Times where she uses readers to crowdsource medical advice. In this example, the patient has consented for their information to be shared to a large public audience.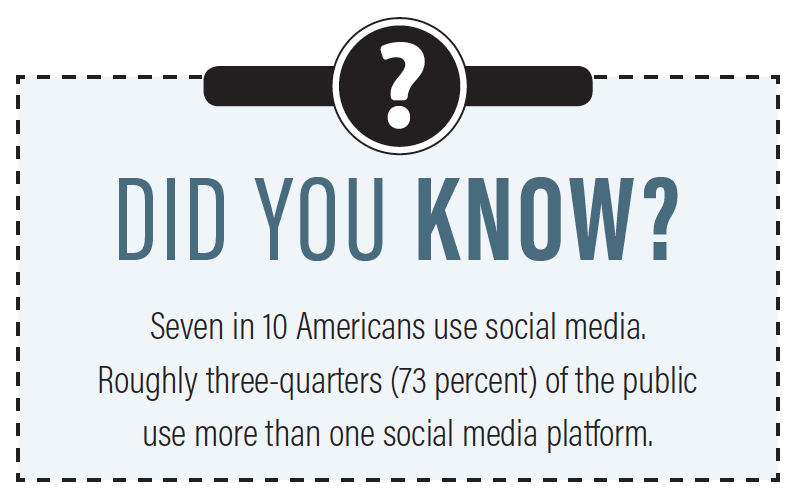 Potential Risks
While the series "Diagnosis" reveals a possible benefit of social media in clinical practice, there is concern that social media use could be inappropriate, unethical, or even illegal. Potential risks of social media platforms can include the distribution of inaccurate or unproven information, breaches of patient/health care provider privacy, violation of the patient-provider relationship, and legal dilemmas. Individuals who use social media are becoming aware that their online presence can play a detrimental role in their professional lives. Potential employers and schools can search information gleaned from social media platforms in hiring and admissions processes. Most medical schools now have policies on the use of social media, with many hospitals and health care organizations following suit. There have been some publicized cases of health care providers losing jobs due to poor decisions on social media; most of these cases involve sharing of patient information.
For the purpose of this article, social media sites include private organization (protected) sites and public social media sites. Private organizations have members-only social media sites for healthcare professionals that may verify the credentials of medical providers before granting access. Public online social networks often use closed professional groups. It is essential to realize the vetting of these groups does not always rely on medical credentials and is up to the independent moderator of each group. There is no guarantee the information you post here is private and only seen by qualified health care professionals. As a result, any medical advice received through social media should be verified through proven evidence-based pathways.
Emerging Guidance
In 2010, The AMA released its first mission statement on the use of social media by physicians in a report of the council on ethical and judicial affairs titled, "Professionalism in the Use of Social Media" Providers are encouraged to adhere to all HIPAA policies, such as the avoidance of posting images or identifiable patient health information. These guidelines also emphasize the need to maintain patient confidentiality, provide accurate and truthful information, declare conflicts of interest, and recommend maintaining separate personal and professional profiles. Of note the AMA recommends, "when physicians see content posted by colleagues that appears unprofessional, they are encouraged to bring that content to the attention of the individual, so that the colleague can remove it and/or take other appropriate actions."
In April 2018, the AAD released its position statement on medical professionalism in the use of social media. The AAD's position was adapted from the AMA's position statement and mirrors the same recommendations. The AAD specifically states, "Physicians are also discouraged from providing free dermatology services in exchange for patients agreeing to have their images featured on social media. This practice would be particularly problematic for Medicare patients, as offering free services could be deemed to be an improper inducement under federal law."
Physician assistants should consider discussing this issue within their own practices. The first avenue for consultation should be with the collaborating physician or another physician or PA within the practice.
Proceed Cautiously
There are basic guidelines all health care providers should follow in their use of social media. All social media use should protect patient information and privacy. In addition to professional medical association guidelines, it is essential to be aware of employer policies and state and federal privacy laws. Table 1 provides a list of resources to review for all health care providers.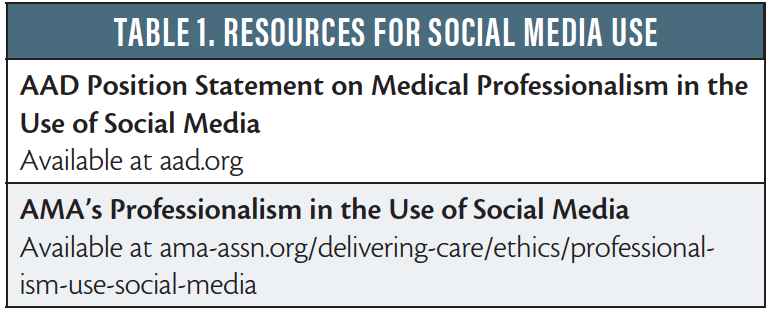 1. https://www.pewinternet.org/fact-sheet/social-media/
2. Ventola CL. Social media and health care professionals: benefits, risks and best practices. P & T. 2014; 39(7): 491-499, 520.