If you have been waffling about participating in the Centers for Medicare & Medicaid Services (CMS) Quality Payment Program and have dabbled solely to avoid a penalty, those days are numbered.
This is the main takeaway from CMS' proposed Physician Payment Rule for 2020.
The Medicare Access and CHIP Reauthorization Act (MACRA) shifted physician payment so that it rewarded value and quality over volume via the creation of the Quality Payment Program (QPP). The QPP offers two pathways for reimbursement: MIPS and Advanced Alternative Payment Models (APM). Most dermatologists will participate in MIPS.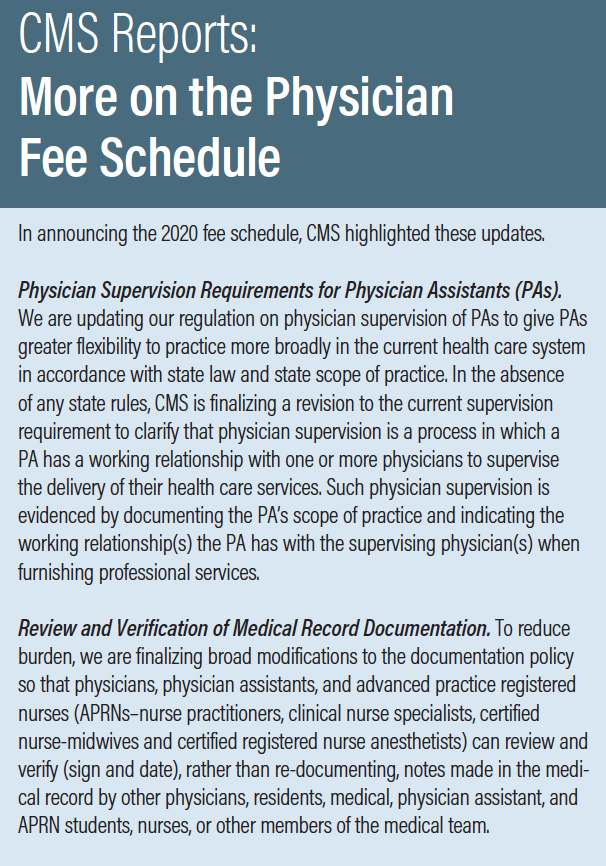 In 2018, a dermatology practice needed 15 (out of 100) points to avoid a penalty in 2020. Thirty points were needed in 2019 to avoid a seven percent penalty in 2021. In 2020, the ante has been raised once again. Practices now need 45 MIPS points to avoid the nine percent penalty. (On the flip side, top performers can earn up to a nine percent bonus.) By 2021, this number will hit 60.
The points are spread across four categories, and each category is weighted differently.
Quality (45 percent of score)
Promoting Interoperability (25 percent of score)
Improvement Activities (15 percent of score)
Cost (15 percent of score)
Here's what will be involved in accruing the necessary points in 2020.
Category: Quality
Practices must report six quality measures, including at least one outcome or high priority measure.
Some measures pertinent to dermatology may include:
Documentation of Current Medications in the Medical Record
This measure refers to the percentage of visits for patients where a list of current medications is documented (High Priority).
Melanoma: Coordination of Care
This measure captures the number of patient visits with a new occurrence of melanoma whose treatment plan was documented in the chart and communicated to the physician(s) providing continuing care within one month of diagnosis (High Priority).
This measure comprises the number of new patients whose biopsy results have been reviewed and communicated to the primary care/referring physician and patient (High Priority).
Psoriasis: Tuberculosis (TB) Prevention for Patients with Psoriasis, Psoriatic Arthritis and Rheumatoid Arthritis Patients on a Biological Immune Response Modifier
This measure refers to the percentage of patients with psoriasis and psoriatic arthritis on a biologic drug for whom there is active tuberculosis prevention and surveillance.
Category: Promoting InteroperabilIty
A practice must report on all required measures from each of four objectives—E-prescribing, Health Information Exchange, Provider-to-Patient Exchange, Public Health and Clinical Data Exchange. In addition, you must use EHR technology that is 2015 edition certified electronic health record technology (CEHRT).
Category: Improvement Activities
Practices must report a combination of Improvement Activity measures (up to four measures) for 40 points. This category comprises innovation and improvement activities that center around care coordination and population management.
These include:
Engagement of new Medicaid patients and follow-up (high weighted).
Implementation of documentation improvements for practice/process improvements (medium weighted).
Implementation of improvements that contribute to more timely communication of test results (medium weighted).
Category: Cost
There's not much to do here in terms of reporting. CMS assigns the number to you based on the Medicare Spending Per Beneficiary (MSPB) of your patients.
Last Year?
As I've written before in this column, you've been warned. This just may be the last year you can avoid the MIPS penalty. Stay tuned for more on the proposed rules and how they will affect the practice of dermatology in 2020.