We live in the age of information. In this time of incredibly efficient and excessive information exchange, it is increasingly difficult to verify that important information is both received and understood. Healthcare providers are seeing exponential demands on communication from both a medical and administrative standpoint. We are drowning in digital data.
Although it is known that an increasing volume of information dissemination is required, this creates a uniquely modern-day conundrum contributing to burnout among all levels of healthcare providers. While there are ample platforms available for the distribution of this vast quantity of information, effective communication is challenging. Recently, significant issues have become quite evident in attempting to communicate with colleagues, office staff, scheduling personnel, administration/management, third-party payers, and even the patient. Unfortunately, our communications are always competing for attention and, conversely, our attention is always being vied for by numerous entities. What is the solution?
From a supervisory or management perspective, so often we find that emails sent to groups of employees are only marginally effective methods of communicating. Data is sparse regarding the specific number of communications per day a medical provider is expected to receive, understand, and reply to. One estimate of emails alone showed 90 emails per day.1 This data is a few years old and does not consider texts, phone calls, or other communication apps/methods. In short, the questions loom: Where is the threshold when communication becomes over-communication? When does communicating stop improving care and start hindering it? Have we hit that threshold?
Changing Trends and Opportunities
As millennials become more prevalent in the workforce, communication trends are changing more quickly than practice requirements. We have become a society driven by "instant gratification." Instagram, Twitter, GIFs, emojis, Vines, and more are now commonplace and have become a language of their own. Seamless, quick, efficient and increasingly visual communication experiences are expected. It can quickly become overwhelming. To best understand the ideal way to communicate with groups and individuals, one might informally survey their contacts/network for preferred communication methods. These range from traditional phone calls to social media apps with texting and email. It quickly becomes clear that not one method will be an effective mode of communicating with all involved parties. Then, just to add another layer of complexity, insert HIPAA regulations to this already complex environment. This renders efficient communication nearly impossible. So now what do we do?
Under these circumstances, it is imperative to be thoughtful and intentional in all communications. Practices and businesses alike should have documented communication strategies in place and ensure all parties are aware of these strategies. As an example, simple etiquette policies can reduce the number of emails sent and received and improve the efficiency of those emails. There is no shortage of email etiquette examples at our fingertips. Generally, simple things like clear, concise subject lines can be helpful. Encouraging verbiage such as "confirm receipt," "FYI," and "no need to reply" while discouraging "reply all" unless truly warranted, can make a significant difference. Another consideration may include implementing a "digital communication dashboard" concept, wherein one has an individualized central communication hub to organize and access pertinent information.
Defining appropriate utilization of all forms of communications in a medicolegal framework will reduce risk and improve efficiency. While texting and social media/chat apps can be a nice way to set up lunch with a colleague, in most cases they are not safe for sensitive information. On the other hand, when an immediate response is needed, perhaps a text or social media/chat message requesting an in-person or telephone conversation is best. This requires knowing your audience and their preferences.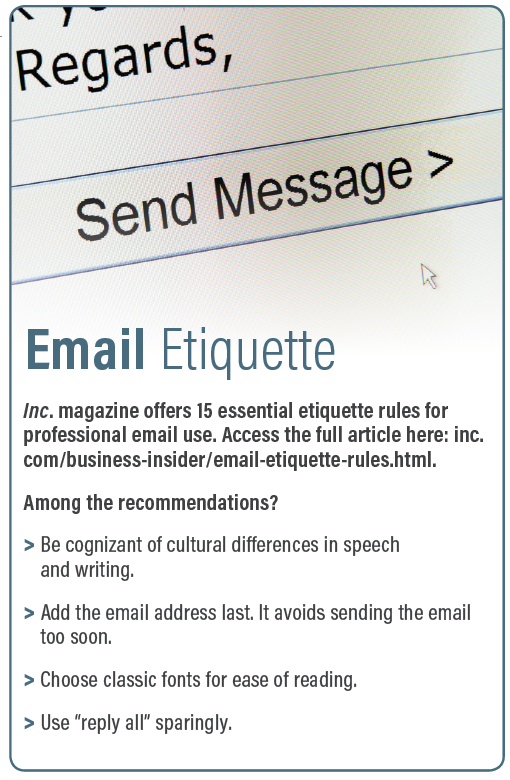 Effective and Efficient
As a medical culture, we should insist on effective and efficient communication. We must find ways to avoid getting bogged down in unnecessary, time consuming minutia. Implementing guidelines, recommendations, and policies and then training providers, staff, and patients is necessary to reduce burnout and improve care. Instead of tackling the giant, so to speak, a few simple strategies targeting specific methods of communication (email, for example) are a good start. In the end, understanding one's own communication preferences and habits has proven benefit. When in doubt, consider how you would prefer to receive communication and then simply extend that same courtesy to others.
---
1. https://www.templafy.com/blog/how-many-emails-are-sent-every-day-top-email-statistics-your-business-needs-to-know/