The Big See Campaign Launches
Peter Friedman, MD, PhD
A new, multiyear public service campaign from The Skin Cancer Foundation urges proactive approaches to skin cancer diagnosis. "The Big See" highlights the unique characteristic of skin cancer as one that is easily visualized.
The campaign's catchphrase—"What's That?"—is intended to remind people to look for anything on their skin that's new, changing, or unusual. The Big See campaign will include a social media effort, print advertisements, and a guerilla initiative as well.
The pro bono campaign was conceptualized and executed by Digitas Health, an agency within the Publicis network, and with whom the Foundation has been working since 2017.
The Skin Cancer Foundation, celebrating its Fortieth Anniversary this year, has also announced plans for its annual Champions for Change Gala to be held October 17 in New York City. Information and tickets are available at skincancer.org.
Amgen To Acquire Otezla® For $13.4 Billion In Cash
Amgen has entered into an agreement with Celgene Corporation in connection with its previously announced merger with Bristol-Myers Squibb Company to acquire worldwide rights to Otezla (apremilast), the only oral, non-biologic treatment for psoriasis and psoriatic arthritis, and certain related assets and liabilities, for $13.4 billion in cash, or approximately $11.2 billion, net of the present value of $2.2 billion in anticipated future cash tax benefits.
"The acquisition of Otezla offers a unique opportunity for Amgen to provide patients an innovative oral therapy for psoriasis and psoriatic arthritis that fits squarely within our portfolio and complements our Enbrel and AMGEVITA brands," says Robert A. Bradway, chairman and chief executive officer at Amgen. "We will take advantage of our 20 years of experience in inflammatory disease to realize the full global potential of Otezla as an affordable option for patients with these serious, chronic inflammatory conditions."
The closing of the acquisition is contingent on Bristol-Myers Squibb entering into a consent decree with the Federal Trade Commission in connection with the pending Celgene merger, the closing of the pending merger with Celgene, and the satisfaction of other customary closing conditions. The transaction is expected to close by the end of 2019.
Lilly's Oral JAK Inhibitor Plus Steroids Improves AD Symptoms
Adding the oral JAK inhibitor baricitinib to standard-of-care topical corticosteroids significantly improved atopic dermatitis disease severity, measured by the validated Investigator's Global Assessment for AD (vIGA) score of "clear or almost clear" skin (vIGA 0, 1), the primary endpoint of the Phase 3 BREEZE-AD7 study at 16 weeks, Lilly reports.
The study was conducted outside of the US and is the third of five placebo-controlled trials in the Phase 3 program. It recruited patients from Asia, Europe, South America, and Australia.
Safety data were consistent with the known safety profile of baricitinib. The most common treatment-emergent adverse events observed were nasopharyngitis, upper respiratory tract infection and folliculitis. One pulmonary embolism was reported in the baricitinib group. One opportunistic infection was reported in the placebo group. No malignancies, major adverse cardiovascular events (MACE), or deaths were reported in the study.
Baricitinib 4mg and 2mg both met the primary endpoint on BREEZE-AD1 and BREEZE-AD2 clinical trials disclosed earlier this year. Lilly plans to share the detailed 16-week data and analyses from BREEZE-AD7 at future scientific venues and in peer-reviewed journals later this year. Top-line data from the remaining two Phase 3 trials will be announced later this year or early next year.
Cassiopea Submits NDA for New Acne Treatment
Cassiopea SpA submitted a New Drug Application (NDA) to the FDA seeking marketing approval for clascoterone cream 1% for the treatment of acne. Clascoterone cream 1% is under investigation as a first-in-class topical androgen receptor inhibitor. It is a topically delivered small molecule that penetrates the skin to reach the androgen receptors of the sebaceous gland.
Clascoterone cream 1% targets androgen receptors at the site of application, inhibiting the skin effects of dihydrotestosterone (DHT) a key driver of acne lesion development. Laboratory studies show that clascoterone inhibits lipid production from sebocytes and reduces proinflammatory cytokines. Unlike oral hormonal therapies for acne, it may be used in both male and female patients.
"If approved, clascoterone cream 1% will be the first new mechanism of action in the treatment of acne in nearly 40 years, offering dermatologists and patients a new and effective therapeutic alternative," says Diana Harbort, CEO of Cassiopea. "We're focused on the urgency to treat skin conditions that can leave not only physical scars, but also emotional scars. That's why innovation is so critical. We are committed to finding a way to treat acne that addresses the root causes of the condition."
NRS Releases New Free Resource for Rosacea
The National Rosacea Society new public service booklet, "Recognizing Redness," is now available. The free booklet includes a redness register to allow patients to gauge relative redness before and after flare-ups or treatment.
The redness register is a scale with nine shades of redness. In a well-lit room with a mirror, the patient holds the color scale to the back of their hand, neck or other area of skin that gets as much sun exposure as their face and determines the shade of redness that appears to represent the closest match for the redness in their skin, disregarding skin tone. Next, the patient looks in the mirror and holds the redness register to their face, where affected by rosacea, to determine the shade that most closely matches the redness. A difference of two or more shades may indicate rosacea, and greater difference may indicate greater severity.
"The new Recognizing Redness booklet is an excellent tool for patients to understand the disorder and assess the fluctuations in their complexion," says Estee Williams, MD, assistant clinical professor of dermatology at Mount Sinai Medical Center in New York City. "Because rosacea redness is so variable and can be difficult to measure by eye, it is useful to be able to objectively track improvement made by medical therapy and avoidance of triggers for flareups."
In addition to the redness register, the booklet includes information about rosacea and how it is diagnosed, as well as a list of the most common rosacea triggers.
The new "Recognizing Redness" booklet may be downloaded free of charge on the NRS website, rosacea.org. It can also be obtained by writing the National Rosacea Society, 196 James Street, Barrington, Illinois 60010, calling the Society toll-free at 1-888-NO-BLUSH or via e-mail at rosaceas@aol.com.
Health professionals may also order bulk quantities for use as handouts to patients with rosacea. The new booklet was made possible by support from Aclaris Therapeutics, Inc. Patients
DERM 2019 NP/PA Conference Highlights
The Dermatology Education Foundation recently wrapped up its CME annual conference designed for NPs and PAs to enhance their diagnostic skills and be part of case discussions of treatments. Ahead are reported highlights from the four-day meeting from DERM attendees, including pearls from sessions from April Armstrong, MD; David Cohen, MD; Adam Friedman, MD; Kara Gooding, MMS, PA-C, Joe Gorelick, MSN, FNP-C; Julie Harper, MD; Jayme Heim, MSN, FNP-BC; George Keough, MD; Leon Kircik, MD; Kristine Kucera, PA-C, MPAS, DHS; Gilly Munavalli, MD; Ted Rosen, MD; Linda Stein Gold, MD; and Jennifer Stein, MD. For more complete coverage, click here.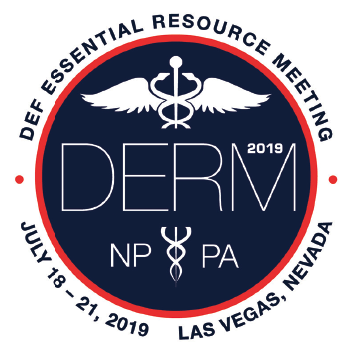 PsO/PsA: Current best evidence suggests the native T-cell (not the keratinocyte) becomes TH1 and TH17 in the psoriatic patient and is the most specified target. Current target molecules for biologic systemic therapy include TNF-<α, IFN-γ, IL-17A, IL-17F, and IL-23. Dr. Armstrong suggests these cytokines and receptors may be the best targets in psoriatic disease.
The recently updated AAD-NPF Psoriasis Guidelines include updates on laboratory monitoring before starting a biologic, dose escalation, and more. Baseline labs prior to starting biologic therapy include TB, CBC, CMP, hepatitis B and C. HIV testing is at the provider's discretion. With ongoing therapy, annual TB testing is recommended. Additional monitoring is at the discretion of the provider.
Biologic agents identified for treatment in escalated dosing include: Etanercept, Adalimumab, Infliximab, Secukinumab, Ixekizumab, and Ustekinumab.
Every patient with psoriasis should be screened for psoriatic arthritis, says Dr. Armstrong.
Atopic Dermatitis: Simply stated, this disease state can present from immune dysfunction and/or barrier dysfunction. Dr. Armstrong presented evidence that the immune response is heightened in atopic patients, which seems to drive inflammation. Additionally, their skin barrier is more like a sponge than a brick wall. Understanding the morphology or typical presentation can aid in diagnosis.
Rethink peanut avoidance! New evidence suggests we should expose at-risk children to these allergens early in life to help reduce the potential of allergy development.
Before considering oral and IM steroids for that atopic flare, Dr. Friedman says to be aware of the risks including infection, rebound flare, and atrophy, which are dangerous and should be avoided long term. Cyclosporine (which may be a good short-term option but should not be considered long-term due to side effects and malignancy risk), Methotrexate (which newer research indicates is safer than we once thought but may not be an ideal long-term option given concern for liver toxicity), Mycophenolate Mofetil, NBUVB (not ideal for the flared patient), Azathioprine, and Acitretin (no ETOH or in women with childbearing potential) are systemic therapy options that have been available for years. Consider neuropathic medications and antihistamines for itch. Dupilimumab, an IL-4/IL-13 receptor blocker, is FDA approved for patients (12 years and up) with moderate-severe atopic dermatitis with an excellent safety profile.
Vehicles. Vehicles Matter and patients like foam! It's easy to apply, doesn't irritate the skin, and allows topical medications to absorb into the skin at a remarkable rate compared with oral formulations. Nanoparticles are also hot. We know the benefits of using topical retinoids far outweigh the irritation, but what if we could have the benefits without the irritation, such as a topical retinoid (tretinoin) nanoparticle containing micronized emollients like hyaluronic acid, glycerin, and soluble collagen?
New and in the Pipeline. There's a novel, topical therapy (clascoterone) that holds promise for improving outcomes in our acne patients by binding to androgen receptors. Dr. Kircik says, this is a "game changer!"
The molecule CB-03-01 may offer us another topical option for hair growth which offers promise with reduction of side effects.
And a novel topical therapy called Licochalcone A holds promise for blocking P. acnes. While this molecule is currently being tested in animal models, results look favorable.
Tazorotene and halobetasol? Dr. Kircik says this formulation may enhance delivery allowing improved outcomes while hydrating simultaneously!
Infectious disease. Infectious disease is alive and well in the twenty-first century, according to Dr. Rosen. The Zika Virus, Yellow Fever, West Nile Virus, and Measles continue to present a risk in the US and elsewhere.
A vaccine has been in development for Zika that could find final approval and be available as early as 2020. And more good news: During the course of trying to develop an effective vaccine against Zika, researchers found that the Zika Virus attacks the immature neurons in the brain. Unaltered Zika virus, when isolated in cultures, can be extracted and injected into neuroblastoma and glioblastoma cells to destroy these cells. This is currently being investigated in animal models using native virus and live candidate vaccine.
Recent deaths related to Yellow Fever have prompted a recommendation from the CDC and WHO for travelers who visit Brazil to receive the Yellow Fever vaccine prior to travel. If a patient has a history of solid organ transplant, they should not receive this vaccine or travel to South America.
The 2018 data for West Nile virus has shown a 66 percent increase in cases compared with past years indicating this virus is changing.
Measles are back and will continue to spread unless all parents start having their children vaccinated.
Acne. Dr. Stein Gold says we need to get back to our pathophysiology roots when it comes to acne. New science seems to indicate inflammation is the start and end of acne lesion progression. From the formulation of the microcomedone to the acne scar, inflammation may be our target. This understanding may change how we view and treat acne in the future.
Hyperhidrosis. An estimated five percent of the global population suffers from hyperhidrosis. A better understanding of the burden on each individual patient can speak volumes. Asking questions (and documenting) effect on quality of life may be helpful with insurance coverage.
Treatment options include OTC and clinical strength antiperspirants, oral anticholinergics, medical botulinum toxin, microwave destruction of eccrine glands, iontophoresis, and thoracic sympathomymectomy. Topical anticholinergics show great promise in terms of overall tolerability, symptom improvement, and improved quality of life, and there are topical agents in the pipeline including sofpironium bromide, glycopyrronium bromide, and oxybutynin gel. Dr. Munavalli considers the 2.4% glycopyrronium bromide cloths a first-line treatment for primary axillary hyperhidrosis. A more permanent treatment for this condition is iontophoresis (controlled thermolysis).
Spider Bites. Spider bites in clinical practice are a presumptive diagnosis unless a spider was observed delivering the bite, the spider was recovered after the assault, and the bite was confirmed by an expert or physical findings are consistent with a spider bite. If these criteria are not present, other differential diagnoses need to be considered. Eighty percent of patients diagnosed with a spider bite actually have a soft tissue infection unrelated to a spider bite.
Atypical Nevi. For all of us who scratch our heads when considering how and when to biopsy, how to treat the patient with too many atypical nevi to count, how to educate our patients on risk and improve outcomes, and when to re-excise, Dr. Stein Gold says the first step is to focus in on the "ugly duckling" lesion. Consider dermoscopy, sequential dermatoscopic images, and total body photography in your management arsenal. Be on the lookout for new tools in the melanocytic lesion management toolbox such as total body photography and tape stripping!
Sunscreens. It may not be enough to simply ask our patients if they use sunscreen. We need to educate them about SPF and share application tips for how much to apply and when to reapply. During complete skin exams, we have a captive audience to hear the facts about sunscreen and sun-protective clothing and other barriers.
Dermoscopy. Dermoscopy can increase diagnostic accuracy and decreases the need for biopsies, but it's important to note this is just a diagnostic tool; it is not intended to replace clinical judgement. Knowing basic patterns when examining the skin will save the patient the need for biopsy. Examining the pigment network is the first step. The types of questions you need to keep in mind are as follows: What does the network look like? Is it a reticular pattern and consistent throughout? Does the lesion have a globular or a structureless network? Next, you will need to decide if the lesion is benign or malignant based on the overall pattern. Knowing how to evaluate lesions in clinical practice is important, but the bottom line is don't be a hero; if you are not sure, then biopsy. The biopsy will lead to a definitive diagnosis.
Contact Dermatitis. When your patients don't quite respond to treatment the way you would expect, repeatedly improve and immediately flare again, have involvement of rash on the eyelids, face and dorsal hands, think patch test, cautions Dr. Cohen.
CLOSE UP with Peter Friedman, MD, PhD
Warts affect approximately 10 percent of the population, and in school-aged children, the prevalence may be as high as 20 percent. Despite this, today's treatment options are painful and often produce low cure rates. Peter Friedman, MD, PhD, a dermatologist in New City, NY and colleagues are developing a cold atmospheric pressure plasma (CAP) device to treat warts. And so far, so good. The team published initial results from a proof-of-concept study in the June 2019 issue of the Journal of Clinical and Experimental Dermatology. Dr. Friedman discussed the results and the promise of this device with Practical Dermatology® magazine.
Why is the topic important to study?
Dr. Friedman: There is an unmet need for safe, effective, easy-to-apply, and perhaps most importantly pain-free treatment options for warts. Cryotherapy, the main weapon in our armamentarium, is painful, making it difficult to administer to children, a population with high incidence of warts. This, in turn, causes patient, parent or caregiver anxiety, low compliance, and prolonged disease course. Cure rates are low, recurrences are frequent, even with intralesional or topical pharmacotherapy, which are also not free of discomfort. Especially those dermatologists who see many children will agree that an easy-to-apply, painless, yet effective wart treatment device would be a great addition to our procedural toolbox.
Describe your research and findings.
Dr. Friedman: Cold atmospheric pressure plasma (CAP) is known to induce apoptosis in vitro in various cancer cell lines. CAP is essentially ionized gas generated on the skin surface using an electric device. Our group and others have previously shown in human studies that CAP is effective in the treatment of actinic keratosis. In this current proof-of-concept human study we used CAP to target warts and found that previously treatment resistant warts resolved with very few treatments and there was no pain, discomfort, inflammation during or after CAP application. The treatment is very easy to deliver and presents no risk. On a practical note: we believe that existing procedural codes can be used to bill for this modality.
What is the next step?
Dr. Friedman: Larger clinical trials are needed to optimize treatment parameters and to better understand how to treat various types of warts most effectively. It is also important to study the way CAP cures warts, so we can use that information to create the best treatment device possible.