Study: Mohs Scars from Facial Skin Cancers Longer than Patients Expect
Scars from Mohs micrographic surgery for facial skin cancers may be longer than patients expect, according to new research published in JAMA Network Open.
In this cross-sectional study of 101 patients, 83.2 percent of those receiving Mohs micrographic surgery for skin cancer underestimated their scar size. Scars were a median of 2.2 times larger than patients expected, compared with 1.1 times larger for physicians' estimates, the study showed.
"This study's findings suggest that patients with facial skin cancers have unrealistic expectations regarding scars that measure, on average, less than half the length of the actual postoperative scars," the researchers conclude. "Surgeons appear to accurately estimate the length of most surgical scars and have an opportunity to set realistic patient expectations about scar length before surgery."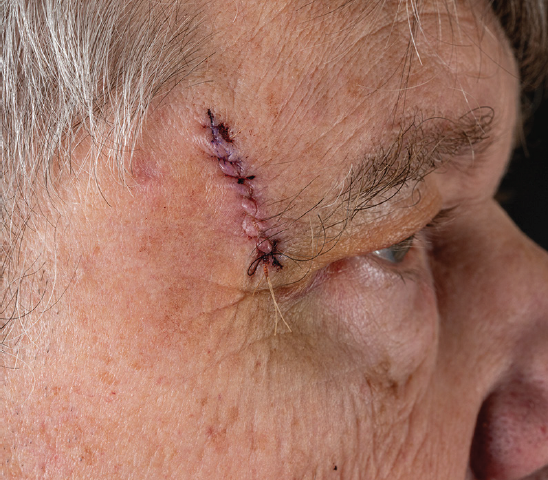 ©istockphoto
Hooman Khorasani, MD, Chief of Dermatologic and Cosmetic Surgery at Icahn School of Medicine at Mount Sinai in New York City, reviewed the new study. "It is well documented that Mohs surgery is the most tissue-sparring procedure for the removal of skin cancer. It is estimated that for every millimeter of tissue spared, there is a net reduction of 3mm of scar length," he says. "This study emphasizes the need to set accurate expectations for patients prior to surgery."
He adds that in his experience the length of the final scar is on average six-times the size of the original visible tumor, he says. "This has to do with the fact that most tumors have roots under the skin; thus, on average the amount of skin that needs to be removed is twice the size of the tumor that is visible to the naked eye."
Additionally, most of these defects are closed in a linear fashion. "It is simply a geometrical rule that one has to convert a circle into an ellipse [and] the ratio between the diameter of the circle to the length of the ellipse is 3:1."
For example, he says, if the size of a basal cell carcinoma (BCC) is 5mm, by the time the BCC roots are removed, the area of the skin removed would be 10mm. "Once the circle is converted into the ellipse, the length of the ellipse would be 30mm," he explains. "This is simply a mathematical equation and has nothing to do with the skill of the surgeon. Surgeons can control the quality of the scar but not the length of it."
DermTech's Non-Invasive Gene Expression Testing Improves Early Melanoma Detection
A large registry study confirms that DermTech Pigmented Lesion Assay can reduce unnecessary biopsies by up to 90 percent, lower healthcare costs, and rule out melanoma.
"The DermTech PLA helps clinicians employ precision dermatology and harness genomics technology to detect malignant changes that are otherwise unable to be identified visually or with histopathology, reducing the probability of missing melanoma to <1%," says Ronald Moy, MD, member of the DermTech Scientific Advisory Board and former president of the American Academy of Dermatology. "DermTech's PLA test has the potential to elevate patient care by bringing precision genomics detection to a field that has been relying on highly subjective measures to inform biopsy decisions."
This large, yearlong utility study, conducted in the US, included 90 providers across 53 dermatology offices and assessed 3,418 pigmented lesions clinically suspicious for melanoma with the DermTech PLA.
The results of the study demonstrate that:
Clinicians use the DermTech PLA test results to guide how they practice medicine (97.53 percent of PLA positive lesions are surgically biopsied and 99.94 percent of PLA negative lesions are followed clinically and not biopsied).
90.52 percent (n=3,094) of DermTech PLA registry study test results were negative for melanoma and 9.49 percent (n=324) were positive.
There is no difference in how dermatologists and other licensed clinicians follow DermTech PLA results to guide biopsy decisions—potentially expanding access to care for underserved populations who often delay treatment for a disease in which early detection is critical.
The DermTech PLA identifies the gene expression associated with early melanoma by catching malignant changes a pathologist cannot see and reduces the risk of missing melanoma from 17 percent to less than one percent.
"Having used the DermTech PLA more than 600 times, I have seen it bring relief to people who were facing hundreds of biopsies, people concerned with facial scars and people who have experienced painful wound healing," says Brook Brouha, MD, PhD, lead author on the study. "Using the PLA as a pain-free option allows providers to detect cancer before it spreads."
DermTech's PLA, which is covered by Medicare, uses RT-PCR (reverse transcriptase–polymerase chain reaction) to measure the gene expression of two genes, LINC00518 (long-intergenic non-coding RNA 00518) and PRAME (preferentially expressed antigen in melanoma) to identify the malignant changes of melanoma on the genomic level. A DermTech PLA test is positive if LINC, PRAME, or both target genes are detected as these molecular pathology findings are known to correspond with histopathology findings of in situ or invasive primary melanoma in seven, 50, and 93 percent of cases, respectively.
Owing to the Advent of New Treatments, Melanoma Death Rates Drop
Melanoma is killing the fewest Americans in decades, according to a study in the American Journal of Public Health.
Death rates for metastatic melanoma among white Americans climbed 7.5 percent between 1986 and 2013, but then dropped by nearly 18 percent over the next three years, the researchers report.
The authors say the size of the declines outstrip comparable decreases in cancers of the prostate, breast, and lung and note that the unrivaled drop in melanoma deaths coincided with the introduction of 10 new therapies for the skin cancer.
"Our findings show how quickly patients and physicians accepted these new drugs because they profoundly reduce deaths from melanoma," says co-senior study author David Polsky, MD, PhD. "These therapies are now considered the backbone of how we treat this cancer," says Dr. Polsky, the Alfred W. Kopf, MD Professor of Dermatologic Oncology at NYU Langone Health and its Perlmutter Cancer Center.
The report is the first to highlight the role of these new drugs in helping Americans survive melanoma, says Dr. Polsky, who is also a professor in the Department of Pathology at NYU Langone.
For the study, researchers analyzed new cases and deaths from melanoma collected by the National Cancer Institute and the Centers for Disease Control and Prevention. These numbers spanned from 1986 to 2016 and involved nearly a million Americans. Dr. Polsky notes that the steep drop in deaths cannot be readily explained by better detection methods because death rates did not drop steadily over time, but sharply. In addition, many health care groups have been pushing for early detection exams since the 1980s, so the timing of these declines matches up better with the introduction of the new therapies.
Nevertheless, the researchers caution that early detection is still important, allowing for less toxic forms of treatment and lowered health care costs. They emphasized that prevention, avoiding excessive UV light exposure, and promptly seeking medical care when there is a change in the skin's appearance, are crucial to reducing the risk of developing metastatic melanoma.
FDA Accepts NDA for Almirall's AK Drug Tirbanibulin
The FDA has reviewed and accepted the New Drug Application (NDA) from Almirall, SA for tirbanibulin, also known as ALM14789, for the treatment of actinic keratosis (AK). The FDA also communicated that it is not currently planning on holding an advisory committee to discuss the application.
The filing is based on the analysis of two Phase 3 studies (KX01-AK-003 and KX01-AK-004) that evaluated the efficacy and safety of tirbanibulin ointment 1% in adults with actinic keratosis on the face or scalp. Tirbanibulin met the primary endpoint of complete clearance of actinic keratosis lesions at day 57 within the face or scalp treatment areas, achieving statistical significance in each study.
"The FDA's acceptance for filing of the NDA of tirbanibulin, following the acceptance for filing by the EMA, demonstrates a significant step towards its approval both in the US and Europe. Tirbanibulin has the potential to provide a significant improvement of the quality of life of the patients suffering from actinic keratosis. We are looking forward to continuing to work to prepare for the potential commercial launch of tirbanibulin for AK in the U.S. and Europe. We are pleased that our partnership with Athenex continues to be very positive," commented Volker Koscielny, MD, Chief Medical Officer of Almirall.