The practice of medicine is an art that requires its practitioners to stay up-to-date and well-informed on the newest procedures, therapies, and treatments to provide patients with a full informed consent. As a dermatologist, I use a variety of treatment modalities when treating non-melanoma skin cancers (NMSC), specifically, and recognize the importance of carefully selecting a treatment option that best fits each unique patient.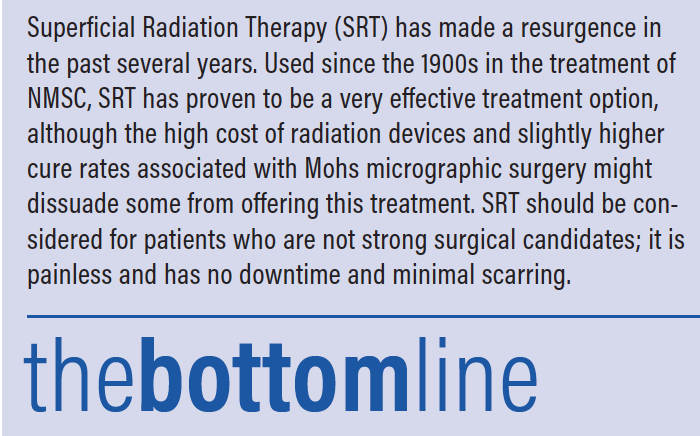 With more than five million cases of NMSCs reported each year, skin cancer is the most common type of cancer diagnosed in the US—more than all other types combined.1 It is a dermatologist's responsibility to stay on the forefront of skin cancer treatments.
For decades, Mohs micrographic surgery has been the gold standard for the treatment of NMSCs. As a practicing Mohs surgeon for more than 20 years, I see on a daily basis how successful this surgery is in curing this disease. For the right patient, this treatment option provides the highest cure rates and spares the most normal skin in cosmetically sensitive areas. Although some downtime is associated with healing, patients are typically willing to take on this restriction, especially if they are concerned about cosmesis.
However, it's important to know that other effective treatment options are available when appropriate, depending on depth and tumor type, including topical chemotherapy creams, excision, and curettage. Although the cure rates associated with these treatment options are quite high, none are as high as Mohs micrographic surgery.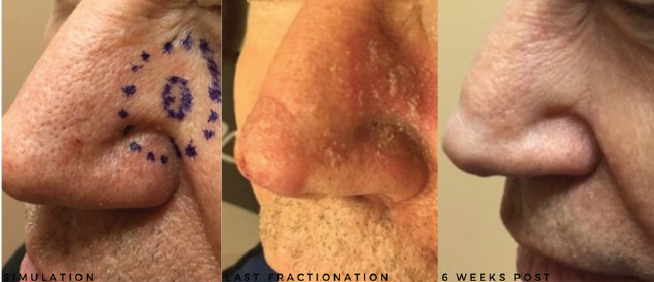 Patient presented with nodular BCC of the left lateral nasal sidewall (left) and underwent 13 fractionations provided two per week (middle). Patient is shown six weeks after last fractionation (right).
Courtesy of Kristine A. Romine, MD
Patient presented with nodular and superficial BCC of the nasal tip (left) and underwent 13 fractionations provided two per week (middle). Patient is shown six weeks after last fractionation (right).
Courtesy of Kristine A. Romine, MD
One other such treatment option, Superficial Radiation Therapy (SRT), has made a resurgence in the past several years. Used since the 1900s in the treatment of NMSC, SRT has proven to be a very effective treatment option,2 although the high cost of radiation devices and slightly higher cure rates associated with Mohs micrographic surgery (98 percent for Mohs micrographic surgery versus 95 percent for SRT) might dissuade some from offering this treatment. SRT should be considered for patients who are not strong surgical candidates. SRT is painless and has no downtime and minimal scarring. Most patients notice only hypo- or hyperpigmentation after acute radiation dermatitis, which clears a few weeks after the treatment ends.
Having established my practice in Phoenix, a city that sees sunshine during the vast majority of the year, I treat a variety of patients who are diagnosed with NMSC. While most patients are elderly, I do treat many younger patients with skin cancer. Depending on the patient, his or her concerns about treatment options might range from physical restrictions, achieving the best cosmetic result, amount of wound care, and time spent undergoing treatment.
If a patient is elderly, though, he or she might have trouble performing proper wound care following treatment, while a younger patient may want to avoid as many physical restrictions (so surgery might not be the best option). For me, it is imperative that I have the ability to fully inform patients of their options for treatment and ability to perform that treatment at my practice. For example, while I know that having SRT in every dermatologist's office is very unlikely, it is important to build a good working relationship with a dermatologist who does perform this treatment.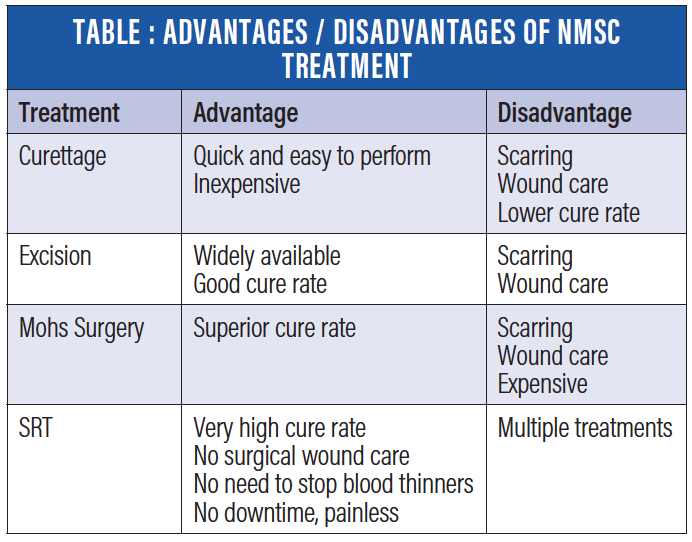 In addition to taking into account the concerns of the patient, I thoroughly evaluate his or her medical history and any existing comorbidities, plus take into account lifestyle. For example, if a patient is on blood thinners for cardiovascular disease, has a history of edema due to diabetes or CHF or has poor wound healing due to diabetes, then he or she may not be a good surgical candidate.
The same can be said for a patient on immunosuppressants who also has a history of methicillin-resistant Staphylococcus aureus (MRSA) infections, or a patient who develops keloids. Our population is very physically active and enjoys regular outdoor activities, such as hiking, swimming, biking, etc., and would not consider a treatment modality that would prohibit these activities, even if short-term.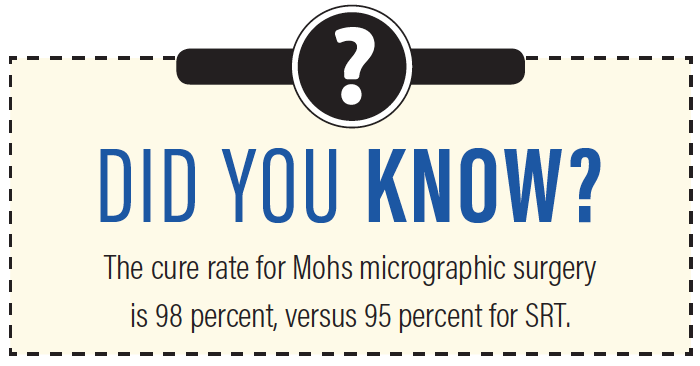 While we are the experts, dermatologists should be well-educated on all the modalities that are available to treat NMSC. Medical professionals need to seek out dermatologist in their own locales who offers treatments that they do not personally perform, so that each patient understands the power of full, informed consent. At the end of the day, if patients get their expected superior outcomes, we all win in this battle against skin cancer.
Disclosure: I am a board-certified Dermatologist who offers both Mohs surgery and Superficial Radiation Therapy in my office. It is my ethical responsibility to make sure that I have all available tools in my toolbox to treat all different types of patients. I have extremely satisfied patients who trust me to help them make the correct decision on treatment modality.
1. American Cancer Society. (n.d.). Cancer Facts & Figures. Retrieved January 2, 2018, from American Cancer Society: https://www.cancer.org/content/dam/cancer-org/research/cancer-facts-and-statistics/annual-cancer-facts-and-figures/2018/cancer-facts-and-figures-2018.pdf.
2. Consuelo, D. V. (2013). Electronic brachytherapy and superficial radiation therapy: will you be adding it to your practice? Cutis, E16-E18.