New Products
Dry Skin Oil, Delfina Skin
Delfina Skin has launched its Dry Skin Oil in the US. Developed by a physician, Dr. Norayr Chilingaryan, this skincare oil has been a source of relief for people with psoriasis, eczema, and chronically dry skin in Armenia and the United States over the course of the past four decades. Delfina Skin Dry Skin Oil absorbs instantly, penetrating layers of skin to provide hydration and nutrition sustainable through frequent washing. Delfina Skin Dry Skin Oil is appropriate for all skin types and safe for all ages. The product is designed to soothe dryness caused by a variety of factors, including eczema, psoriasis, seasonal dryness, moisture loss from water or chemical contact, cracked heels, and aging. DelfinaSkin.com
Acne Facial Series, Proactiv and Massage Envy
The Acne Facial Series from Proactiv is available at Massage Envy locations nationwide. The six-week program is catered to individuals who experience mild to stubborn acne, offering them a customized experience, following a specific protocol that is determined by an esthetician after a full skin analysis. Weekly appointments will be with the same esthetician to best evaluate the individual's progress. During each visit, the customer will receive an acne facial, along with the proper at-home regimen from the Proactiv+ line for their acne/skin type. Each aesthetician completes a training program run by the Proactiv team, master estheticians, and are provided access to educational tutorial videos. Proactiv.com
---
New in My Practice: OTC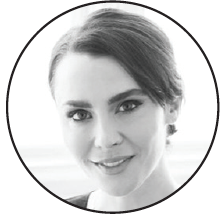 With Deanne Mraz Robinson, MD, FAAD
In each issue, Practical Dermatology® magazine spotlights a new device or over-the-counter or prescription treatment that dermatologists are recommending to their patients. This month, Deanne Mraz Robinson, MD, FAAD, Co-Founder and President at Modern Dermatology of Connecticut in Westport and an Assistant Clinical Professor of Dermatology at Yale University School of Medicine in New Haven, discusses ISDIN's new Eryfotona Ageless sunscreen, her pick for summer 2020 and beyond.
What is Eryfotona Ageless?
Deanne Mraz Robinson, MD: ISDIN Eryfotona Ageless is a 100 percent mineral-based tinted SPF 50 that contains a blend of several proprietary ingredients that help reduce the appearance of fine lines and wrinkles and help impact collagen synthesis. This sunscreen uses Peptide Q10, Peptide Complex, DNA Repairsomes, and antioxidants to defend against the signs of premature photoaging, fight free radicals, and stimulate the body's synthesis of Coenzyme Q10. Additionally, the universal tint aids in hiding skin blemishes while evening tone.
How/when are you recommending Eryfotona Ageless in your practice?
Dr. Robinson: I recommend applying Eryfotona Ageless to the face every morning as it is the perfect day-to-day sunscreen and can be used in place of foundation.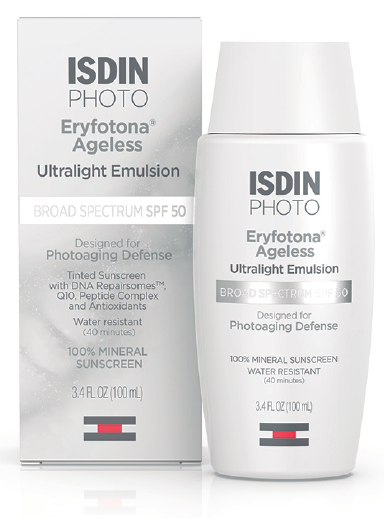 How does it compare to other sunscreens?
Dr. Robinson: Unlike other mineral-based sunscreens, Eryfotona Ageless' formula is extremely lightweight and blends evenly on skin. The SPF provides additional benefits by reversing the signs of photoaging and preventing future damage with ingredients like peptides, DNA repairsomes, and vitamin E.
How well does Eryfotona Ageless work?
Dr. Robinson: Eryfotona Ageless contains zinc and iron oxides that work together to shield skin from harmful UV and visible light, without clogging pores or leaving a greasy residue. The tinted SPF can be used primarily on the face, neck and décolletage.
Which patients make the best candidates for Eryfotona Ageless?
Dr. Robinson: All patients are great candidates for this sunscreen. It is suitable for all skin types and since Eryfotona Ageless uses physical blockers rather than chemical, the product is pregnancy safe as well.