"Just Google it."
This phrase is synonymous with conducting an online search, and it's a common go-to in our modern society. The average person conducts three to four searches on Google per day.1 Worldwide, more than five billion searches occur per day, which translates to two trillion searches per year. Suffice it to say, people are Googling a lot!
What does that mean for your practice? Also, how can you ensure your practice will appear when Google searches are happening in your region? The simple answer: You need to pay for it. The more thorough answer: You need to pay for it by using "paid search."
What is Paid Search?
Paid search is a form of marketing that shows paid results on your screen after you type in or voice a search query. These results mainly appear on three device types: desktop, mobile, and tablet. An example of a desktop paid search ad is seen in Figure 1.

Figure 1
The topic of paid search can be intimidating for any small business. It's a particularly daunting topic for medical practices, since they are busy places of business that usually require their employees to be experts at dozens of job functions. However, paid search is worth your practice's time and effort for three reasons:
Search is by far the biggest driver of website traffic, especially in the medical aesthetics industry.
More than ever, people can't tell the difference between paid and organic search.
Search is an "active" action by a prospect.
With that said, this article will take a closer look at these three reasons to help you understand how running paid search campaigns are necessary for the business of your practice.
Spotlight on the Top Three Reasons
1. Search is by far the biggest driver of website traffic, especially in the medical aesthetics industry.
In 2019, a website called growthbadger.com conducted a study of more than 3.25 billion website visits across all industries.2 The study measured the percentage of website visits that come from online search vs. all other channels, which included social media and email marketing. This measurement, defined as "% of Traffic from Search" in Figure 2, was categorized by industry, or "niche," to identify what industries are most reliant on search for their website traffic.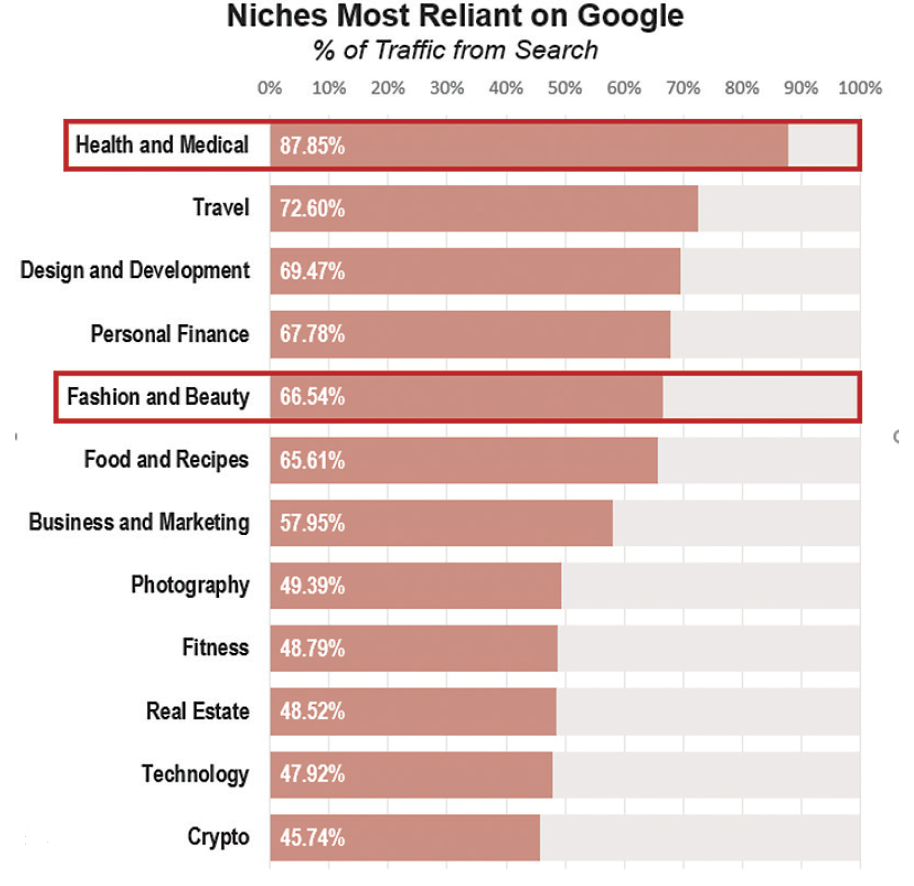 Figure 2
Of the 12 industries measured, the health and medical industry ranked at the top of the list, with nearly 88 percent of website traffic coming from Google search. The fashion and beauty industry ranked fifth, with almost 67 percent.
The study was not able to measure traffic solely from the medical aesthetics industry because it is a subset of both the health/medical and fashion/beauty industries. However, it's safe to assume that the medical aesthetics industry likely falls in between the health/medical and fashion/beauty industries with this measurement. Based on that approximation, you can infer that 75-80 percent of website traffic in medical aesthetics comes from search. That translates to four out of every five people coming to your practice website from Google, which is why search should be a primary focus of your practice.
2. More than ever, people can't tell the difference between paid and organic search.
One of the more under-the-radar digital marketing updates of 2019 was the increased visibility of the "favicon."
What exactly is a favicon? In Figure 3, notice the logos that are circled. Each logo is a favicon, or a tiny icon next to each website URL. Please note that Figure 3 is from a Google mobile search conducted in 2020.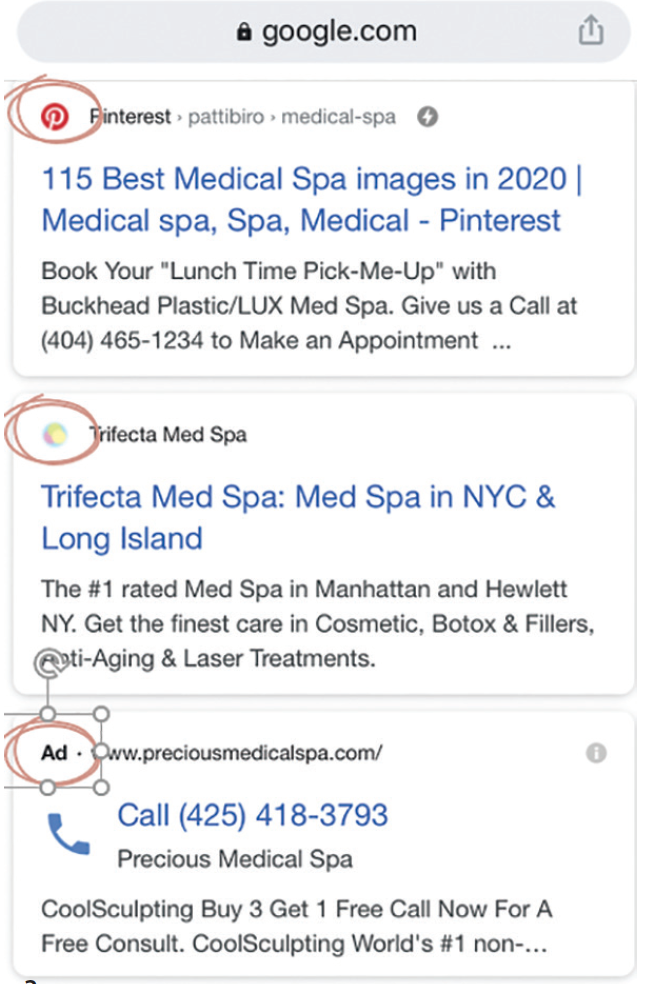 Figure 3
Next, look at Figure 4, which compares the results of a "hike yosemite" search conducted pre-2019 and in 2019. Note that in the pre-2019 search, the only result that contained an icon (also known as a favicon) was an ad. Thus, before 2019, it was much easier for people to differentiate between an ad and an organic result.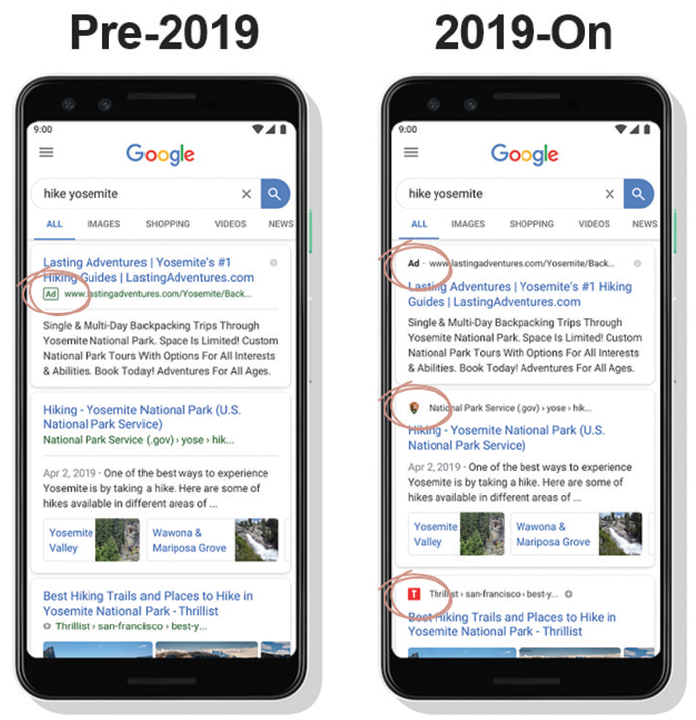 Figure 4
Courtesy of Search Engine Journal
Paid search results are different from organic search results primarily in that they are paid ad listings. Organic results are free and pulled from Google automatically by linking search queries to the most relevant pages of your website.
Now looking at the 2019-on search results image in Figure 4, where all search listings have favicons, it's clear that the average person searching on Google may not realize s/he is clicking on an ad instead of an organic listing, since they are now more difficult to differentiate from one another.
Therefore, if you run paid search ads for your practice, they may be indistinguishable from organic listings, meaning there is a tremendous opportunity to " jump to the top of Google. You can bypass and leapfrog all the organic search results with your paid search listings, which will most likely not be perceived as ads. You can then link your paid search ads to landing pages optimized to securing an appointment at your practice.
3. Search is an "active" action by a prospect.
A Google search is likely the highest-intent touchpoint in somebody's digital journey. That means the person conducting the search is already actively interested in the product or service your practice may offer. A Google search result gives a "solution" to somebody's query. By placing a paid search ad in front of those actively searching, your practice has an opportunity to be at the "top of the page" when your product or service is at "top-of-mind."
Even if those searching don't convert into an appointment after clicking on your ad and visiting your website, a cookie is created, which allows the practice to track them in the future. This allows you to serve remarketing ads on many different channels, including paid search, paid social, display, and video—all touchpoints in someone's digital journey—thereby, increasing the probability of capturing their business.
Watch Your Prospects Flourish
As you have read, there are significant business advantages to investing in paid search. If your practice determines that paid search fits into its marketing strategy, you can either teach yourself how to build paid search campaigns with online tools, or you can contact a digital marketing agency that has expertise in running paid search campaigns. Pick which works best for your practice and watch your business prospects flourish.
1. https://seotribunal.com/blog/google-stats-and-facts/