Webinar Highlights 7 Steps for Success
In a webinar designed to help practices survive and thrive, Prescriber's Choice brought together dermatologists Phil Werschler, MD and Mark Seraly, MD, as well as Joseph Devine, Esq. Their discussion focused on seven key considerations that can help dermatology practices through the current crisis and prepare them for success in the future.
Connecting and reconnecting. Digital communication can be especially valuable in helping practices stay connected with patients. Whether via personalized emails, enewsletters, or social media, practices should be proactive in their efforts to inform patients. Given the rate at which restrictions are changing, use communication tools to let patients know what services are available, as well as what safety standards are in place.
Establish a new patient base. Digital outreach can also target new patients. Dermatologic disease didn't go away during the pandemic, nor has interest in cosmetic services. Opportunities remain to educate prospective patients about your role as a dermatologist and your practice offerings. Use social media hashtags to draw viewers and consider reaching out to local media to be a source on health-related news (think COVID Toes).
Treatment options. In-person, online, and telephonic consults have become the norm over the past few weeks, and there may be opportunities to continue offering telemedicine consults in the future. Make wise decisions when implementing new technologies that will support the long-term, efficient use of telemedicine in the future.
Visits and documentation. Proper documentation and billing remain as important as ever. Be sure to provide enough time for telehealth visits to properly educate patients. Offer pre-visit tips to optimize the experience. Bill appropriately, taking care to use modifiers properly to both expedite and optimize reimbursement.
Prescription considerations. Some patients have reported limitations on prescription access, while others have indicated a desire to minimize trips to the pharmacy. In-office prescription dispensing is an option for many dermatology practices that offers benefits in the current crisis and beyond. To support social distancing, practices can implement curbside prescription pick-up. Assess opportunities for in-office dispensing in your practice. Also consider services like PC Direct from Prescriber's Choice that will deliver prescriptions directly to patients and can eliminate work for staff like pre-authorizations and denials.
Monitoring patient satisfaction. Measuring patient satisfaction—and then making adjustments based on those metrics—is a common practice in the most successful practices. Use satisfaction surveys to assess how the changes you're made during the crisis are meeting patients' needs. Continue surveys in the future to long-term success.
Financial supplementation. Government stimulus and loan programs have provided an important lifeline to many practices. Keep abreast of changes and new opportunities.
Tracking COVID-19 Treatments and Vaccines
Through its FasterCures center, the Milken Institute is currently tracking the development of treatments and vaccines for COVID-19 (coronavirus).
WATCH NOW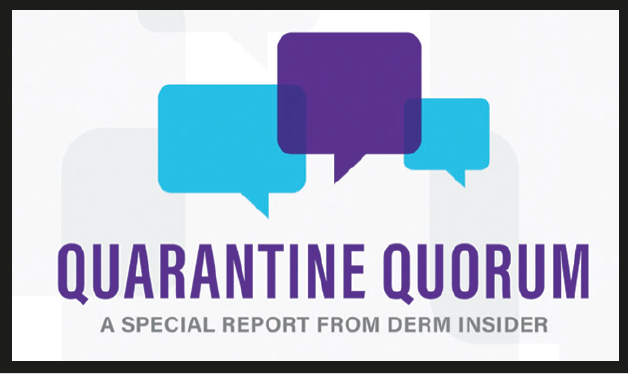 How is industry responding to the COVID-19 pandemic, and how are relationships with dermatologists changing? Host Neal Bhatia, MD explores these issues in a special Quarantine Quorum episode of Derm Insider with professional relations experts Christopher Billis, Tom Devine, Michael Vecchiolla, and Samantha Widdicombe.
Watch the full video: PracDerm.com/Quorum
This tracker, which contains an aggregation of publicly-available information from validated sources, is divided into filterable and sortable tabs, with each tab dedicated to a different area of research. The data is also collated and visualized via charts and graphs as shown below.
According to the Milken Institute, the tracker "is not an endorsement of one approach or treatment over another, but simply a list of treatments and vaccines currently in development." The tracker is updated regularly.
Visit milkeninstitute.org/covid-19-tracker to see real-time updates. If you have an update or tip for the COVID-19 Treatment and Vaccine Tracker, you can submit it to covid19@milkeninstitute.org.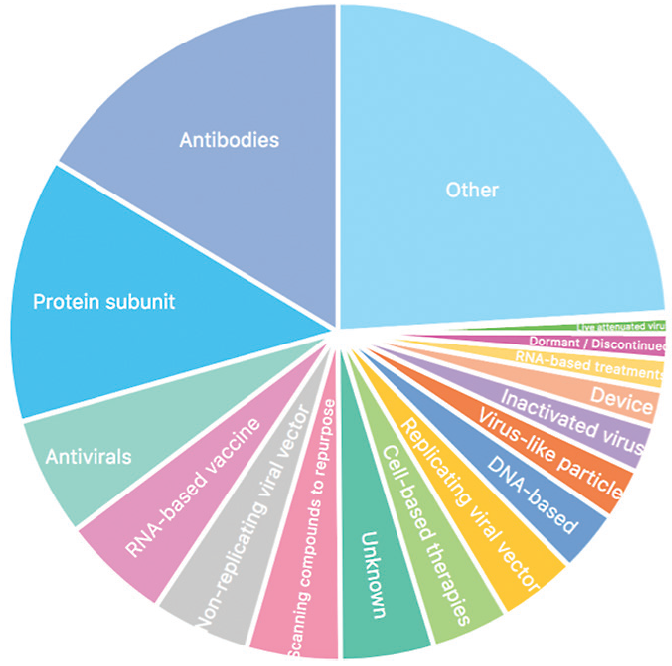 This chart was created by the Milken Institute as part of its FasterCures Center.