Most of us have some level of interaction with members of the pharmaceutical industry. Their presence can help advance our knowledge of dermatology and provide a service to our office and our patients. There is a wide variety of potential interactions between pharmaceutical representatives and dermatology PAs in dermatology office. This article aims to explore these interactions, both in private practice and academic centers, including the potential benefits and pitfalls. It will also look at the non-sales role of medical science liaisons and ways they may be better utilized by dermatology PAs.
Private practice vs Academic institutions
The level of interaction that is appropriate and permitted in private practice versus academic environments varies greatly. Private practices tend to have the greatest level of acceptance of industry. Some offices have a very liberal policy with few rules or limitations to interactions. Representatives may come as frequently as they wish to the nurses' station at any point during the day without the need for appointments. Lunches and/or breakfasts may be provided daily. Other practices may regulate interaction with appointments required or caps on frequency of visits. Others still may allow representatives to drop off samples or information but provide no access to the clinicians. Rarely, there is no interaction at all.
Academic institutions tend to have much more controlled interactions and policies. Some may accept samples but limit face-to-face time. Industry representatives may interact with clinicians at academic institutions primarily at conferences or meetings where there is industry support. In some settings, clinicians are not able to accept any "swag," including small items, such as pens, from industry.
Benefits and potential pitfalls
There are clear benefits and potential pitfalls to allowing these differing levels of industry access to clinicians. One of the primary benefits is access to new clinical and research information. For clinicians with limited time to stay up to date, this can be valuable. An example of this is in the disease states of atopic dermatitis and psoriasis where there has been an upsurge of research and publications about new products. This information can have a real impact on patient care in real time. It is our responsibility to be informed enough to critically evaluate the presented material and be aware of potential bias.
Another advantage is improving patient access to pharmaceutical programs and products. Industry representatives are the primary source of medication starters/samples, manufacturers' coupons, and patient education materials. These items can increase patient satisfaction and compliance when used appropriately. Overall, connecting wiindustry can improve knowledge of and access to a broader range and potentially higher quality of cutting-edge products and medications.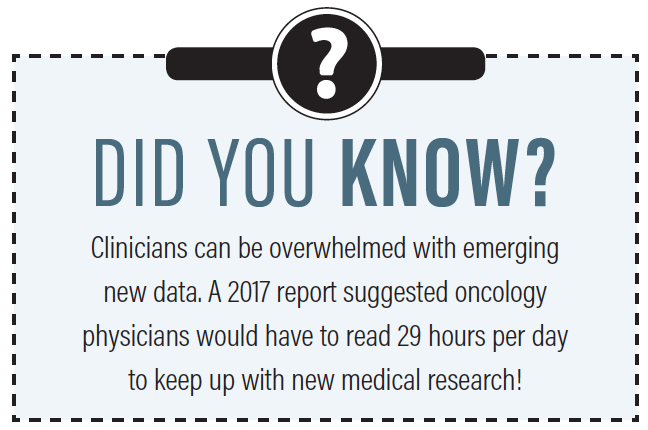 The most apparent drawback to industry interaction is the potential for undue influence on prescribing habits. An ungrounded or uninformed clinician might be swayed by nonclinical factors or fail to recognize bias. A second drawback is a potential increased cost to our patients and ultimately the healthcare system. Each of us is responsible for appropriate prescribing habits. Prescribing branded medications when an equivalent and cheaper option is available and tolerated is unethical and will have a higher cost. Another easily overlooked issue is the appearance to patients and the general public of undue influence on prescribing habits. This can be as simple as patients in the waiting room seeing industry representatives walking past the front desk while they are left waiting. This may cause resentment, especially when patients are not being seen on time. These optics may be crucial in today's age of crowdsourcing and online reviews. As mentioned, clinicians must be able to recognize bias. While the FDA closely regulates the material that pharmaceutical companies can present to us, there will always be some leeway. It is difficult to weed through the marketing to discover the actionable information.
Medical Science Liaison (MSL)
Until now, we have only discussed industry sales and marketing forces. Another industry resource many may not understand or even know about is the medical science liaison (MSL). These are industry employees with a strong scientific or clinical background whose main job is to act as an expert resource on a specific disease state, product, or therapeutic area. Because they are not sales oriented, there are fewer ethical considerations with MSL interactions. Furthermore, the interaction with MSLs can be exceedingly rewarding for clinicians interested in becoming the most current in their field. These industry employees are in non-sales roles and have a responsibility to distribute unbiased information. They can speak off-label and can discuss literature as soon as it is published. Where time and resources allow, they can also discuss research ideas and even help initiate appropriate trials.
It seems MSLs are greatly underutilized in private practice. They have the research power of large, multinational corporations at their disposal and they can be a valuable asset when clinicians have complicated questions that may require access to the most up-to-date data. Given the enormous amount of data being published, it is impossible for clinicians to stay current on every topic in our field. A 2017 oncology report suggested physicians would have to read 29 hours per day to keep up with new medical research.1 Having a less biased resource from industry to help us wade through the onslaught of published data may be invaluable. As such, it may be wise for practices to have a separate, more accessible policy for MSLs.
Our primary responsibility is always to our patients; their interests should supersede everything but our own well-being. We have an ethical and moral duty to put them first and to provide the highest quality of care. Clinicians should learn to appropriately utilize the resources of industry. Practices and clinicians must continually reflect on their relationship with industry and make course corrections regularly. Try to capitalize on the benefits while minimizing the drawbacks. In the era of team-based medicine and limitless data, clinicians should accept help but always maintain appropriate boundaries with industry relations.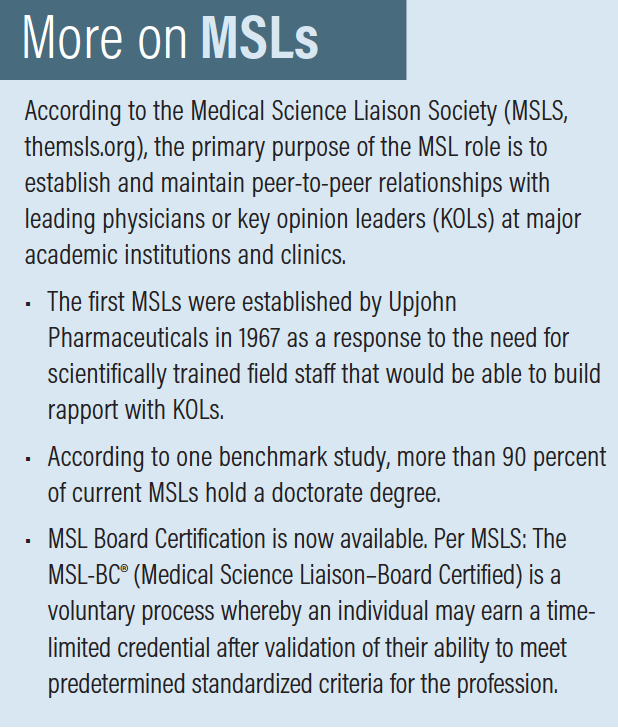 1. Curioni-Fontecedro A. A new era of oncology through artificial intelligence. Accessed at: https://esmoopen.bmj.com/content/2/2/e000198