Once viewed with healthy skepticism, use of platelet rich plasma (PRP) for dermatologic and aesthetic indications is now mainstream. The science of PRP dates back a few decades, and the intervention has been used in sports medicine for some time. However, when it comes to dermatologic or aesthetic indications, the evidence is not as robust. There are few large-scale, randomized, controlled trials to show the benefits of PRP. That's not to say the intervention lacks evidence. Several small trials demonstrate benefits of PRP, especially for androgenetic alopecia.
Ahead, I'll highlight some of those findings and my approach to patient management using PRP for hair loss in women. Based on experience gleaned from running a semi-monthly hair clinic in my practice, I have determined that PRP can be a useful adjunct to the management of inflammatory hair disorders.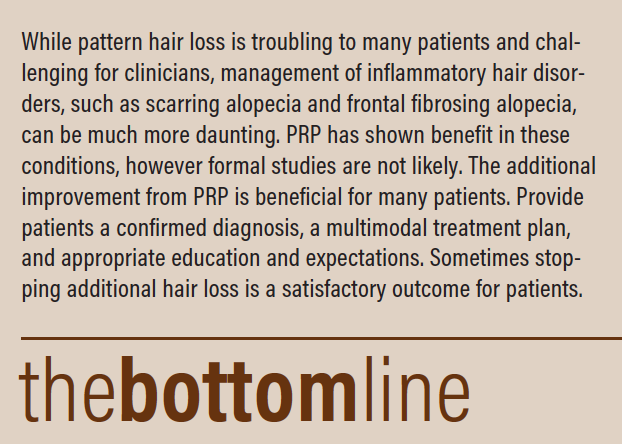 Evidence at a Glance
Most studies on PRP report favorable outcomes with the strongest level of evidence existing for androgenetic alopecia followed by post-procedure wound healing, scar revision, striae, rejuvenation, and dermal filling, according to a recent review.1 A pooled analysis of results from seven randomized controlled trials involving a total of 171 patients with pattern hair loss indicated that autologous PRP treatment was associated with an increase in hair density, compared to placebo.2 Another meta-analysis determined that the majority of studies available demonstrate that PRP produces hair growth in androgenetic alopecia and alopecia areata, with PRP typically administered in three to four monthly sessions.3
PEARL: Data on PRP for pattern hair loss is growing. While controlled trials of PRP for inflammatory hair loss is less compelling, there is anecdotal evidence of benefit and little to no risk.
The majority of research on PRP for hair loss is focused on androgenetic alopecia. While pattern hair loss is troubling to patients and challenging for clinicians, management of inflammatory hair disorders, such as scarring alopecia and frontal fibrosing alopecia, can be much more daunting. PRP has shown benefit in these conditions, however formal studies are not likely. For one thing, combination regimens are the norm for these inflammatory conditions, therefore a monotherapy trial is not feasible; results of a combination trial may be deemed inconclusive. The reality is that modest improvement may be the best possible outcome. A comprehensive trial to confirm a modest result may not be worthwhile.
PRP in Practice
Understanding that modest improvement can be meaningful to patients dealing with inflammatory hair disorders and associated hair loss, I offer PRP as part of a multi-modal treatment regimen for most of my patients with such hair loss. Note that few patients present to the clinic with new onset hair loss. Some patients present with patches of alopecia that have clearly been developing for five to 10 years. Often, they are frustrated with lack of results from previous interventions and seek "new" options.
Understanding the biologic activity of PRP helps clarify the rationale for its use in managing hair disorders. When discussing PRP with patients, I liken it to CPR for hair follicles. Those follicles are struggling, and PRP may be able to support the follicles to function more appropriately. There is little known risk with PRP, aside from known risk of injection (be careful to avoid intravascular injection), and treatment options are limited; why not try PRP?
PEARL:To help patients understand a role for PRP, it may be likened to CPR for the hair follicle. Besides supporting hair growth, PRP may help improve symptoms, such as pruritus.
PRP can be provided via depot injections or applied immediately after micro-needling. Generally, I employ the injection technique, although I may use microneedling around the hair line to create channels for delivery of PRP.
Multi-modal Approaches
Inflammatory hair disorders are complex conditions with multiple contributing factors. In addition to hair loss, other symptoms and conditions may develop or coexist, including chronic pruritus, lichen simplex chronicus, and seborrheic dermatitis. As such, multi-modal approaches are the norm. Treatments can be combined for their differing clinical effects, as well as their differing administration schedules. A variety of treatments may be tried—often off-label—to support remission and hair regrowth.
PEARL: PRP should be used as part of a comprehensive treatment plan.
PRP fits nicely into the treatment regimen for hair loss disorders as a monthly, in-office intervention. Topical agents like minoxidil can be applied daily by the patient at home. Intralesional corticosteroid injections in the office and sometimes topical corticosteroids for home use may be added to a topical regimen to help address pruritus and inflammation. A shampoo or leave-in topical may be added to address seborrheic dermatitis. Cultural competence with regard to hair care practice, consideration of hair style, and patient preference are important factors in developing a treatment plan.
One study compared the effects of 12 weeks of treatment with topical minoxidil to 12 weeks of PRP for androgenetic alopecia. Both treatments provided significant increase from baseline in hair counts and vellus hair density. Minoxidil also provided significant increases in terminal hair density and cumulative thickness. PRP was associated with improvements in several measures of quality of life, whereas minoxidil was not.4 In a study of androgentic alopecia patients of both sexes, intralesional corticosteroids and PRP had similar, statistically significant rates of hair regrowth and decreases in dystrophic hair. The rate of relapse was higher with corticosteroids (25 percent), compared to PRP (five percent).5
These studies seem to support the potential benefit of a multi-modal approach to hair loss, as the available treatments seem to provide differing clinical effects.
Expectations
Setting appropriate expectations is a crucial aspect of managing inflammatory hair disorders. Sometimes, the best we can hope to achieve is to stop additional hair loss; regrowth of new hair is not necessarily a realistic goal.
Patients require education on the hair growth cycle. Improvement from any intervention will not be evident for about three months, given the duration of the resting and growth phases of the follicle.
PEARL: Establish realistic expectations and emphasize education. Interventions for hair loss won't show benefit for at least about three months, due to the hair growth cycle.
Medical treatment is often a minor proportion of our overall care for patients with inflammatory hair loss disorders, as the effects of these conditions can be devastating. Patient emotions range from frustration to anxiety to vulnerability. Dermatologists may encounter patient misinformation or lack of information. We must educate, advise, and support patients.
Some patients report that they have been told by other physicians that "nothing can be done" to help their condition. This is never true. The best outcome may be that we can prevent any additional hair loss. However, this is a worthwhile outcome that can give hope to patients.
PEARL: Offer patients support and be empathetic to concerns. Assure them something can be done to help their medical condition, set and reinforce expectations, but note that stopping additional hair loss may be the most realistic goal.
Managing inflammatory hair loss disorders requires a time investment by the dermatologist. But that investment—especially early in the treatment process—can provide long-term benefits with appreciative patients.
It's a Process
As experts in the management of hair disorders, dermatologists should assume nothing when a patient presents with an inflammatory hair loss disorder. It is essential to establish or confirm a diagnosis (don't assume a previous physician did a biopsy). Talk to the patient about the condition, possible treatments, and likely outcomes. It is essential to set and manage expectations. Validate the patients' concerns and their willingness to seek help.
PEARL: Management of inflammatory hair disorders is a process. Establish or confirm a diagnosis, set a treatment regimen, counsel patients, and involve individuals in decision-making.
Involve patients in decision making and encourage them to take part in the at-home aspects of medical management. Feeling they can "do something" to help their condition can be empowering. Given the impact of inflammatory hair loss disorders and the grim prospects patients imagine, providing even modest improvement can be a meaningful outcome.
1. Hausauer AK, Humphrey S. The Physician's Guide to Platelet-Rich Plasma in Dermatologic Surgery Part I: Definitions, Mechanisms of Action, and Technical Specifications. Dermatol Surg. 2019 Nov 7.
2. Dervishi G, Liu H, Peternel S, Labeit A, Peinemann F. Autologous platelet-rich plasma therapy for pattern hair loss: A systematic review. J Cosmet Dermatol. 2019 Aug 26.
3. Hesseler MJ, Shyam N. Platelet-Rich Plasma and Its Utilities in Alopecia: A Systematic Review. Dermatol Surg. 2020 Jan;46(1):93-102.
4. Bruce AJ, Pincelli TP, Heckman MG, Desmond CM, Arthurs JR, Diehl NN, Douglass EJ, et ak. A Randomized, Controlled Pilot Trial Comparing Platelet-Rich Plasma to Topical Minoxidil Foam for Treatment of Androgenic Alopecia in Women. Dermatol Surg. 2019
5. Albalat W, Ebrahim HM. Evaluation of platelet-rich plasma vs intralesional steroid in treatment of alopecia areata. J Cosmet Dermatol. 2019