Chances are that at least one patient has asked you about cannabidiol or CBD oil lately, and it's likely that even more are using CBD oil to treat or prevent a host of ailments, including some skin conditions. But what, if anything, do we know about these uber-popular products?
CBD 101
CBD or cannabidiol is found in both marijuana and hemp (two varieties of the same plant species: Cannabis). Unlike the better known compound in Cannabis, tetrahydrocannabinol (THC), CBD is not psychoactive, meaning it cannot get you "high." Cannabis that is bred to have high THC levels is known as marijuana, while cannabis bred to have low to no THC is called hemp. Put another way: CBD is found both in hemp (CBD concentration varies from low to high, THC concentration is less than 0.3%) and marijuana (CBD concentration varies from low to high, THC concentration is greater than 0.3%).
There has been explosive growth in availability of CBD products, largely because the 2018 Farm Bill once again made hemp farming legal in the US, following a decades-long ban. Prior to the 2018 bill, hemp was treated in the same manner as marijuana by the federal government. Despite the infux of over-the-counter CBD products, the FDA has not approved any CBD products except for one prescription drug to treat rare, severe forms of seizure disorders in children.
CBD Oil and Skin Conditions
Evidence suggests it is theoretically possible that CBD oil does something for skin; most of the optimism is based on the recognition that there are Type 2-cannabinoid receptors in the skin. These cannabinoid receptors have demonstrated numerous in vitro activities on keratinocytes. However, CBD has not been shown to activate the Type 2-cannabinoid receptor. Any activity in the skin is likely driven by activating or blocking receptors in the Transient Receptor Potential vanilloid (TRPV) family.
There is no direct evidence in humans that CBD oil can improve or reverse any skin condition…yet. Lack of evidence of benefit is not evidence of lack of benefit.
Safety is an important consideration for patients using CBD oil. Using CBD topically is unlikely to cause any problems, but it is hard to know which products have the purest CBD. Taking CBD orally could result in a positive drug test. Altough CBD itself will not cause a positive drug test, CBD products can be contaminated with trace amounts of THC—too low cause psychotropic effect, but enough to cause a positive test.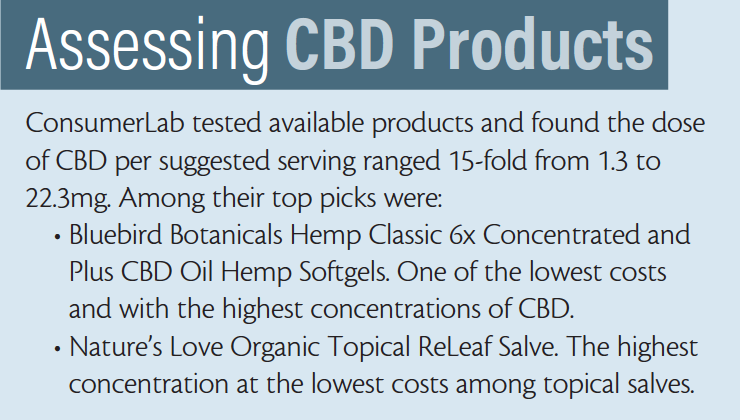 Be Honest
The reality is that we are not yet armed with sufficient information to recommend CBD products. Honesty is the best policy if patients ask about CBD. Consider a statement along these lines: "We don't know if it works or not, but it may not be worth spending your money on…yet."
If a patient says that a friend or family member is using a product and it is working great for them, I advise the patient to try that product if they wish. A website called ConsumerLab.com independently tests supplements and recently published a report on CBD oil. These tests are looking at what is in the product—not whether it "works"—but they did identify some top picks (see sidebar).
Based on a presentation from Cosmetic Surgery Forum (CSF) 2019. To register for 2020: CosmeticSurgeryForum.com.