Where is the Hydroquinone? Regulatory Change Hinders Access
Changes to FDA regulations implemented as part of the CARES Act this spring have left dermatologists and their patients scrambling to access hydroquinone. Although access is hindered, it is not cut off.
"I think most people at this point are familiar with the CARES Act. What they may not realize is that it contained provisions that fundamentally changed the way the FDA will now review and approve over-the-counter drugs, including hydroquinone, to be available in the market to consumers," observes Ondrej Staviscak Diaz, General Counsel at Sincerus Pharmaceuticals, an FDA-Registered 503B Outsourcing Facility. "Without getting into the nitty gritty of how it operates, in practical terms, what the CARES Act has done is to now make it illegal to market over-the-counter hydroquinone products.
"The CARES Act also had an indirect effect on prescription hydroquinone, because it finalizes what's known as a proposed rule issued by the FDA that had been out for public comment for many years now. That proposed rule at the time stated that not only would hydroquinone products that are available over-the-counter no longer be allowed to be marketed, but also all prescription hydroquinone products would have to be approved by the FDA, either through a new drug application for branded drugs or an abbreviated new drug application for generic drugs."
Prescription drugs containing hydroquinone that do not go through the NDA or aNDA process are considered misbranded. TriLuma (fluocinolone acetonide 0.01%, hydroquinone 4%, tretinoin 0.05%, Galderma)—the only prescription hydroquinone-containing formulation to have come to market under an NDA—remains available on the market.
"Not only patients, but many of my physician colleagues are not aware," cautions Alia Sampson Brown, MD, Co-managing Partner at Georgia Dermatology Partners. "The CARES Act was such a huge piece of legislation, but this fell through the cracks of public awareness…I am definitely spreading the word to my colleagues and patients about it. Speaking to physicians, some of them are unaware of these legislative changes."
Prescribers have an avenue for obtaining hydroquinone for their patients, Dr. Brown says. "Importantly, the only sources of compounded hydroquinone products for in-office administration or dispensing without patient-specific prescription are FDA Registered 503B Outsourcing Facilities."
Dr. Spencer Malkin, Founder and CEO of Sincerus Pharmaceuticals, says the regulatory change has brought important attention to the safety of hydroquinone, and "the fact that prescription strength hydroquinone should only be accessed as an FDA-approved medicine or as a compounded medicine." He adds, "I am concerned about reports of prescribers being told by some manufacturers that nothing has changed as they sell prescription strength hydroquinone as an OTC product. This is irresponsible and creates undue risk for prescribers."
Dr. Brown emphasizes that prescribers must assess their options. "The key is to work with an FDA-Registered 503B Outsourcing Facility, who are the only legitimate source of hydroquinone compounded products for in-office dispensing," she says. She works with Prescriber's Choice (a division of Sincerus), and says, "in-office dispensing has definitely streamlined the prescription process by eliminating medication 'sticker shock,' providing convenience, and a wide variety to both insured and cash paying patients. First-time patients don't expect to walk out the office with their prescription ready, but when they do, they tend to be delighted!"
---
Global Report Identifies Strategies for Improved Quality of Care in AD
Gathering and synthesizing data from 32 care centers in 17 countries around the world, the "Improving Quality of Care in AD" report offers clear recommendationss to improve care and help patients better manage atopic dermatitis. Commissioned and funded by Sanofi Genzyme & Regeneron, the report was completed by KPMG LLP and is available for download at atopicdermatitiscare.kpmg.co.uk.
Eric Simpson, MD, Professor of Dermatology and Director of Clinical Research at Oregon Health and Science University, helped develop the report. He notes that, analogous to a systematic review of the literature, "It's really a systematic review of centers and a systematic review of best practices."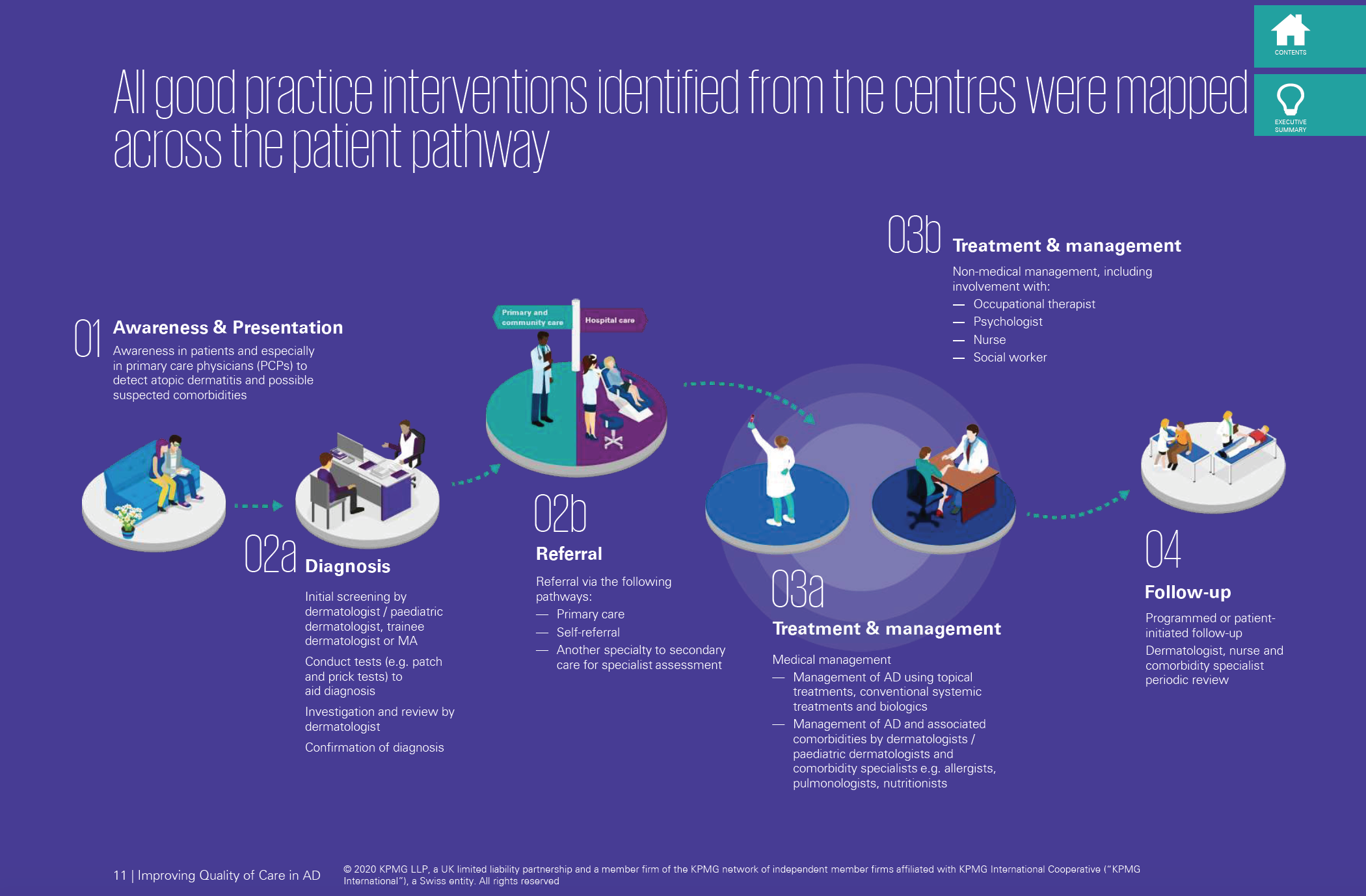 He emphasizes the global nature of the report. "Being able to put all those approaches into one document and look for common themes is extremely powerful. Then someone like me out in the middle of nowhere can access this document…and say, 'Okay, here's the steps I can do to improve my patient care with patients with this chronic disease,'" Dr. Simpson says.
The report identifies challenges but is largely focused on solutions. "One of the top challenges that was pretty much universal was patient understanding of the disease—it's education," Dr. Simpson observes. Atopic dermatitis is a complex, chronic disease that is not fully understood by doctors. "Trying to package that into a way for patients to understand, it's quite difficult," he says.
One identified best practice in eczema care is increased utilization of patient reported outcomes (PROs). "You can only get so much by your examination of the skin. You don't really know how it's impacting a patient in terms of symptoms unless you spend some time or utilize PROs. Actually PROs can save you time in your clinic," Dr. Simpson suggests.
"Another thing I like about this initiative is that some of these steps that you can take have different levels of difficulty. You can pick the easy ones that you could do quickly—you could do this in a 10-minute visit with your patient—or you can make big structural changes to your clinic to see the most severe patients and provide the most optimal care."
FDA Grants Priority Review for Pfizer's JAK1 Inhibitor Abrocitinib
The FDA has granted Priority Review designation to Pfizer's New Drug Application (NDA) for abrocitinib (100mg and 200mg), an investigational oral once-daily Janus kinase 1 (JAK1) inhibitor, for the treatment of moderate to severe atopic dermatitis (AD) in patients 12 and older. A decision is expected in April 2021.
The European Medicines Agency (EMA) has also accepted the Marketing Authorization Application (MAA) for abrocitinib in the same patient population with a decision anticipated in the second half of 2021.
The filings were based on results of a robust Phase 3 clinical trial program, across which abrocitinib demonstrated statistically superior improvements in skin clearance, disease extent, and severity, as well as rapid improvements (measured as early as Week 2) in itch versus placebo. Abrocitinib also demonstrated a consistent safety profile across trials and was generally well-tolerated.
Data Confirm Efficacy, Safety of Nutrafol for Menopausal Women
Administration of Nutrafol's Women's Balance formulation is safe and effective for improving hair growth and quality in women going through menopausal transition, according to new data presented in a poster presentation at the Annual Meeting of the American Society for Dermatologic Surgery (ASDS). The six-month double-blind, randomized, placebo-controlled study is the first to specifically assess a hair supplement for menopausal women, Nutrafol says.
Use of the Nutrafol's Women's Balance formulation supplement resulted in statistically significant improvements compared to placebo for the number of terminal, vellus, and total hairs and shedding at day 90 with further improvement at day 180. Blinded Investigator Global Hair Assessments of both hair growth and quality showed progressive and significant improvement for Nutrafol compared with placebo. Subjects reported high preference for the oral supplements versus topical hair products.
"To our knowledge, this is the first prospective study showing clinical efficacy of a nutraceutical supplement in improving hair growth in women with thinning hair in menopausal transition and beyond," observes study co-author Sophia Kogan, MD, Co-founder and Chief Medical Advisor at Nutrafol.
CLOSE UP with Michael H. Gold, MD

Longevity or duration of results is the name of the game as available neuromodulators seek to distinguish themselves from the coming competition. Michael H. Gold, MD founder of Gold Skin Care Center, Advanced Aesthetics Medical Spa, The Laser and Rejuvenation Center and Tennessee Clinical Research Center in Nashville, TN, recently presented data on the safety and prolonged duration of effect of IncobotulinumtoxinA (Xeomin, Merz) in a dose-ranging study for glabellar lines at the 2020 virtual American Society of Dermatologic Surgery annual meeting. Dr. Gold, also Clinical Assistant Professor at Vanderbilt University School of Medicine and School of Nursing in Nashville, spoke to Practical Dermatology® about the findings, their implications and what's next. The findings also appear in the October 2020 issue of Journal of Drugs in Dermatology.
WHY IS THIS TOPIC IMPORTANT TO STUDY?
Michael Gold, MD: We have noticed over the last several years in the toxin space that increasing the dose increases the duration of efficacy without adversely affecting safety. This was the impetus for the new study. The old adage that toxins last three to four months was set up many years ago with the idea that this was the safest dose we can give with the least potential risk. After 20 years of injecting toxins, the question became can you give a different dose to affect longevity? All companies in this space are looking at what their toxin can do that new ones can't.
DESCRIBE THE RESEARCH AND YOUR FINDINGS.
Dr. Gold: This two-stage Phase 2, randomized, double-blind study investigated the duration of effect and safety of IncobotulinumtoxinA at doses higher than the approved 20 units (U) for glabellar frown lines. We were able to show that can inject more toxin—50U or 75U with different dilutions—into glabellar lines and achieve a long-lasting result with a safety profile that mimics that on the label. The median duration of effect was 185 days for the 50U dose group and 210 days for the 75U dose group. The incidence of treatment-related adverse events was low across all doses in the study. Our mindset was that patients can come in three or four times a year for toxins and get filler at another point, but they may only need to come back to twice a year, which is much better for the patient especially during the COVID-19 pandemic.
WHAT IS THE NEXT STEP?
Dr. Gold: We are now investigating 100U doses of IncobotulinumtoxinA to the glabellar lines to see how it affects longevity of results and safety, and so far, it is definitely working.
Label Update for Enstilar Foam Highlights Long Term Use in Adults
The US Prescribing Information (USPI) for Enstilar (calcipotriene and betamethasone dipropionate) Foam from LEO Pharma A/S now includes data on long-term use in adults with plaque psoriasis.
The update results from FDA approval of a supplemental New Drug Application (sNDA), based on data from the Phase 3 PSO-LONG trial. The randomized, double-blind, vehicle-controlled trial evaluated long-term use of Enstilar Foam in adult patients who achieved treatment success, defined as Physician Global Assessment (PGA) score of "clear" or "almost clear" with at least a two-grade improvement from baseline, after an initial four-week treatment with once-daily Enstilar Foam.
Those treated long-term twice-weekly with Enstilar Foam had a longer time to first loss of response and fewer losses of response compared to vehicle. No clinically relevant effects on calcium metabolism or the HPA axis were observed. The rate of adverse events (AEs) was comparable across treatment groups.
TrueHero Face Shields Available
Now available from Jamestown Plastics, the TrueHero Extreme Coverage Shield is suitable for medical use, including in dermatology and aesthetic practices. Unique features of the TrueHero shield include a flanged perimeter, along with coverage over the forehead and under the chin, providing coverage/protection from all angles. It is designed to allow heat and moisture to be drawn out from the inside to prevent fogging.
New from BTL: Emsculpt NEO Launches
The first procedure to combine radio frequency heating and high-intensity focused electromagnetic waves into a single therapy, Emsculpt NEO from BTL, has launched. It is FDA-cleared to eliminate fat cells non-invasively.
Emsculpt NEO is a single solution that simultaneously melts fat while building muscles, BTL says, making it a faster, more economical, more efficacious solution than combining multiple procedures. Treatment is appropriate for patients up to a BMI of 35.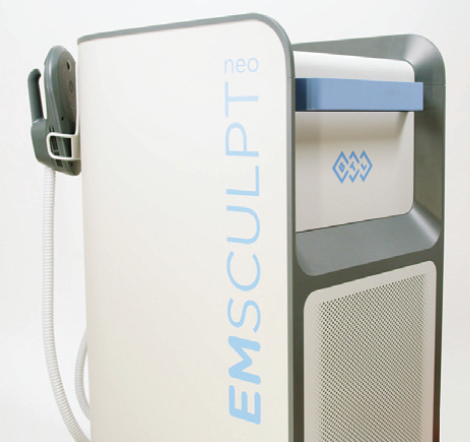 "There are a great number of benefits that customers will reap after using Emsculpt NEO. This is a result of us combining the technologies of radio frequency heating to burn fat, and high-intensity focused electromagnetic waves to build muscle," says Ron Borsheim, VP of Product Development at BTL. "Heating the muscles while burning fat allows for synergistic effects that result in more fat reduction and muscle growth than any single gold standard procedure. We are thrilled about the results of seven new clinical studies that show an average of 30% fat reduction and/or 25% increase in muscle mass."
Four treatments are recommended over the course of four weeks.
Inspire Insights with Practical Dermatology®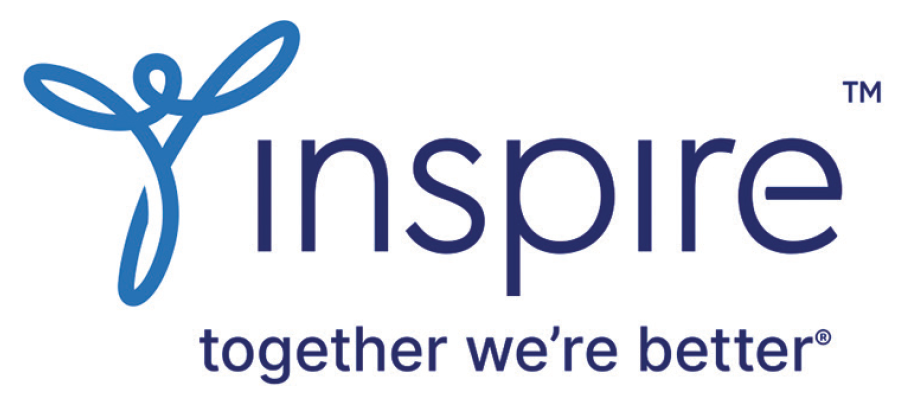 Your Patients Are Talking About… Natural Remedies for Psoriasis
To help readers better understand the issues that patients with skin diseases face, Practical Dermatology® partnered with Inspire. With more than 100 national patient organization partnerships and over two million members, Inspire is a vital social network that enables safe sharing of health experiences and social support.
Natural remedies for psoriasis are common discussion topics for Inspire members. From sunlamps, supplements, to stress reduction these remedies may be supplemental to current treatments or used independently: 36.7 percent of Inspire psoriasis members search for natural remedies.
One Inspire member shares their experience: "I use light therapy for my psoriasis. It's been very effective for me."
"I'm often asked by my patients about 'natural' or 'naturopathic' remedies for psoriasis," says Bruce Strober MD, PhD, Co-founder of Central Connecticut Dermatology, with offices throughout Connecticut and Clinical Professor of Dermatology at Yale University School of Medicine in New Haven, CT. "I never dissuade them from trying these approaches, but my experience when seeing these patients in follow up is nearly universally disappointing—not from a safety point of view, as I don't doubt these interventions are relatively safe."
However, he says, psoriasis is a serious condition with a well-defined immunologic cause that requires very serious, scientifically validated therapies. "'Natural' approaches are the opposite and are most likely to be snake oil—elixirs and salves designed to prey on patient desperation and earn a buck for their purveyors and don't work any better than placebo."