Neocutis' Lumière Firm
With Jennifer Gordon, MD
In each issue, Practical Dermatology® magazine spotlights a new device or cosmeceutical that dermatologists are recommending to patients. This month, Jennifer Gordon, MD a dermatologist at Westlake Dermatology in Austin, TX, discusses Neocutis' Lumière Firm, the latest addition to the Simply Smarter Skincare line from Neocutis.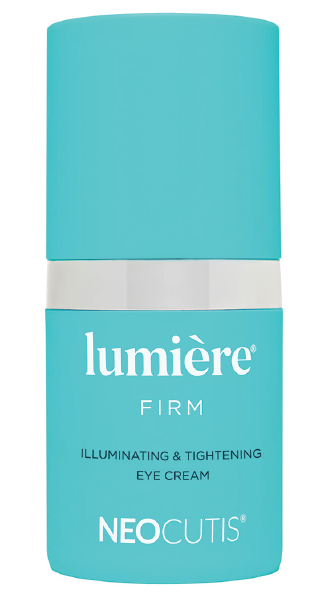 What is Lumière Firm?
Dr. Gordon: Lumière Firm combines the growth factors everyone loves in Lumière and the proprietary peptides found in Micro Eyes. This combination is a symbiotic breakthrough to help boost collagen and elastin and moisturize the skin around the eye. It also contains caffeine, vitamin C and hyaluronate to help improve the appearance of fine lines and wrinkles and reduce the appearance of dark circles and puffiness.
This is an anti-aging solution for any age and skin type. If you are a fan of either of the eye creams from Neocutis, this will be your new obsession.
How do you suggest patients use Lumière Firm?
Dr. Gordon: For best results, use Lumière Firm twice daily after washing your face and prior to any other products. Apply a pea-sized amount (about one-quarter of a pump) and use your ring-finger to lightly apply to the skin around your eye (upper & lower eyelids).
What have the clinical studies of Lumière Firm shown?
Dr. Gordon: According to a clinical study, Lumière Firm led to improvements after only 14 days of twice-daily use, improving appearance of fine lines and wrinkles, crow's feet, puffiness, dark circles, and texture.
More than 80 percent of subjects saw an improvement in smoothness and texture, and more than 75 percent saw an improvement in hydration, puffiness, brightness, and firmness.
How does Lumière Firm compare with other products in this category?
Dr. Gordon: I think this is the top of the eye cream class, since it combines the technology of both of Neocutis' outstanding eye creams. The science-backed technology and ingredients puts this ahead of any other eye cream in my opinion. It is also the only eye cream that I am aware of that supports elastin in the skin, which is what gives our skin that bounce back and support. It is also non-comedogenic, paraben-, dye- and fragrance-free, and animal-cruelty free.
What procedures does Lumière Firm complement?
Dr. Gordon: Eyes are a popular cosmetic subject because they really can age us. Our office has been doing a lot of eye procedures lately because they are so visible now that we are wearing masks.
Lumière Firm compliments everything from neurotoxin procedures to peels, microneedling and laser resurfacing around the eyes. Neocutis started as wound healing technology so it is safe to use on compromised or recently-treated skin. In my opinion, it enhances any procedure around the eye because it supports the growth of collagen and elastin.
How important is skin care in your practice philosophy?
Dr. Gordon: Being a dermatologist, it is essential that I provide my patients with education about skin care and how it can truly make a difference in the health and appearance of skin. Being an expert in your field means that you have to give advice that you can stand by and feel confident in.
Having a great skincare line like Neocutis makes my job easy and my patients happy.
---
New Products
Fast-Acting Neck Perfection Cream, DefenAge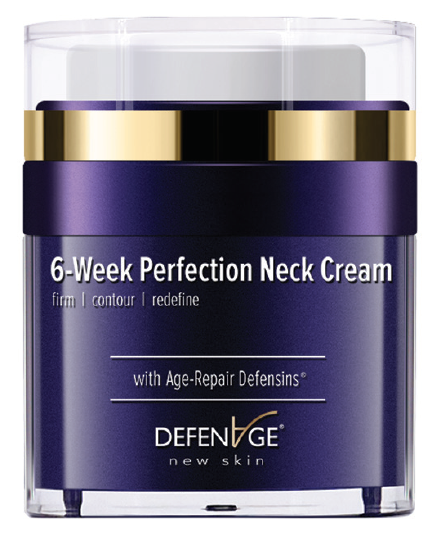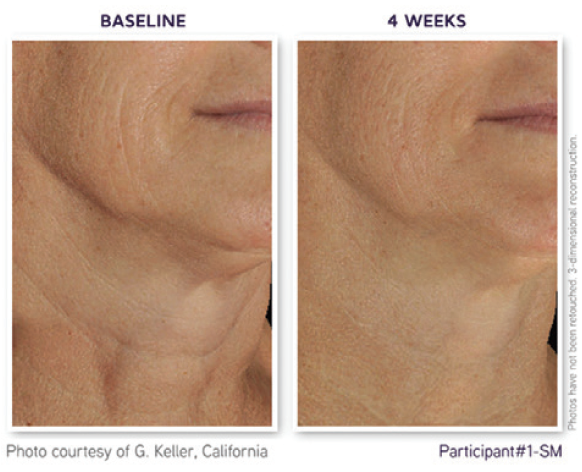 DefenAge New Skin unveiled its new 6-Week Neck Perfection Cream with Age-Repair Defensins. This beauty product is designed to lift, firm, and smooth the neck area with the power of DefenAge's clinically-proven, patent-pending Age-Repair Defensins. The scientifically-backed formula is proven to enhance the jawline contour and help to smooth deep lines and folds without lasers, needles, or surgery. The Neck Perfection Cream contains multiple performance ingredients, including defensin-molecules, niacinamide, and a special blend of plant extracts, that have shown to be effective in tightening sagging neck skin. Defensins work by activating a dormant preserve of "fresh" cells in the body, LGR6-positive stem cells, naturally promoting the creation of beautiful new skin. Defenage.com
Total Hydration Moisture + Tint + SPF 15, ChapStick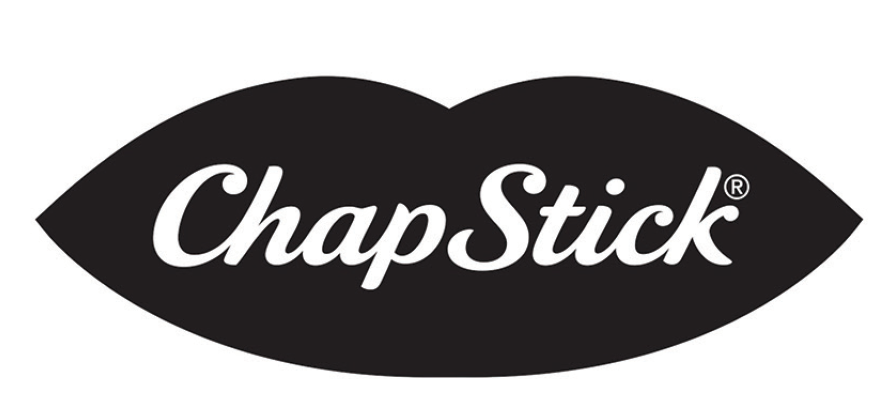 ChapStick Total Hydration Moisture + Tint + SPF 15 is the latest addition to the ChapStick portfolio and joins the brand's expansive line of advanced lip care products as the first-ever tinted SPF lip balm from the brand, providing complete care for the lips—hydration, color, and SPF protection—all in one pocket-sized product. While most consumers understand the importance of applying sunscreen, one often overlooked body part is the skin on the lips, which is some of the thinnest skin on the body and thus requires protection. The ChapStick Total Hydration Moisture + Tint + SPF 15 lip balm is a mineral sunscreen formulated with 100% naturally sourced ingredients to help provide both nourishment and protection for the lips. The "moisture" in ChapStick Total Hydration Moisture + Tint + SPF 15 is achieved through ingredients like shea butter, coconut oil, and sunflower seed oil. For the added benefit of subtle color, the formula is available in three shades—Very Berry, Pretty in Pink and Peachy Keen—which enhance the lips' natural tone with an alluring hint of color. ChapStick.com.
Eye Renewal Sunscreen, Tizo

Tizo introduced a new Eye Renewal SPF 20 that provides the first line of defense for this crucial area. With nine percent gentle zinc oxide as a protective shield against UVA and UVB rays, Tizo Eye Renewal is fantastic for this sensitive area. It's safe to apply under, above and around the eye area. Designed with a youthful-looking eyes in mind, TIZO Eye Renewal is packed with a multi-peptide complex to help firm skin and reduce the appearance of fine lines and wrinkles.
It is also formulated with a botanical blend of algae, Nigra flower, and two marine extracts along with caffeine help firm, smooth and de-puff the eye area. Antioxidant-rich selenium ferment to help reduce the damaging effect of free radicals. This treatment glides on easily, feels ultra-smooth to the touch, and won't interfere with your makeup. Like all TIZO mineral protection products, this formula is 100% free of chemical sunscreen filters, dyes, fragrances, preservatives, gluten, and phthalates. Tizoskin.com
Super Cortisone+, SLMD Skincare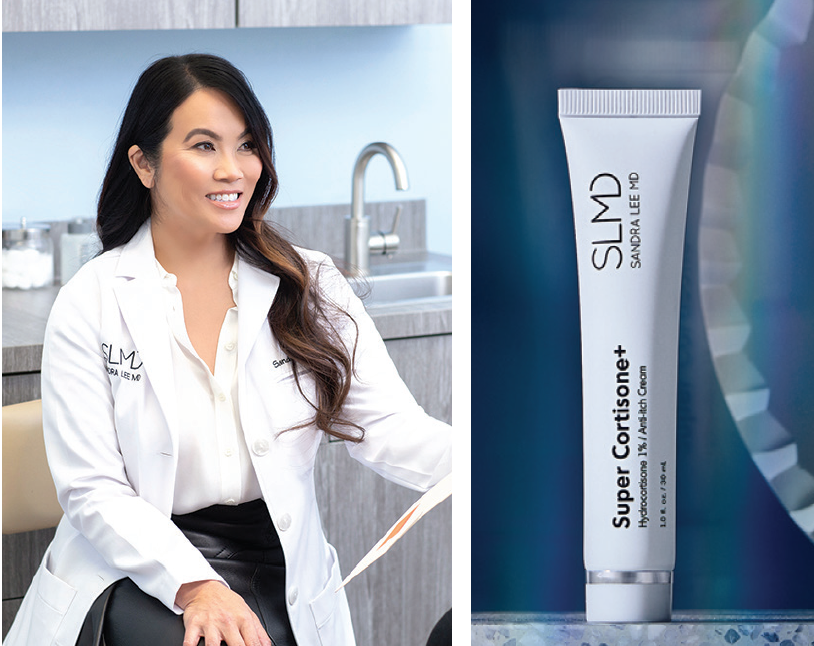 Leave it to Dr. Pimple Popper, a.k.a Sandra Lee, MD, to put a new spin on an old standby. Super Cortisone+ not only effectively stops and soothes itch, but is fortified with niacinamide, aloe vera, vitamin E, and shea butter to calm, moisturize, and strengthen sensitive or compromised skin. With one percent hydrocortisone, it's the strongest cortisone available without a prescription. Super Cortisone+ is fast absorbing and leaves little to no white cast. "It's the Four Seasons of the cortisone space," she says. Super Cortisone+ is also free from phthalates, parabens, sulfates, animal products, talc, formaldehyde, oils, gluten, and fragrances. slmdskincare.com