Study Shows Benefits of Visual Diagnostic Technology at Point of Care
The era of "Dr. Google" is changing interactions with some patients. According to new data from a recent feasibility study conducted in collaboration between LEO Innovation Lab, VisualDx, and the German Association of Dermatological Prevention, an AI solution could help bridge any patient/physician divides.
The survey involved general practitioners and found that their diagnostic accuracy increased by 34 percent when they used visual technology to assist in diagnosis of skin conditions. Notably, 83 percent of patients that were shown images say they felt better supported in the consultation.
Dermatologist Art Papier, MD, CEO of VisualDx, notes that dermatology care providers use the platform, "for diagnostic assistance, say on a rare drug reaction or an infectious disease that's presenting on the skin, but it's used heavily by dermatologists, NPs, and dermatology PAs to educate the patient in the exam room." Especially when the patient is reticent about a diagnosis because it doesn't gibe with what s/he saw on the Internet, Visual Dx allows the doctor, "to bring up a picture to show the patient in the exam room that they're not the only one on the planet that has a rash that looks like this, to show them a picture that looks like them reassures these anxious patients. This study confirms this idea that patients really value when the doctor takes an extra minute to explain with a picture."
Dr. Papier notes that VisualDx includes images of conditions presenting across the range of skin tones.
At a time of uncertainty in society and in medicine, "This research actually points to something positive about digital medicine," Dr. Papier says. "This study is really opening the door to show how professionals can use information with their patients directly in the exam room to educate and settle down those anxious patients…You pivot your monitor to the patient and you share information collaboratively. That builds trust."
---
FirstDerm Launches @AutodermBot
With the AutodermBot, 400 million users of the messenger app Telegram now have access to a search engine on the most common skin diseases.
FirstDerm.com's new artificial intelligence (AI) @autodermbot is an "API as a Service" that provides accurate search results on 43 skin diseases. These skin diseases represent 90 percent of the most common skin ailments seen in the general public.
"A few years ago we integrated our API as a WeChat Bot in Chinese and English. Now our search engine using AI is available on the messenger app Telegram too. It is very easy to use. From just a picture, the AI performs a search within a second. Our Bots are effectively an 'inverse' internet search for a skin disease," says First Derm CEO Alexander Börve, MD. The AutodermBot gives five search results ranked in order of what the AI model thinks it is.
Physician Compensation Rises in 2019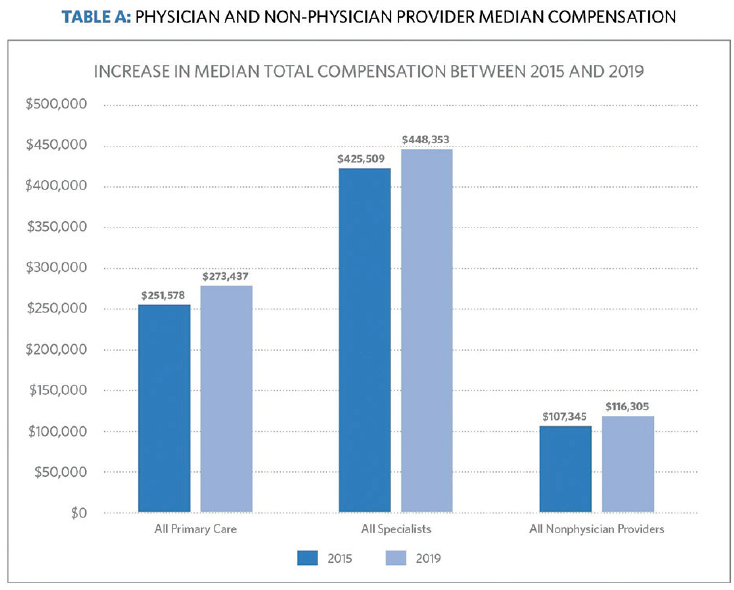 Before the COVID-19 pandemic hit, physicians across the US were seeing increases in compensation. Results of the Medical Group Management Association's (MGMA) 31st annual Provider Compensation and Production Report show the increase. Many physicians experienced an increase in productivity, up to over 10% for some specialties.
New York's Mount Sinai Health System Names New Chair of Dermatology and New Dean For Clinical Therapeutics
Emma Guttman-Yassky, MD, PhD is the new Chair of the Kimberly and Eric J. Waldman Department of Dermatology at the Icahn School of Medicine at Mount Sinai and the Mount Sinai Health System. She will be the first woman to serve as Chair of a Department of Dermatology in New York City. She is currently the Sol and Clara Kest Professor of Dermatology, Vice Chair of Research, Director of the Center for Excellence in Eczema, and Director of the Laboratory of Inflammatory Skin Diseases at Mount Sinai. She will retain her Center and Laboratory roles.
Dr. Guttman-Yassky will replace Mark Lebwohl, MD, who is stepping down after 24 years. Dr. Lebwohl has been promoted to the new position of Dean for Clinical Therapeutics at the Icahn School of Medicine at Mount Sinai and will now focus on generating new clinical research programs throughout the Mount Sinai Health System.
During his time as Chair, Dr. Lebwohl, the Waldman Professor of Dermatology, created Mount Sinai's first phototherapy center, and added divisions of dermatopathology, surgical, and cosmetic dermatology.
"I am both excited and humbled by the opportunity to serve as System Chair for the Department of Dermatology at Mount Sinai," says Dr. Guttman-Yassky. "I would like to thank Dr. Lebwohl for his leadership, passion, and outstanding achievements during his time as Chair at Mount Sinai. Under his leadership, Mount Sinai has participated in groundbreaking clinical trials in psoriasis and atopic dermatitis and has become a leader in inflammatory skin disease. I look forward to continuing his excellent and meaningful work."
In her new role as Chair, Dr. Guttman-Yassky will continue her inflammatory disease research program focusing on eczema/atopic dermatitis (AD), which has also recently expanded to other inflammatory skin diseases, including alopecia areata, scarring alopecia, keloids, and ichthyosis.
"Dr. Guttman-Yassky is an exceptional clinician and researcher whose transformative work in inflammatory skin diseases is changing the lives of millions of patients around the world," says Dennis S. Charney, MD, Anne and Joel Ehrenkranz Dean, Icahn School of Medicine at Mount Sinai, and President for Academic Affairs, Mount Sinai Health System. "She is very committed to making a difference in the lives of her patients and will serve as an outstanding teacher and mentor to the next generation of dermatologists at Mount Sinai and around the globe."
Dr. Guttman-Yassky is co-founder and current President of the International Eczema Council.
Making Connections: Success in the First Five Years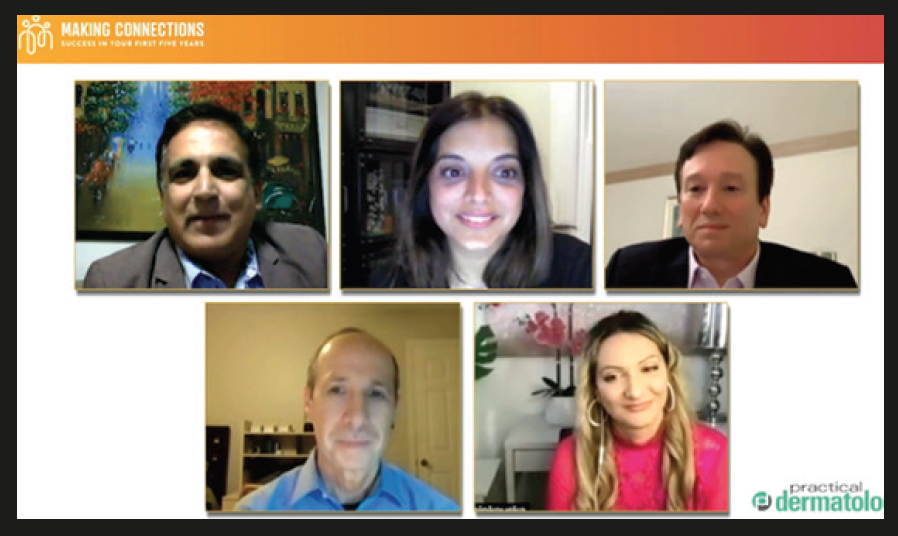 A panel of leading dermatologists shared pearls for finding career success, no matter what path you choose, in this webinar available at PracticalDermatology.com. Host Neal Bhatia, MD, FAAD kicked off the discussion by sharing some lessons he's learned along the way. He notes that it's important to remember that the plate gets full very quickly and says it's important to finish what you start in order to build a reputation of success so that people will want to work with you.
"One of the biggest pearls I remember is 'learn your limits.' Learn your limits and expand your limits safely and expand them with your own passion to how you are going to mold yourself as a dermatologist for later," Dr. Bhatia says. "Not knowing your limits or not knowing what you don't know is a dangerous concept for patient satisfaction and career security."
Watch the full webinar for advice from the panel, including Mark D. Kaufmann, MD, FAAD; Jonathan Weiss, MD; Kavita Mariwalla, MD; and Natasha Atanaskova Mesinkovska, MD, PhD. Topics range from getting involved in clinical trials to finding opportunities for leadership to achieving success in medical dermatology.
Visit PracDerm.com/Connections