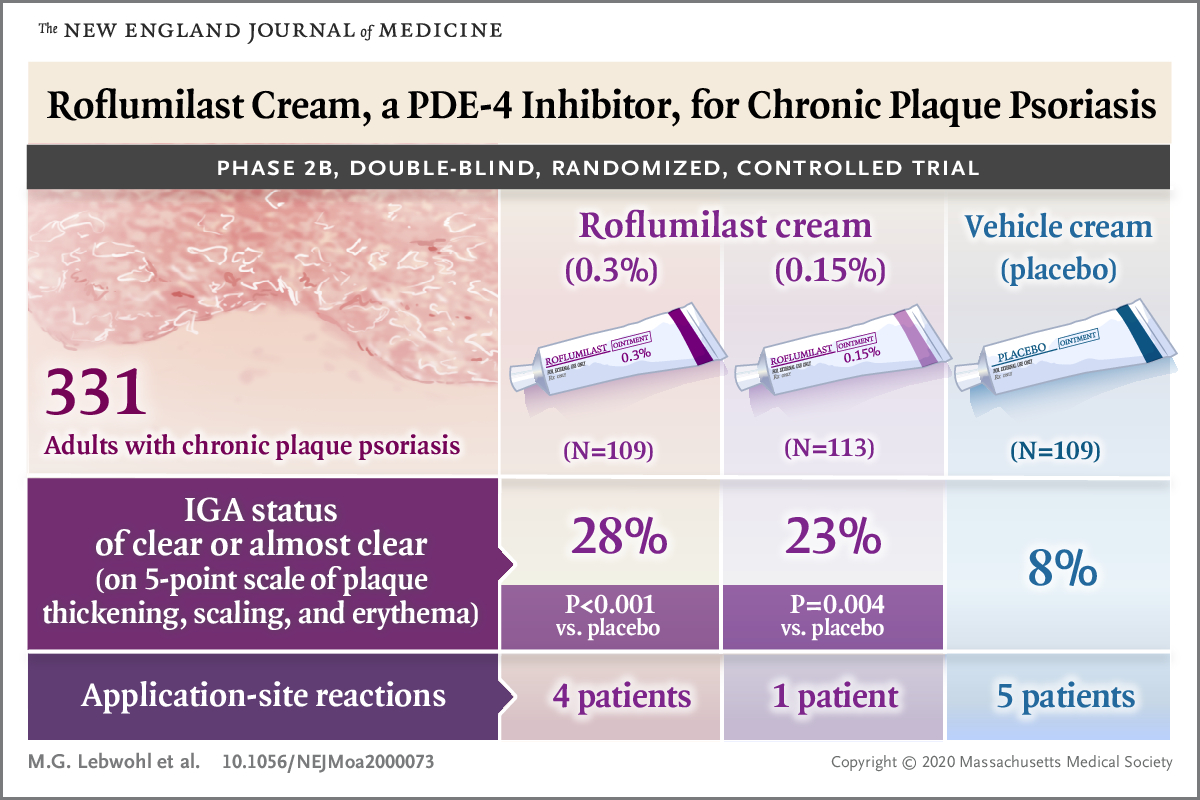 Arcutis Biotherapeutics, Inc.'s Roflumilast cream (ARQ-151) produced significant improvements in patients with plaque psoriasis in as early as two weeks, according to a results from a phase 2b trial published in The New England Journal of Medicine.
Roflumilast cream is a small molecule inhibitor of phosphodiesterase type 4 (PDE4), an intracellular enzyme that increases the production of proinflammatory mediators and decreases the production of anti-inflammatory mediators. It is also being studied in atopic dermatitis.
Adults with plaque psoriasis were randomized in a 1:1:1 ratio to use roflumilast 0.3% cream, roflumilast 0.15% cream, or vehicle cream once daily for 12 weeks. An investigator's global assessment (IGA) score indicating clear or almost clear at week 6 was observed in 28 percent of the patients in the roflumilast 0.3% group, in 23 percent in the roflumilast 0.15% group, and in 8 percent in the vehicle group, the study showed.
"Plaque psoriasis imposes a significant burden on patients, and is often associated with poor quality of life," says study author Mark Lebwohl, MD, Chair of Dermatology at the Icahn School of Medicine at Mount Sinai in New York City. "Effectively treating psoriasis with topical therapies, which the vast majority of patients receive, is especially challenging due to side effects, tolerability, or efficacy of existing topical treatments. Roflumilast cream could really be a game-changer."
IMAGE Courtesy of New England Journal of Medicine