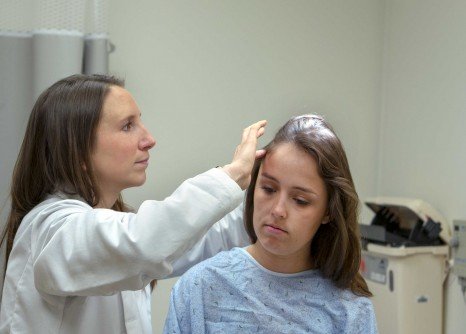 Researchers at the Penn State Health Milton S. Hershey Medical Center are using engineering principles to improve the accuracy and efficiency of total body skin exams.
There is no standardized method for performing a total body skin exam. Dermatologists may develop their own approach, which can potentially result in missed areas and lost time. The research team knew that bioengineering principles had helped Olympic athletes make the most of each motion, and started to wonder whether the same principles could be applied in medicine.
Their findings appear in the Journal of the American Academy of Dermatology.
"Efficiency and accuracy are important because we do a lot of total body skin exams every day," says dermatology resident Dr. Matthew Helm in a news release. "If it takes us 20 minutes each time, we will never get through our day. However, we do not want to sacrifice accuracy for efficiency."
To find the sweet spot between efficiency and accuracy, the research team sought assistance from Penn State engineering students.
"Part of our students' capstone program is to work on a real-world problem and deliver results to their sponsor," says Charles Purdum, assistant teaching professor and director of industry relations in the Harold and Inge Marcus Department of Industrial and Manufacturing Engineering. "This project was attractive to me because it was a unique application of engineering principles in the health care field."
A mix of biomedical and industrial engineering students formed the team that consulted with Dr. Jeffrey Miller, chair of the Department of Dermatology at Penn State College of Medicine, on the project. They met on a weekly basis and gave proposals, timelines, updates and a final report.
"We treat it like an engineer's first project out of college," Purdum says. "It's a great model to show students what industry is like."
The engineering students watched video recordings of five dermatology faculty and five residents conducting total body skin exams on both a male and female patient. They assessed the exam time, physician and subject movements, sequence of body parts evaluated and whether any body parts were missed.
Using statistics, the students calculated the variability between the evaluations performed by each provider. The engineering students observed that the underside of the neck and armpits were frequently missed areas, and considered that when designing the optimal order of the procedure.
After watching the videos a second time, the students proposed a more efficient and accurate technique to Dr. Miller and the dermatology residents.
"The proposed method was different from how I had been doing the exam," says Dr. Helm. "Now I use the optimized way, and I feel like it has helped me to be a better clinician."
Dr. Miller hopes to help prevent errors by teaching faculty, residents and medical students the new technique. The next phase of the research will measure if that educational objective is successful.
"If we can save one life from skin cancer because we are doing the exam consistently well, then we've succeeded," adds Dr. Miller.
PHOTO CAPTION: Dr. Katherine Hallock, dermatology resident, Hershey Medical Center, and Dr. Elizabeth Bisbee, University of Florida Department of Dermatology, were also involved with this research.
PHOTO CREDIT: Penn State Health