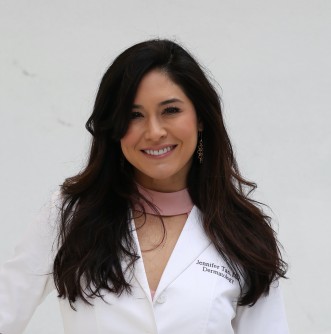 Jennifer Tan, MD, FAAD is an American Academy of Dermatology (AAD) Patient Care Hero for making critical skin care and hygiene items easily accessible to individuals experiencing homelessness during the COVID-19 pandemic.
As the state government issued COVID-19 stay-at-home guidance in late March, Dr. Tan and her colleagues at the Massachusetts General Hospital and Boston Health Care for the Homeless Program (BHCHP) quickly realized those experiencing homelessness would face unique and difficult challenges during the pandemic, including lack of access to over-the-counter treatments and needed hygienic supplies.
Homeless populations develop skin infections, traumatic injuries and inflammatory conditions more frequently than those with stable living conditions. Approximately 20 percent of emergency department and community clinic visits by people who are homeless are to address skin problems. Prior to the pandemic, Dr. Tan and colleagues had begun to distribute skin care kits to help those experiencing homelessness manage acne, eczema, and dry skin in order to minimize discomfort and prevent infection.
"Patients experiencing homelessness are frequently exposed to harsh climate conditions without proper covering, resulting in skin-related diseases that range from common to life-threatening," says Dr. Tan in a news release. "When COVID-19 began to spread, it was quickly apparent that our Boston Health Care for the Homeless Program patients would not have the resources necessary to prevent disease and maintain hygiene."
Through the support of corporate and individual donors, as well as staff and medical school volunteers, her team shifted program resources and assembled more than 1,000 COVID-19 care kits for people experiencing homelessness in Boston and Portland, Maine. Dr. Tan notes, "This project was spearheaded by Haya Raef, a third-year Tufts University medical student who has been deeply committed to caring for the homeless. These kits not only provide needed dermatologic supplies, but also remind patients that they are not forgotten during these difficult times."
Dr. Tan shared the initiative's success in a research letter, "COVID-19 and health disparities: Innovative ways to meet the dermatologic needs of patients experiencing homelessness" that was recently published online in the Journal of the American Academy of Dermatology to demonstrate how the dermatology community can aid the homeless.
"For decades dermatologists have provided specialized care to patients in underserved communities. The level of innovation, agility, and volunteerism I've seen in support of our peers and affected patients during the pandemic is inspiring," says Bruce H. Thiers, MD, FAAD, president of the AAD. "Dr. Tan and her team are shining examples of the dermatologist community's contributions to the frontline response."
The AAD created the Patient Care Heroes program to recognize physicians who transform patients' lives by utilizing their expertise and collaborating with other physicians to treat serious skin disease.