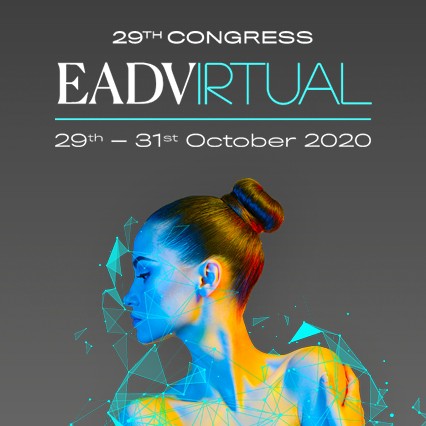 From updates on investigational treatments for dermatologic diseases to emerging healthcare trends, data from the 29th EADV Congress, EADV Virtual suggest new directions in patient care.
Psoriasis: Results from the phase 2 trial of Avillion's sonelokinab (M1095), a novel anti-IL 17 A/F Nanobody, in patients with chronic psoriasis show that the investigational drug met all primary and secondary endpoints. There were clinically meaningful and statistically significant improvements in Investigator's Global Assessment (IGA) at week 12. Approximately one-third of subjects achieved PASI 90 at week 4, four out of five subjects achieved PASI 90 at week 12, and half of subjects had PASI 100 response at week 24.
Evelo Biosciences' EDP1815, a preparation of a non-living single strain of the bacterium Prevotella histicola, isolated from the small intestine of a human donor, appears to be well-tolerated with promising efficacy, according to results of a phase 1b clinical study.
Two cohorts of 12 and 18 patients with mild to moderate psoriasis were treated for 28 days, with follow-up off treatment through 42 days. EDP1815 had a tolerability profile comparable to placebo, with no serious adverse effects reported. At day 28, the mean percentage reduction in PASI score for both EDP1815 cohorts was 16 percent, compared to one percent for placebo; with a further improvement to 21 percent in the high-dose cohort at day 42.
Data from Connect Biopharma's completed phase 1b study of CBP-201, a novel antibody against IL-4Rα, show the investigational treatment is well tolerated with and favorable safety profile out to week 11. Treated subjects had rapid, early, and continued improvements in multiple efficacy assessments as well as in Dermatology Life Quality Index (DLQI) scores out to the end of dosing at week 4.
Connect Biopharma says a comparison with published data from studies of competitor therapies in patients with moderate-to-severe AD suggests that CBP-201 may have a more rapid onset of action and provide earlier relief of AD symptoms. At week 4, EASI change from baseline was 74.0% and 74.4% for the 150mg and 300mg doses of CBP-201, respectively, compared with 32.9% for placebo.
UV Protection: Pre-treatment with nicotinamide (NAM) 24 hours before UV irradiation appears to protect skin cells from the effects of UV-induced oxidative stress, including DNA damage, research suggests. Italian researchers isolated keratinocytes from patients NMSCs and treated them with three different concentrations of NAM for 18, 24, and 48 hours. NAM enhanced DNA repair, demonstrated by decreased expression of the DNA repair enzyme OGG1, and decreased antioxidant expression and blocked local inflammation by showing decreased nitric oxide (NO) release and reactive oxygen species (ROS) productionand reduced iNOS protein expression.
COVID-19: Treatment with biologics may have mixed effects on the risk of COVID-19 infection, new data suggest. An analysis of data on Italian psoriasis patients using biologics suggests an increased risk of COVID-19 but a reduction in ICU hospitalizations and deaths.
The study compared 1,193 adult psoriatic patients receiving biologics and small molecules under the care of the San Donato Hospital in Milan, Italy, compared with the population of the Lombardy Region, Italy from 21 February 2020 (first case of Coronavirus in Italy) to 9 April 2020.Compared with the general population, patients receiving biologics had an unadjusted OR of 3.43 for testing positive for COVID. Difference in risk of hospitalization or death were not statistically significant.
Meanwhile, COVID-19 restrictions have not led to reductions in sexually transmitted infections (STIs). In fact, rates of diagnoses of gonorrhea, secondary syphilis, and mycoplasma genitalium (MG) have increased in two main STI centers in Milan, Italy.Researchers conclude that lockdown and advice on Social/Physical distancing did not inhibit risky behaviors.
Noteworthy: Patients with skin allergies may have a new option for scented skincare. A novel allergen-depleted, anti-inflammatory fragrance can be used in moisturizers for people with extremely dry, xerotic skin, according to researchers from Beiersdorf. In tests of skin cells, the anti-inflammatory ingredients of the allergen-depleted fragrance composition reduced expression of both Prostaglandin E2 and Interleukin-8 after applying a stressor substance. When the fragrance was formulated in a moisturizer and applied to the forearm of human volunteers after they shaved their skin on three consecutive days to induce skin irritation, skin redness was significantly reduced in the skin treated with the moisturizer.
In other scent developments, research shows that socks coated in zinc oxide nanoparticles (ZnO-NPs) can prevent bromodosis and pitted keratolysis. The ZnO-NP-coated socks were developed by the Royal Thai Airforce. In a double-blinded, randomized, controlled trial conducted with 148 cadets at the Thai Naval Rating School, those with the ZnO-NP-coated socks had significantly less foot malodor compared to baseline and were less likely to develop pitted keratolysis compared to those without coated socks.