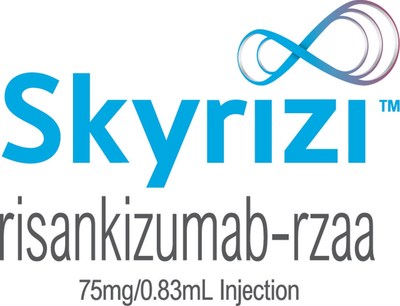 Skyrizi™ (risankizumab-rzaa), an interleukin-23 (IL-23) inhibitor from AbbVie, is FDA approved for the treatment of moderate to severe plaque psoriasis in adults who are candidates for systemic therapy or phototherapy. In clinical trials, Skyrizi produced high rates of durable skin clearance with 82 and 81 percent of treated patients in two trials, respectively, achieving PASI 90 at one year. The majority (56 and 60 percent, respectively) achieved complete skin clearance or PASI 100.
The recommended dose for Skyrizi is 150mg administered by two subcutaneous injections every 12 weeks following two initiation doses at week 0 and 4. Skyrizi can be administered in-office or by self-injection after training.
"The complex nature of psoriasis and the variability or loss of treatment response over time can prevent some patients from achieving their treatment goals," said Kenneth B. Gordon, MD, a principal investigator for the ultIMMa-1 pivotal trial and professor and chair of dermatology at the Medical College of Wisconsin. "In clinical trials, risankizumab demonstrated high levels of skin clearance that persisted through one year. I'm pleased the dermatology community now has a new option that can help patients achieve and maintain a high level of treatment response."
"The approval of Skyrizi is an important advance in the treatment of adults with plaque psoriasis who are seeking high levels of durable skin clearance that can be maintained over time," said Michael Severino, MD, vice chairman and president, AbbVie. "Skyrizi builds on AbbVie's legacy in immunology, expanding our portfolio to help meet the evolving needs in psoriatic disease and reinforcing our continued pursuit of innovations that improve care for people living with immune-mediated conditions."
AbbVie's global Phase 3 psoriasis program assessed the safety and efficacy of Skyrizi in adults with moderate to severe plaque psoriasis across four randomized, placebo and/or active-controlled pivotal studies: ultIMMa-1, ultIMMa-2, IMMhance and IMMvent. The co-primary endpoints of these studies were Psoriasis Area and Severity Index (PASI 90) and static Physician Global Assessment [sPGA] score of clear or almost clear [sPGA 0/1] at 16 weeks versus placebo.
An integrated analysis of ultIMMa-1 and ultIMMa-2 showed most people treated with Skyrizi who achieved PASI 90 and PASI 100 at week 16 maintained this response at one year (88 and 80 percent, respectively).
The frequency of adverse events through one year was similar to events observed during the first 16 weeks. The most common adverse events associated with Skyrizi included upper respiratory infections (13 percent), headache (3.5 percent), fatigue (2.5 percent), injection site reactions (1.5 percent) and tinea infections (1.1 percent). Skyrizi requires an initial evaluation for tuberculosis (TB) prior to starting treatment, and patients are instructed to report signs and symptoms of infection.
Skyrizi is part of a collaboration between Boehringer Ingelheim and AbbVie, with AbbVie leading development and commercialization of Skyrizi globally.