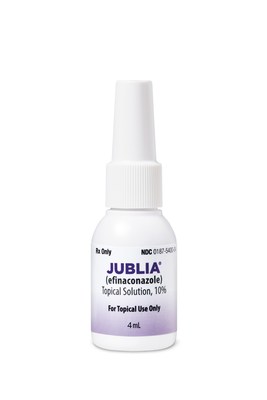 Bausch Health Companies Inc. and its dermatology business, Ortho Dermatologics received FDA approval for a supplemental New Drug Application (sNDA) for Jublia (efinaconazole) topical solution, 10%, a treatment for onychomycosis, a fungal infection of the toenails, which extends the age range included in the product's label to children six years of age and older. Jublia was first approved in June 2014 in patients 18 years and older.
"Onychomycosis is increasingly being seen in pediatrics - representing 15 percent of all nail dystrophies in children," says Bill Humphries, president, Ortho Dermatologics. "With nearly six years of real-world use since its initial approval to treat adults in 2014, JUBLIA has a demonstrated safety and efficacy profile, and we are pleased the FDA has recognized it as a valuable treatment option for children with toenail fungal infections."
The safety, pharmacokinetics and efficacy of Jublia in patients ages six to 16 years old were evaluated in a multicenter, open-label, single-arm Phase 4 study that enrolled 62 patients with mild-to-severe onychomycosis. The primary objectives were to evaluate the safety of Jublia over the 52 weeks of the study in pediatric subjects with at least mild onychomycosis of the toenails, as well as the pharmacokinetics of Jublia at four weeks in pediatric subjects 12 to 16 years with moderate-to-severe onychomycosis of the toenails. Efficacy assessments included mycologic cure (fungus-free), complete cure (completely clear nails and fungus-free), and clinical efficacy (<10 percent toenail involvement).
In the study, Jublia was shown to be well tolerated in the pediatric population. The most common treatment-related side effect was ingrown nails. The systemic exposure to Jublia in this pediatric population was comparable to that previously reported in adults. The efficacy assessments showed that by week 52, 65 percent of patients achieved mycologic cure, with a 36.7 percent mycologic cure rate observed as early as week 12. A total of 40 percent of patients had complete cure by week 52, and half of patients achieved clinical efficacy by the study conclusion.
"Aside from being a cause of discolored toenails, onychomycosis may cause patients to experience nail discomfort in their shoes and during general activity. In certain populations, it can also potentially lead to a secondary infection," said Tracey Vlahovic, DPM, clinical professor, Department of Podiatric Medicine, and adjunct professor, Department of Microbiology, Temple University School of Medicine. "The expanded labeling for JUBLIA further demonstrates the safety and efficacy of this treatment option, which I look forward to adding to my treatment regimen for pediatric patients."
Onychomycosis is a chronic fungal nail infection caused predominantly by dermatophyte fungi that typically occurs under the toenail, though fingernails may also be affected. The condition typically begins as a small white or yellow spot beneath the nail, and causes nail discoloration, thickening and/or distortion, pain, detachment of the nail from the nail bed and irregular surface changes. Once onychomycosis begins, it can persist indefinitely if not treated and may cause permanent nail damage.
Through the company's access program, most eligible, commercially insured patients will pay as little as $0 for both the 4 and 8 mL sizes of JUBLIA.
For more information on JUBLIA, visit www.jubliarx.com.