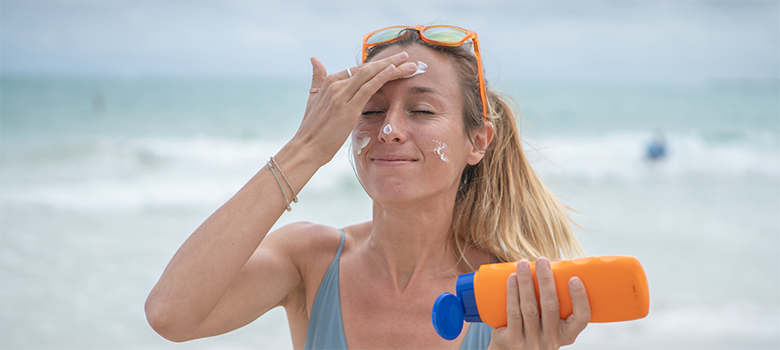 Six active ingredients administered in four different sunscreen formulations are systemically absorbed, according to a new report.
The study was sponsored by U.S. Food and Drug Administration (FDA) and is a follow-up to a May 2019 study that generated a lot of headlines. The new report has a larger sample size, additional sunscreen active ingredients and formulations than its predecessor, but both reached similar conclusions. That said, these findings, which appear in the Journal of the American Medical Association (JAMA), do not indicate that individuals should refrain from the use of sunscreen, the study authors caution.
In this randomized clinical trial with 48 healthy participants, maximum plasma concentrations for the active ingredient avobenzone were 7.1 ng/mL (73.9%) for lotion, 3.5 ng/mL (70.9%) for aerosol spray, 3.5 ng/mL (73.0%) for nonaerosol spray, and 3.3 ng/mL (47.8%) for pump spray following a single application of these products on day one and multiple applications through day four.
Experts React to the New Findings
Adam Friedman, MD, Professor and Interim Chair of Dermatology at the George Washington School of Medicine and Health Sciences in Washington, DC, reviewed the new findings and shared some concerns regarding its conclusions. For starters, maximal usage is not realistic in real-world settings. "Studies show that many, if not most, people apply one-quarter to one-half of what's needed to achieve the SPF number on the bottle," he tells DermWire.
And, he adds, as the researchers point out, just because an ingredient is absorbed into the bloodstream does not mean that it is harmful. "These sunscreen ingredients have been used for several decades without any reported internal side effects in humans, so I am curious to see what happens here."
Omaha, Nebraska-based dermatologist Joel Schlessinger, MD, President of LovelySkin.com and Founder of Advanced Skin Research Center, agrees that maximal usage is probably not a likely scenario in the real world, but, he contends, that doesn't mean these findings should be dismissed. "While it is likely rare that the average patient actually adheres to this particular schedule in real-life, the fact is that many people do reapply on a more frequent basis than every two hours, especially if they are in heavy sun and/or water activities," says Dr. Schlessinger, also Practical Dermatology® magazine's Chief Cosmetic Surgery Editor.
"As dermatologists, we have to consider this study carefully, as well as the previous study that showed the potential of unintended absorption of standard sunscreen ingredients," he says. "In my practice, I continue to encourage mineral-based sunscreens for my pediatric patients as well as pregnant women. Additionally, I encourage physical sunscreens for my patients who will be swimming in the ocean and potentially near coral reefs.
"Clearly, there is no evidence that the absorption of these ingredients is causative for problems, but our patients deserve the benefit of the doubt when approaching sun protection. We must provide a rational and safe solution, along with informed recommendations that take into account the research that is publicly available."
Erum N. Ilyas, MD, a dermatologist in King of Prussia, PA also reviewed the new findings. "There is a lot more recognition and understanding about the need for daily sun protection. However, more questions are being raised about the safety of certain active sunscreen ingredients," she says. "More testing is needed to ensure the safety and long-term effects of these ingredients."
Patients should not abandon sun protection altogether, she stresses. "The best and most effective way to protect from harmful UV rays is to lessen your exposure: limit your time outdoors during peak sunshine hours when UV rays are at their most intense. If you must go outside, make sure to cover your skin with tightly woven fabric, that offers broad SPF protection that can block harmful UV rays, wear hats and sunglasses, and seek shade as much as possible." Dr. Ilyas is also the creator of AmberNoon, a sun-protective clothing line
The Personal Care Products Council and the Consumer Healthcare Products Association issued a response to the study. "All six sunscreen active ingredients were absorbed and found in plasma following application in either lotion or spray form. However, the presence of these ingredients in plasma does not suggest a safety issue and there were no serious drug-related adverse events reported in the trial, consistent with the excellent safety record associated with sunscreen active ingredients over decades of real-world use. We will continue to work cooperatively with FDA to determine what additional studies are needed to ensure the ongoing safety of sunscreen active ingredients in the marketplace.
"The Personal Care Products Council, the Consumer Healthcare Products Association and their member companies are aligned with FDA, the Centers for Disease Control and Prevention, the U.S. Surgeon General, the American Academy of Dermatology, the Skin Cancer Foundation and health professionals worldwide about the important health benefits sunscreens provide as part of a safe sun regimen to help prevent sunburn and reduce skin cancer risk.
"FDA makes clear that the results of this study should not cause anyone to stop using sunscreen. Sunscreen is a crucial step in the fight against skin cancer and premature skin aging. It is our hope that using sunscreen becomes as much of a habit as using a seat belt.
"We look forward to our continued work with FDA to ensure that consumers have access to products containing a broad variety of sunscreen active ingredients."