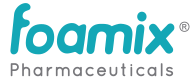 Foamix Pharmaceuticals Ltd. has submitted a New Drug Application (NDA) to the U.S. Food and Drug Administration (FDA) seeking approval for FMX103 for the treatment of moderate-to-severe papulopustular rosacea in patients 18 years of age and older.
"It can be challenging for patients with papulopustular rosacea to find therapies that provide meaningful symptom relief and are also well-tolerated when applied to their skin," says David Domzalski, Foamix's Chief Executive Officer, in a news release. "Building on the impressive Phase 3 FMX103 topline results announced in November last year, we are excited to have reached this NDA submission milestone earlier than previously anticipated."
The NDA submission is supported by the previously communicated results from two Phase 3 clinical trials, FX2016-11 and FX2016-12. In these trials, FMX103 achieved both co-primary endpoints, demonstrating statistically significant improvements in inflammatory lesion count and Investigator Global Assessment (IGA) treatment success. In both trials, and in the long-term safety extension study FX2016-13, the safety profile of FMX103 was shown to be generally favorable and consistent throughout the clinical development program. The NDA submission also incorporates information on chemistry manufacturing and controls, and data from non-clinical toxicology studies.
"Our goal with developing FMX103 is to provide patients with an efficacious and well-tolerated treatment in a convenient topical foam formulation," adds Iain A. Stuart, PhD, Foamix's Chief Scientific Officer. "This submission for FMX103, which is the second NDA submitted by Foamix within the past 8 months, underscores both the potential of our late-stage portfolio in dermatology as well as the strong execution capabilities of our R&D and regulatory teams."