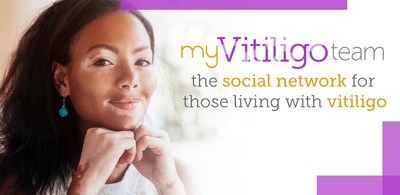 MyHealthTeams and the Global Vitiligo Foundation are partnering to bring health education information and resources to people via MyVitiligoTeam, a social network designed just for people facing vitiligo.
Launched in January 2020, more than 1,000 registered members have already joined MyVitiligoTeam, the 34th condition-specific social network created by MyHealthTeams. The two organizations will create and publish medically reviewed content featured within the social network. Members of the social network will be invited to join "Ask the Vitiligo Specialist" Q&A sessions throughout the year, and MyVitiligoTeam will participate in events including the Global Vitiligo Foundation's Annual Scientific Symposium, World Vitiligo Day - USA, and the Vitiligo International Symposium meeting.
"As a kid diagnosed with vitiligo, I didn't know anyone else facing the condition and I wasn't sure where to find good information about it," says Eric Peacock, co-founder and CEO of MyHealthTeams, in a news release. "MyVitiligoTeam and our collaboration with the Global Vitiligo Foundation changes all that. Now, people can easily connect with others just like them and tap into relevant medical information."