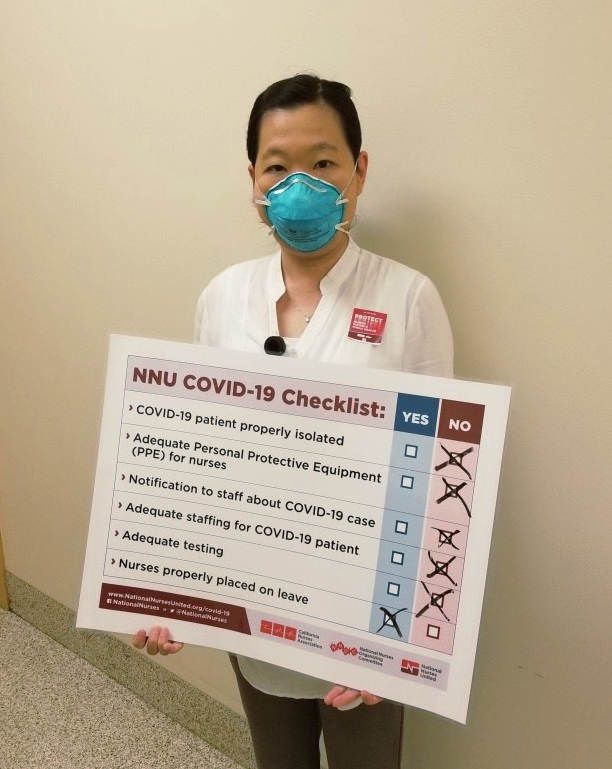 National Nurses United, the largest union of registered nurses, is calling on Congress to mandate that the Occupational Safety and Health Administration promulgate an emergency temporary standard for health care workers in the third COVID-19 stimulus package currently being negotiated.
The standard is embodied in HR 6139/S. 3475, the COVID-19 Health Care Worker Protection Act, introduced by Rep. Bobby Scott (D-VA) and Senator Tammy Duckworth (D-IL). It would mandate an emergency temporary OSHA standard so that frontline health care workers treating COVID-19 patients have the necessary personal protective equipment (PPE) they need to prevent them from contracting the virus themselves.
The union, which represents more than 155,000 registered nurses across the country, sent a petition to Congress today with a quarter of a million signatures.
Currently, in hospitals across the country, nurses, doctors, and other health care workers are being told to care for potential and confirmed COVID-19 patients without adequate PPE. Employers are also failing to ensure safe staffing levels and to provide adequate education and training on patient care and protections for COVID-19 patients. Further, there is an inadequate amount of isolation rooms needed for safe patient care for COVID-19 patients.
According to the union, the Centers for Disease Control has told hospitals that it's permissible for health care workers treating potential and confirmed COVID-19 patients to wear surgical masks and even scarves and bandanas despite the fact that these have not been shown to prevent health care workers from contracting the virus. Nurses point out that N95 respirators are the minimum personal protective equipment necessary for health care workers to remain safe.
"It is outrageous for the CDC to tell hospitals that nurses and other health care workers don't need the maximum protective gear to prevent them from getting sick during this pandemic," said Bonnie Castillo, RN, executive director of National Nurses United. "This is why it is imperative for Congress to act immediately to include HR 6139—without any weakening amendments—in the third COVID-19 stimulus.
"When nurses and doctors get sick from this virus who is going to be left to take care of the public?" she continued. "If they don't want the entire health care system to collapse, Congress must act immediately to protect the frontline health care providers."