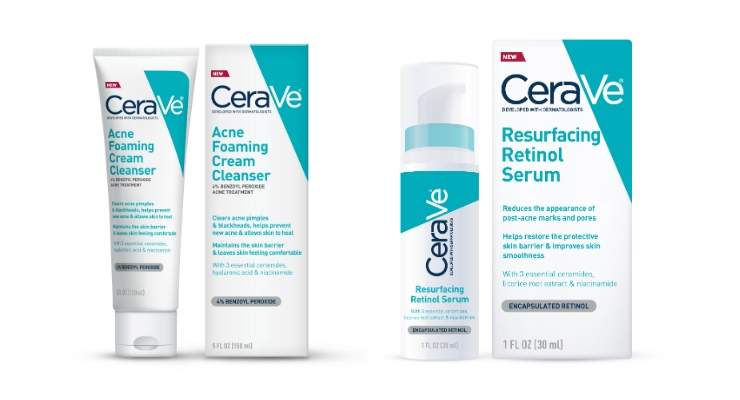 CeraVe is rolling out Acne Foaming Cream Cleanser with Benzoyl Peroxide and a Resurfacing Retinol Serum.
"Acne is a common skin concern that affects millions of people both physically and emotionally," says Derrick Booker, vice president of marketing at CeraVe, in a news release. "As the number one dermatologist-recommended moisturizer brand for acne, CeraVe worked with dermatologists to develop a range of products designed to both treat acne and allow skin to heal, underscoring our mission of providing therapeutic skincare solutions for all people."
The Acne Foaming Cream Cleanser was developed to be the first step in the regimen. This cleanser is formulated with four percent benzoyl peroxide to help clear acne breakouts and prevent new acne from forming, allowing skin to heal. The formula also features hyaluronic acid and ceramides to help maintain the skin barrier, leaving skin feeling soft and comfortable, while reducing acne with less irritation.
After treatment, acne often leaves marks that serve as an unwanted reminder of the vicious acne cycle. Thus, CeraVe developed the Resurfacing Retinol Serum to serve as the second step in a regimen system. This lightweight serum with encapsulated retinol that has been clinically tested to reduce the appearance of post acne marks and pores. After use, skin tone appears visibly brighter and the skin texture is improved, helping to achieve a healthy-looking complexion.
The Resurfacing Retinol Serum is currently available nationwide, and the Acne Foaming Cream Cleanser will join the line in January.
"Many of my patients being treated for acne also experience dryness, redness and flaking, which is why these CeraVe products are going to be gamechangers," adds New York City board-certified dermatologist Dr. Shari Marchbein. "A regular skincare regimen is critical to treating acne and these gentle, yet effective products will help treat and restore the skin barrier, which is essential for healthy skin."