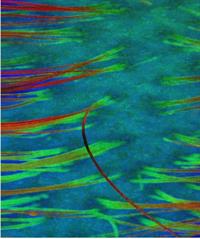 Optical coherence tomography plus artificial intelligence methods can accurately and efficiently monitor hair growth therapies, suggests a new study in Lasers in Surgery and Medicine.
One of the challenges in developing effective hair loss therapies is the lack of reliable non-invasive methods to monitor treatment response or alopecia progression, but optical coherence tomography (OCT) and automated deep learning can non-invasively evaluate hair and follicle counts that may be used to monitor the success of hair growth therapy more accurately and efficiently.
"Hair loss often causes emotional trauma, and current hair growth treatment evaluation methods are all invasive to some degree, furthering that trauma. We wanted to develop a method that is no worse than simply taking a picture," said Gregor Urban, MS, a PhD student at the University of California, Irvine.
Optical coherence tomography can be used as a completely non-invasive method for evaluating the effectiveness of hair growth therapies, unlike currently used methods, which are all invasive to certain degrees. Given that the three-dimensional imaging data from the OCT device is very labor intense to evaluate manually, artificial intelligence methods can be used to identify and count all hairs and follicles in the scans automatically and rapidly.
In the study, the proposed method was evaluated on a total of 70 different OCT scans and found the automated deep learning system's accuracy to be similar to human evaluators, but significantly faster.
This approach is well positioned to become a standard for non-invasive evaluation of hair growth treatment progress in patients, saving significant amounts of time and effort compared to manual evaluation, the study authors conclude.
The study was selected as the October 2020 journal's Editor's Choice.