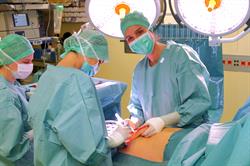 Extracorporeal shockwaves (ESWT) initiated within the operation field prior to surgery may improve wound healing and minimize scar formation, according to a pilot study in Lasers in Surgery and Medicine (LSM).
The study was selected as Editor's Choice in the May 2019 issue of LSM.
In the controlled pilot study on 24 patients undergoing abdominoplasty, the efficacy of preoperative unfocused, low energy ESWT was evaluated. The right and left half of the operative area were randomly allocated to ESWT using the CELLACTOR SC1 ESWT device and the C‐ACTOR handpiece or placebo treatment in intrapatient control design. The ratings revealed a clear trend favoring ESWT. The largest differences favoring ESWT were observed in thickness and overall impression (Vancouver scar scale).
"We conclude that ESWT presumably reduces scar formation and postoperative symptoms after surgery and recommend further studies to confirm ESWT efficacy," says study author Elisabeth Russe, MD a plastic surgeon at St. John´s Hospital in Salzburg, Austria, in a news release.