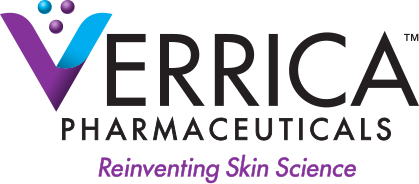 Positive data for VP-102 (cantharidin 0.7% Topical Solution) from Verrica Pharmaceuticals, Inc. are being presented in poster form at the Annual Fall Clinical Dermatology Conference in Las Vegas. Company's lead product candidate is being developed for the treatment of molluscum contagiosum and common warts.
Data from a pooled analysis of the Phase 3 CAMP-1 and CAMP-2 clinical studies showed that treatment with VP-102 brought about a statistically significantly higher rate of complete lesion clearance at Day 84 (primary endpoint) compared to vehicle. Complete clearance of all molluscum lesions at the end of study (EOS) visit occurred in 50 percent of subjects treated with VP-102, as compared to 15.6 percent for vehicle (p<0.0001). In addition, mean lesion counts decreased by 76 percnet for subjects in the VP-102 group, compared to a 0.3 percent decrease in the vehicle arm by the EOS visit (p<0.0001).
VP-102 was well-tolerated; adverse events were primarily mild to moderate in intensity, with the most common adverse events related to the pharmacodynamic action of cantharidin, including application site vesicles, pruritus, pain, erythema, and scab. Rates of discontinuation of study medication due to an adverse event were low (1.9% for VP-102; 0.5% for vehicle).
"This pooled analysis of the pivotal CAMP studies reinforces the body of evidence demonstrating that VP-102 may be an important treatment option for molluscum, a highly contagious viral skin infection for which there are no FDA-approved therapies," says Lawrence Eichenfield, MD, Chief of Pediatric and Adolescent Dermatology, Rady Children's Hospital, San Diego, CA, and principal investigator of the VP-102 Phase 3 molluscum program. "These data show that VP-102 has the potential to address a demonstrated unmet medical need—safely and effectively clearing the contagious molluscum lesions that can spread rapidly, may cause pain and discomfort, and can have a substantial negative impact on patient quality-of-life."
A second pooled analysis of the CAMP studies evaluated the time course and percentage of subjects with >75 percent and >90 percent reduction in lesions at the EOS visit in the intent-to-treat population. At EOS, 77.7 percent of VP-102 subjects achieved >75 percent reduction in lesions compared to 34.9 percent for vehicle, and 65.8 percent of VP-102 subjects achieved >90 percent reduction of lesions compared to 27.1% for vehicle (p<0.0001 respectively).