Cutera Launches Fraxis PRO
Cutera, Inc. is launching Fraxis PRO progressive dermal remodeling technology. The Fraxis PRO combines fractional CO2 for skin resurfacing and radiofrequency microneedling for dermal remodeling in a single device that can treat fine lines, wrinkles, acne scars, burn scars, and stretch marks.
With two headpiece sizes for each modality, Fraxis PRO is able to treat the entire face and body. The Fraxis PRO treatment types can be used alone or in concert based on patient needs and downtime tolerance.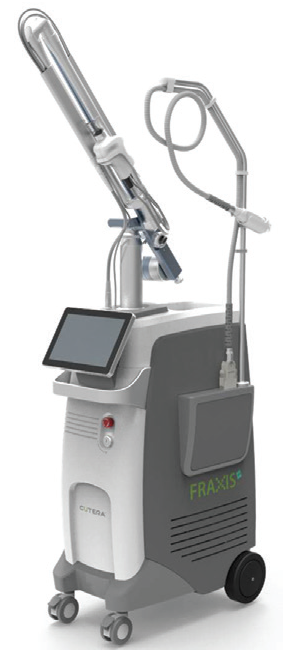 Pulse Biosciences' Nano-Pulse Stimulation Technology Produces Favorable Results
Three studies show positive results for Pulse Biosciences, Inc.'s investigational use of Nano-Pulse Stimulation non-thermal energy in nodular basal cell carcinoma, sebaceous hyperplasia lesions, and cutaneous non-genital warts.
In addition, pre-clinical observations of the effect of NPS energy on murine melanoma and liver tumors in situ look promising, according to findings were presented at the virtual annual conference of the American Society for Laser Medicine and Surgery (ASLMS).
Soliton Seeks 510k Clearance for RAP Anti-Cellulite Device
Soliton, Inc. filed for 510(k) premarket clearance with the FDA of its second-generation Rapid Acoustic Pulse (RAP) device for the reduction in the appearance of cellulite.
The RAP device was previously cleared by the FDA as an accessory to a 1064 nm Q-switched laser for tattoo removal of black ink on patients with Fitzpatrick skin types I-III.
Sciton Unveils
m

JOULE Platform

Sciton Inc. is rolling out its mJOULE dual-wavelength platform, which includes a new fractional treatment, MOXI, and BBL HERO.

MOXI delivers non-ablative laser energy to revitalize skin. BroadBand Light HERO (High Energy Rapid Output) allows practitioners to treat the entire body with four times the speed, three times the peak power, and two times the cooling capacity, the company reports.
Wontech LAunches Sandro Dual
Wontech's Sandro Dual, a hybrid Nd:YAG & Alexandrite laser device, has received FDA 510(k) marketing clearance.
In the hybrid mode, by irradiating a short time difference between two wavelengths of 755nm and 1064nm, the laser accurately hits its target using less energy for more effective and quicker hair removal and whitening without damaging surrounding tissue. In addition, the device's Skin Cooling Spray system minimizes patient discomfort such as pain, swelling, and redness.
EBD Market Poised for Significant Growth
The Energy-Based Aesthetic Devices market—valued at $2.6 billion in 2018—is expected to see a CAGR of 10.4% through 2024, according to ResearchandMarkets.com. Their latest report shows that a major trend in the energy-based aesthetic devices market is the increasing popularity of home-use devices.