Arazlo (tazarotene) Lotion 0.045% (Ortho Dermatologics), now available commercially to health care professionals in the US, is the first tazarotene acne treatment available in lotion formulation and is Indicated for patients nine years of age and older. FDA approval was based on data from two Phase 3 multicenter, randomized, double-blind, vehicle-controlled clinical trials in 1,614 patients with moderate to severe acne. In both Phase 3 studies, all primary efficacy endpoints were met with statistical significance (p<.001). ARAZLO was also shown to be generally well-tolerated in the clinical study population. Ahead, lead Arazlo study investigator Emil Tanghetti, MD shares insights on this new treatment.
What differentiates tazarotene lotion from other available retinoids?
Dr. Tanghetti: Tazarotene is recognized as the most efficacious topical retinoid to treat acne. What differentiates Arazlo from the other forms of this agent in the marketplace is the unique vehicle, which combines moisturizing agents that lubricate the skin while treating acne. This combination of the drug and its novel delivery system provides excellent efficacy with minimal to no irritation in an aesthetically pleasing, highly spreadable lotion.
This advanced vehicle permits the delivery of tazarotene to the skin at half the concentration in the traditional cream formulations. This unique polymeric vehicle separates moisturizing agents and active drug which then mix instantaneously when this system is applied and is dissolved by the salts on the surface of the skin. Arazlo provides equivalent efficacy and less irritation. In the past, we would have patients apply moisturizers before the application of tazarotene cream to reduce irritation. With Arazlo, this is no longer needed, ensuring better compliance and enhanced tolerability.
Who are ideal candidates for treatment?
Dr. Tanghetti: All patients with acne, especially adult females, are ideal candidates for treatment. Adult female patients demand a product that is moisturizing, but not greasy, with a good tolerability profile. There are studies with tazarotene in photodamaged skin with improvement in fine lines, wrinkles, mottled hyperpigmentation, and solar elastosis. These factors make this product particularly appealing to women with adult acne.
What kind of results can typical patients expect?
Dr. Tanghetti: All retinoids generally take eight to 12 weeks to see significant improvement, with best results seen at 16 to 24 weeks. Patients generally use this product often in combination with a benzoyl peroxide/clindamycin gel applied in the morning. Generally patients are using the product as long as they have acne. Many of my adult female patients continue treatment with this agent for many years.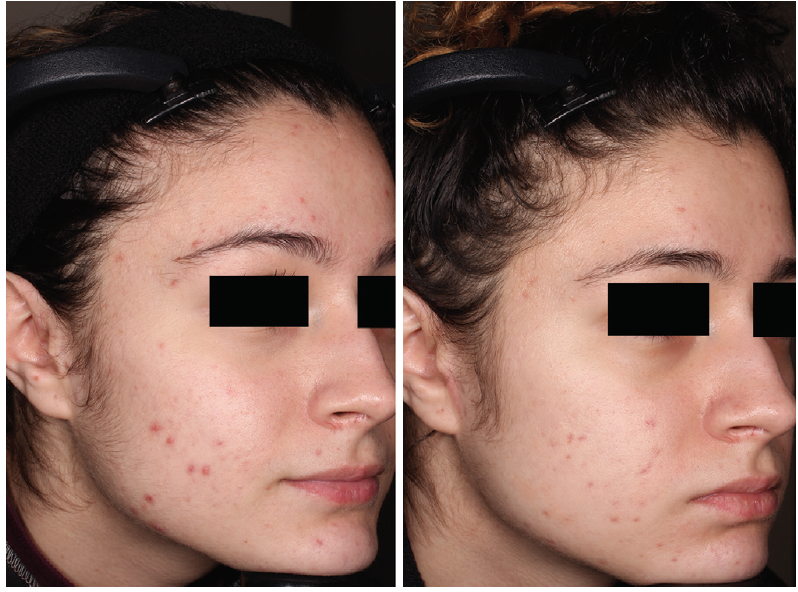 Baseline (left) and 12 weeks (right)
As with any retinoid, some irritation can be seen. This formulation of its polymeric vehicle, which releases light moisturizers during the application of the active agent, is in my experience an agent that has significantly less irritation than any of the other retinoids in the marketplace.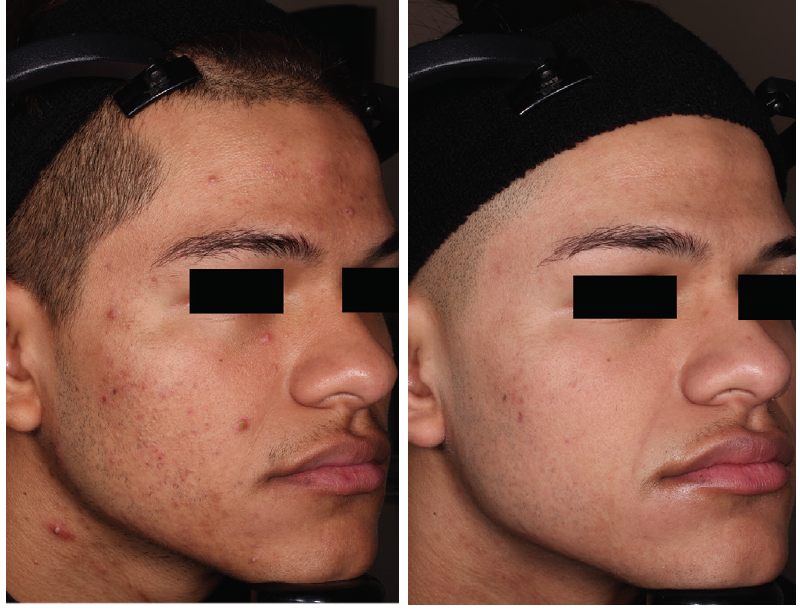 Baseline (left) and 12 weeks (right)
What feedback have patients shared?
Dr. Tanghetti: My patients are elated with the results of this product. There is virtually no irritation seen. They are impressed with the spreadability and aesthetic properties of the lotion. They also notice an improvement in the aesthetic appearance of their skin, with respect to the signs of photo-aging.
Any tips to enhance efficacy or reduce side effects?
Dr. Tanghetti: As with all retinoids, I highly recommend non-soap cleansers, use of moisturizers, and the avoidance of toners and astringents or other products that can dry the skin, such as salicylic acid. We also recommend the use of mineral-based sunscreens and urge our patients to avoid chemical sunscreens, particularly those containing avobenzone.
As mentioned earlier, the efficacy can also be enhanced with the use of other agents, generally in the morning, such as benzoyl peroxide/clindamycin, topical dapsone, and some of the other agents which address acne with a different mechanism of action than a topical retinoid.
Do you continue Arazlo for maintenance therapy? Do you recommend any combination therapies?
Dr. Tanghetti: Maintenance therapy is a critical component of controlling acne. This is a condition that will last for many years in a teenager and in adults will generally last their entire life. As such, these patients generally use products such as Arazlo for many years. Products such as Arazlo have a record of safety over many years with data also suggesting an improvement in sun damaged skin and other hallmarks of skin aging.