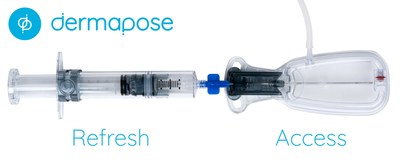 Bimini Health Tech's received US Food and Drug Administration (FDA) 510(k) clearance for its Dermapose Access, a novel fat harvesting system.
Designed for office use, the launch of the Dermapose Access system creates a new product category focused on simplifying fat removal. Dermapose Access can be used in an office with only local anesthesia. Dermapose Access complements the FDA cleared Dermapose Refresh microfat transfer system.
"Dermapose Access overcomes one of the most challenging parts of fat transfer, safely removing fat," says Brad Conlan, CEO of Bimini Health Tech, in a news release. "The product creates a totally controlled micro-environment for fat removal."
"The Dermapose products were developed with safety and ease of use in mind. With FDA clearance of Dermapose Access, alongside Dermapose Refresh, we have expanded our product portfolio to bring safe and easy fat transfer to new settings such as a dermatologists procedure room," adds Mr. Conlan, "It's now simple for patients seeking natural procedures to volumize and rejuvenate their appearance."