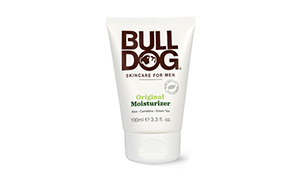 With sweet new packaging and a bamboo razor, Bulldog Skincare For Men is once again raising the bar in men's skincare. The always vegan-friendly and anti-animal testing brand is now dramatically reducing its carbon footprint by using Brazilian sugarcane instead of fossil fuels to package products.
The ethical skincare brand introduced New York City media to their new look and product at an event held at the American Kennel Club Museum of the Dog with brand mascot, Benny the bulldog, on hand for belly rubs and photo ops.
The skincare industry is a major contributor to the amount of plastic packaging used each year. Most packaging is made from fossil fuels like petroleum that release carbon dioxide during the process of conversion to plastic and contribute to global warming. Sugarcane doesn't need much more than natural rainfall to grow.
Made by extracting ethanol from the sugarcane plant, instead of releasing carbon dioxide, the plastic from sugarcane saves it, says Simon Duffy, Founder of Bulldog Skincare For Men. "It's as strong and durable as the stuff made from petroleum."
The launch of the Bulldog Original Bamboo Razor further cements the brand's commitment to the environment by dramatically reducing the amount of plastic used in the manufacturing process. Each year, two billion plastic razors sent to a landfill in the U.S. alone, but the bamboo Bulldog razor is made with fully recycled packaging made from recycled stock and environmentally friendly inks.