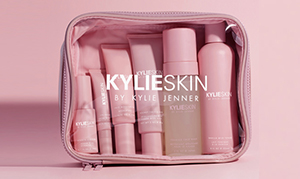 Kylie Jenner's new skincare lime, Kylie Skin, came out in true Kardashian-Jenner style with an all-pink party that included a roller skating rink, her famous family plus other A-listers.
And the new line – which launched with six products suitable for every skin type – sold out in six minutes. (A re-stock date is pending). The cruelty-free, gluten-free, sulfate-free, paraben-free and vegan skincare line includes:
• Eye Cream
• Walnut Face Scrub
• Vanilla Milk Toner
• Face Moisturizer
• Foaming Face Wash
• Vitamin C Serum
(The bundle is sold for $125)
But where there is a "K," there is always some controversy. The 21-year-old mogul and reality star been accused of posting fake reviews to offset some negative ones and fans have called out her face washing technique by pointing out that she doesn't cleanse long enough to fully remove makeup.
When in stock, the products are available exclusively online at KylieSkin.com.