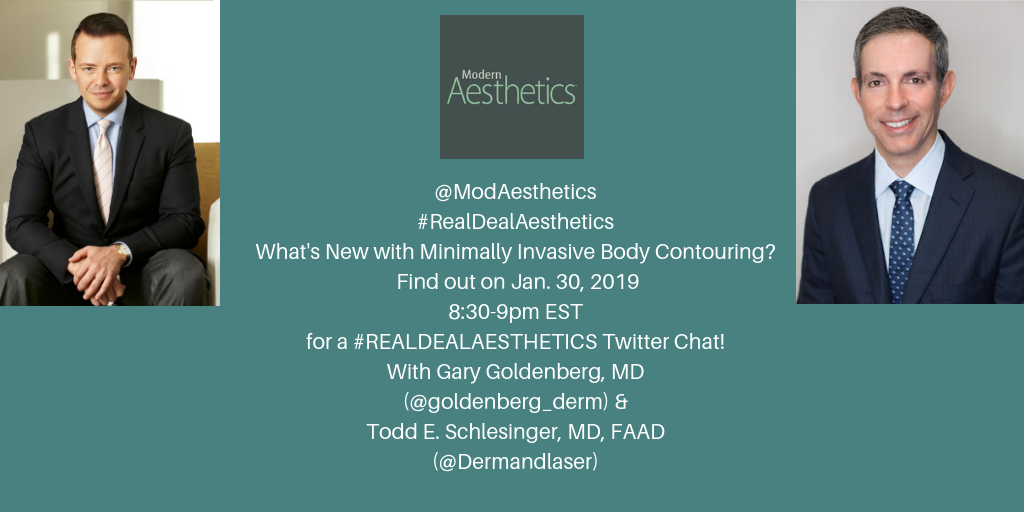 Practical Dermatology's sister publication, Modern Aesthetics® magazine, is launching a new Tweet chat series --#RealDealAesthetics -- featuring New York City dermatologist Gary Goldenberg, MD and Charleston, SC dermatologist Todd E. Schlesinger, MD.
The first Tweet chat focuses on filler selection in a robust marketplace and will take place on Tuesday June 26th from 9-930 PM EDT.
"With so many filler options, sometimes it's hard to pick the perfect filler for each treatment area for each patient. This is a great opportunity to discuss these issues with colleagues and patients," says Gary Goldenberg, MD, founder and director of Goldenberg Dermatology and Clinical Professor of Dermatology at the Icahn School of Medicine at Mount Sinai in New York City.
"Join us for a lively debate on how you and your colleagues might use different fillers together on the same patient to achieve the most desirable results," adds Todd E. Schlesinger, MD, FAAD, Medical Director of the Dermatology and Laser Center of Charleston and founder of the Clinical Research Center of the Carolinas, both in Charleston, SC.
To join, use the event hash tag #realdealaesthetics and ask away from 9 PM to 9:30 on Tuesday June 26th.