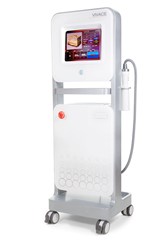 SkinCeuticals is teaming up Aesthetics Biomedical's Vivace Fractional Micro Needle Radio Frequency Treatment to create the professional Vivace Experience featuring SkinCeuticals C E Ferulic
MaryAnn Guerra, CEO & President of Aesthetics Biomedical states, "Aesthetics Biomedical has always advocated for the best patient experience. That is why we created the Vivace Experience to ensure not only a great treatment but to follow-through with the experience post treatment. The right treatment combined with the right products to ensure the best outcomes. For me, it doesn't get better than Vivace x SkinCeuticals. As two industry leading, skincare powerhouses, partnering together allows us to take the patient experience to a new level."
SkinCeuticals General Manager, Christina Fair notes, "SkinCeuticals is thrilled to collaborate with Aesthetics Biomedical to create this unique, innovative treatment that provides rejuvenation benefits and antioxidant protection." She continues, "This collaboration aligns with our goals to provide optimal patient outcomes through the synergy of SkinCeuticals scientifically-backed skincare and professional treatments."